A marriage hangs in the balance in this slow-ticking time bomb of a drama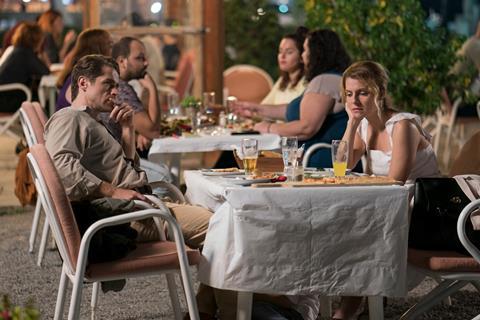 Dir/scr. Michalis Konstantatos. Greece/Belgium/Germany. 2020. 105 mins.
Stepping inside a strained marriage between two Athenian ex-pats who have decamped to a regional coastal town in search of a new start, All the Pretty Little Horses is a slow-ticking time bomb of a drama: even when it basks in brief moments of seeming domestic harmony, or just depicts daily slices of home life, the knowledge that trouble and trauma will fracture the film's sunny facade remains ever-present. As glassy as it is glossily shot, this is a purposefully lean work from Greek writer/director Michalis Konstantatos — who, in his second feature after 2013's Luton, commits so devotedly to a festering air of tension that his carefully doled-out narrative sometimes battles for attention.
On four fronts, it is always a matter of when rather than if things will come to a head.
Competing in Sarajevo following its Shanghai premiere, this intriguing but not always involving film doesn't completely satisfy as a result; its frames are filled witlh clear skies, gleaming swimming pools, white walls and linen furnishings, yet the film itself can feel correspondingly vacant. Given Konstantatos' confident execution, alongside strong performances by leads Yota Argyropoulou and Dimitris Lalos, All the Pretty Little Horses should continue to attract modest festival interest.
The two actors play Aliki and Petros, a couple trying to make the most of their forced move. Both work in temporary jobs — she tends to the ailing and elderly, he does household chores at opulent homes while constantly attempting to drum up something more significant — with an ultimate plan to return to the city. Neither can contain their unhappiness, however. An early tryst captures their situation concisely, with the pair stealing time away from their toddler Panayiotis (Alexandros Karamouzis) to get steamy in their car, enjoying a fleeting respite from their routines, then accidentally run over a dog on their way home. Aliki's growing frustration may be more apparent than her husband's both here and as each scene passes, but there is never any doubt that their relationship is teetering.
Given Argyropoulou's ability to convey deep-seated exasperation in a glance, as well as Lalos' detached but still unmistakably discontent expression, Konstantatos could have plumbed the depths of the pair's transplanted, unfulfilled existence purely by watching them bristle in each other's presence. But, as the film's niggling soundscape continually intimates — a car driving along a provincial road sounds particularly agitating — the filmmaker has added thrills in mind. Complicating All the Pretty Little Horses' plot is Aliki and Petros' decision to make the sprawling villa belonging to Petros' employer Anna (Katerina Didaskalou) their base, with the duo appropriating the life of luxury they desperately covet without asking permission.
On four fronts, it is always a matter of when rather than if things will come to a head: in Aliki and Petros' marriage, at the address they've claimed as their own, at the barely covered old well that sits on the outskirts of the property and with the barking dogs that frequently make an appearance. The film's characters may struggle to maintain the semblance of normality as they weather ongoing setbacks and stresses (and, in Aliki's case, a visible lack of agency with the men around her), but All the Pretty Little Horses has no qualms about teasing out their ups and downs as it gradually builds to its climactic finale.
Lensing the sparse spaces, crisp lines and light hues, Luton cinematographer Yannis Fotou ranks among the feature's other key contributors, finding the ideal balance between lustrous and visually foreboding. All the Pretty Little Horses may not serve up many narrative surprises, nor ever pack the complete emotional punch it aims for, but it fittingly paints an assured picture of its protagonists' pervasive emptiness.
Production company: Horsefly Productions
International sales: Pluto Film Distribution, info@plutofilm.de
Producer: Yorgos Tsourgiannis
Production design: Danai Elefsinioti
Editing: Yorgos Mavropsaridis, Myrto Karra
Cinematography: Yannis Fotou
Music: Liesa Van der Aa
Main cast: Yota Argyropoulou, Dimitris Lalos, Katerina Didaskalou, Alexandros Karamouzis