Dir. Vincent Perez. Germany, France, UK. 2016. 103 mins.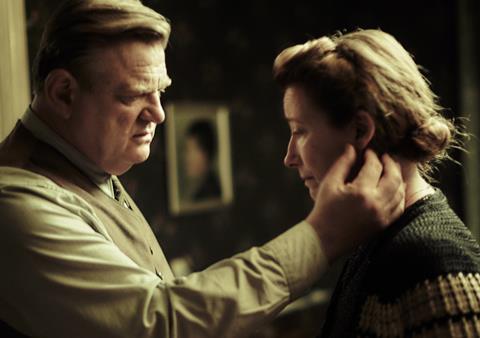 A handsomely mounted but unexceptional World War Two drama, this adaptation of Hans Fallada's 1947 novel, Every Man Dies Alone, bears all the hallmarks of a quality production. The cast is solid, in particular Emma Thompson and Brendan Gleeson as the working class Berliner couple who set up their own cottage industry resistance movement. The score, by Alexandre Desplat, is fine, despite its tendency to spoon feed the audience. Jean-Vincent Puzos' exemplary production design tells us more about the central characters and the world they inhabit than anything they say.
Otto meticulously pens anti-Hitler slogans onto postcards and leaves them around the city.
However the standard of work both in front of and behind the camera is not enough to distract from the fact that this is filmmaking which hits a few too many of the familiar beats of the genre. The picture is further compromised by a preposterous final scene.
The recent popularity of the source material – the book, which was based on a real life couple, was translated into English in 2009 and became a surprise bestseller in the UK and US – will generate audience interest in anglophone territories. The presence of Thompson in the cast will also help the picture's prospects within some demographics. However whether this will be enough to distinguish the film from previous titles in the crowded WWII thriller genre is less certain.
The unassuming lives of Otto and Anna Quangel are rent apart by the news that their son has been killed in combat. Director Vincent Perez juxtaposes their mute misery with the fiesta atmosphere in Berlin following the news of the French defeat. The city is full of Nazi-approved bunting and beer. At home, aimlessly doodling on a card, Otto changes the word 'Fuhrer' to 'lugner', meaning 'liar'. An idea forms; with the complicity of Anna, he meticulously pens anti-Hitler slogans onto postcards and leaves them around the city.
Berliners live in a culture of fear – we know this because practically every other shot features a stab of suspicion from some hard-eyed official. So it's not surprising that most of the cards are handed in to the authorities. In charge of the investigation is Inspector Escherich (Daniel Bruhl, the only actor who has chosen play his role without affecting a German accent as thick as sauerkraut).
In the absence of any indication of the effect that the Quangel's campaign has had on the general populace, Escherich becomes the audience for the slogans as well as their investigator. It's a similar role to the one which Gleeson played in Suffragette – the tireless policeman who can't help but be moved by the fervour and idealism of those he pursues. The lamentable final scene takes this narrative device to a crude extreme.
Production company: XfilmeCreativePool, Master Movies, FilmWave
International sales: Cornerstone office@cornerstonefilms.com
Producer: Stefan Arndt, Uwe Schott, Marco Pacchioni, James Schamus, Paul Trijbits,Christian Grass
Screenplay: Achim von Borries, Vincent Perez, Bettine von Borries
Cinematography: Christophe Beaucarne
Editor: François Gédigier
Production design: Jean-Vincent Puzos
Main cast: Emma Thompson, Brendan Gleeson, Daniel Brühl, Mikael Persbrandt, Monique Chaumette