Dir/scr: Park Hong-min. South Korea. 2015. 90mins.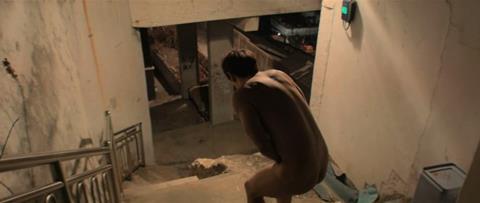 Filmed in one of Seoul's most poorly-developed districts, ALONE is relentless in its attempts to convey a nightmarish, dream-like state as a man repeatedly runs from his own murder. This is a bold, unique and compelling feature from A Fish director Park Hong-min that should stand out at this year's Busan International Film Festival and enjoy a healthy run on the festival circuit.
ALONE gritty affair, shot using long takes and handheld camera techniques with just 37 cuts over 90 riveting minutes.
The film opens with a POV shot of a murder scene where the film's central character Su-min (Lee Ju-won) is anxiously cleaning up blood off the floor. It then moves outside, where Su-min is taking pictures of a woman being attacked on a neighbouring rooftop. Men in balaclavas see him, give chase, find him, and clobber him to death with a hammer. He then wakes up on a small gazebo to find himself naked. He begins walking around the maze of alleys where he encounters one of the men, is killed again, and wakes up in the same place – only this time with his clothes on.
Amongst this web of dreams and memories is a series of encounters with people that appear related to his life, including his mother and girlfriend Ji-yeon. But Su-min is unable to escape these alleyways and wake up, as he faces his past and talks about the fear of being alone.
Sharing something in common with last year's A Matter of Interpretation (directed by Lee Kwang-kuk), which explored the concept of dream interpretation, ALONE is a far grittier affair, shot using long takes and handheld camera techniques with just 37 cuts over 90 riveting minutes.
While Su-min (played by impressive newcomer Lee Ju-won) is the main character, central to the film is the location and the sprawling maze of steps, alleyways and houses in which he finds himself. At one point, Su-min says "this place feels like the inside of my brain". There is a move afoot to develop the neighbourhood, but he's not interested in the issues of gentrification, just with the memories this area invokes.
Park Hong-min's layered and striking 3D film A Fish received the Citizen Critics' Award in Busan in 2011, and was then invited to compete in Rotterdam and Vancouver. Although ALONE sometimes overstretches itself – much the same way as A Fish - it nevertheless should travel to other festivals eager to showcase Park's raw talent for creative narrative structure and interesting visual style.
Production Company: Nongbu Film
World Sales: M-Line Distribution, jamie@mline-distribution.com
Producer: Cha Hye-jin
Screenplay: Cha Hye-jin, Park Hong-min
Cinematography: Kim Byeong-jung
Editor: Park Hong-min
Music: Oh Su-jin
Cast: Lee Ju-won, Song You-hyun, Yoon Young-min, Kim Dong-hyun