A teenage girl comes of age against the backdrop of revolutionary Egypt in this stirring IDFA opener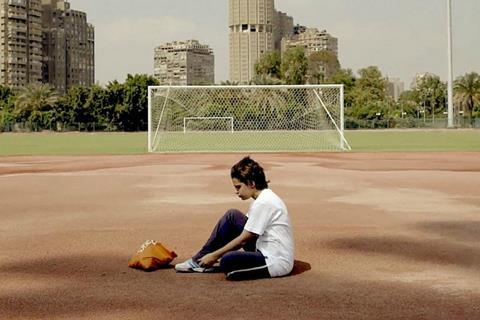 Dir: Mohamed Siam. Egy-Leb-Ger-Fr-Nor-Den-Qatar. 2017. 83mins
Both a portrait of a young woman coming of age and a political reckoning which takes the temperature of contemporary Egypt, this ambitious documentary is an arresting combination of intimate access and deft editing. The subject, Amal Gamal, is a bright, unconventional teenager who defies both authority and the expectations of a patriarchal society. She's a fearless and eloquent subject – as unphased by the threat of retribution from the police as she is by a camera so tight on her face that we see every flash of irritation.
Mohamed Siam's agile, instinctive cinematography captures the churning tumult of the protests
Supported by several work in progress awards, including the film prize of Robert Bosch Stiftung and the Thessaloniki Agora Docs in Progress, the film's profile should be further raised by its opening night slot at IDFA. The film's political themes and crackling energy will likely ensure further festival interest. And the picture's insights into the gendered nature of dissent could make this a talking point property for specialist distributors.
Amal is 15 when we first meet her, and dressed as a boy. Hers is the kind of anger which sharpens her wits but makes her reckless. Politicised by her involvement in the Tahrir Square demonstrations in 2011 and the death of her boyfriend in the Port Said Stadium massacre 2012, she has donned a hoodie and taken to the streets with a spray can and a repertoire of mocking chants directed at the police.
She cut her hair short after being dragged across the ground by it during the Tahrir Square protests and, to her fellow protestors, she is one of the boys. It's a necessity, she argues. "If I had acted as a girl in the revolution, I would have been useless. I had to be a man." But at the same time we sense an ambivalence in her about this rejection of femininity. "I don't know whether to be happy or sad when they mistake me for a boy like them."
We get glimpses of Amal as a child, the precocious only daughter of a lawyer mother and a now-deceased father. But the main body of the film is divided into chapters, revisiting Amal annually until five years after the revolution, when she is 19. What's striking, and rather disheartening, is the gradual narrowing of options for this exceptional girl.
At 16, she's full of righteous anger, debating on the streets with other teen rebels and dodging missiles thrown by government sympathisers. At 17, she's in love with a boy who expresses his regard for her with a stream of hectoring displeasure, and flounces into a sulk when her wishes for the future list her education above marriage to him. By 18, she has cut her hair again, is studying for exams and is thinking about the future. Many of the friends she made during the revolution are now in prison. She talks of law as a career, but downgrades her dream to joining the police force, musing that perhaps she could "change things from the inside". The fervour has been dampened by resignation.
Siam's agile, instinctive cinematography captures the churning tumult of the protests – there is a hellish quality to crowds engulfed in smoke tinted a sulphurous yellow by the street lights. The music choices are equally evocative. The chant of the muezzin bleeds into the score; meanwhile an Egyptian pop song paints girls as fragile flowers who throw away their watches because 'the ticking of a clock hurts them.' With all this in mind, it's hard to tell whether Amal represents hope, or the lack of it.
Production company: Abbout Productions, ArtKhana
International Sales: Doc & Film International e.pisarra@docandfilm.com
Producers: Myriam Sassine, Mohamed Siam .
Screenplay: Mohamed Siam
Cinematographer: Mohamed Siam
Editor: Véronique Lagoarde-Ségot
Music: Matthieu Deniau
Featuring: Amal Gamal