A small-time drug dealer in the outskirts of Athens gets a shot at a new life in this morality tale by Fokion Bogris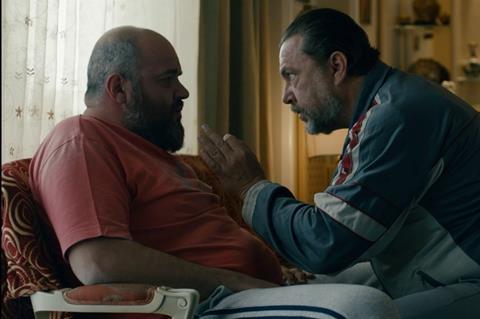 Dir: Fokion Bogris. 2020. Greece. 101mins
'Amercement', means a legal penalty or forfeit and the central character in this film seems forever fated to pay a price for his past. Fokion Bogris's moody character drama follows small-time drug dealer Vangelis (Vagelis Evagelinos) at the mercy of circumstances he cannot control and perceptions he is unable to change. His travails make for a plangent morality tale steeped in a culture of violence, misogyny and toxic masculinity. Further festival attention should follow Amercement's world premiere at Thessaloniki.
Evagelinos has the look of a forlorn, pasty-faced Ryan Gosling. Dealing weed to a select clientele has kept him solvent over the years and his one criminal charge is a decade old. The prospect of a steady job as an airport baggage handler could be his chance to bid farewell to a life of crime. Events start to conspire against him when his landlord offers a friendly warning to cease his activities. "Nasty people are coming and going all the time," he gruffly complains.
Vangelis's decision to move out and lie low eventually takes him to a safe haven with his sister Caterina (Maria Baloutsou). Her boorish bear of a boyfriend Petros (Stathis Stamoulakatos) initially welcomes the addition to the household but this offer of friendship never looks likely to end well.
Bogris and co-writer Panos Tragos have created a sympathetic figure out of Vangelis. Trouble always seems to track down this passive, mild-mannered man, but his better instincts are never entirely vanquished. As he becomes further embroiled in crimes and misdemeanours, Vagelis Avagelinos's slightly apologetic air, body language and shellshocked expressions suggest that he really doesn't belong here.
Bogris and cinematographer Yiannis Simos effectively capture the world in which Vangelis exists. City streets in the black of night seem his natural habitat. Bars, nightclubs, shadowy car parks and smoke-wreathed flats are where he spends most of his time. Simos gives them a burnished, neon-lit glow. By contrast, Vangelis's trip to the airport for his job interview is in bright, shocking daylight.
There is a good deal of craft to admire in Amercement, not least in a screenplay that has an ear for dialogue and a fondness for Tarantino-esque monologues. Vangelis's friendship with transvestite prostitute Vera (Fenia Apostolou) and his concern for fierce sister Caterina tempers some of the film's blunter edges but the female characters are very much secondary in this unrelenting man's world.
Bogris does create a formidable figure in Petros, an unpredictable man whose volcanic anger can go from zero to sixty in the time it takes his victim to swallow nervously. Stathis Stamoulakatos seems to sweat testosterone in every scene and makes Petros a lethal, larger than life combination of affable sentimentality and uncontrollable rage.If Vangelis can manage to survive everything that life and Petros throws at him, it may beckon a glimmer of hope from this dark tale.
Production company: Chase The Cut, Authorwave
International sales: Chase The Cut contact@chasethecut.gr
Producers: Maria Karagiannaki, Fokion Bogris
Screenplay: Fokion Bogris, Panos Tragos
Editing: Fokion Bogris, Giorgos Georgopoulos
Cinematography: Yiannis Simos
Music: Jay Glass Dubs, Akis Kapranos, Ahiyava
Main cast: Vagelis Evagelinos, Stathis Stamoulakatos, Maria Baloutsou, Vasilis Anastasiou, Fenia Apostolou.