Ofir Raul Grazier breathes new life into the love triangle with his follow-up to 'The Cakemaker'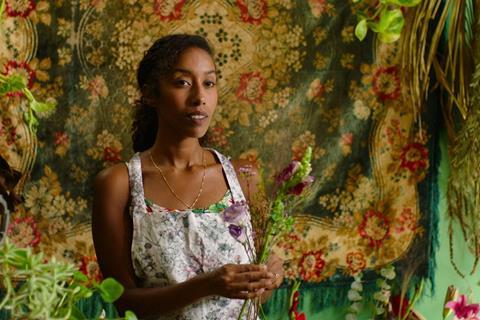 Dir/scr: Ofir Raul Grazier. Israel/Germany/Czech Republic. 2022. 127 mins.
A swimming-instructor gets out of his emotional depth in Ofir Raul Graizer's affecting, novelistic romantic-drama America, the writer-director's highly accessible follow-up to his internationally successful debut The Cakemaker (2017). Premiering in the same Karlovy Vary Crystal Globe competition as its predecessor, this is the kind of conventional, well-crafted work which usually connects more squarely with audiences than with juries or critics. With suitable handling, this vibrant-looking majority-Israeli production—which nimbly skirts heavy political or religious themes—could well parlay an inevitably busy festival-circuit run into profitable theatrical release in several territories.
Calling the picture America freights the film with a portentousness that sits incongruously with the work's engagingly genial, straightforward air.
Divided into four discrete chapters taking place sequentially several months apart, the screenplay—with just a couple of tweaks—could provide the basis for a juicy Pedro Almodovar melodrama. After travelling back home to Tel Aviv to deal with the affairs of his estranged, recently deceased father, Chicago-based thirtysomething Eli Cross (Michael Moshonov) quickly reconnects with his best friend from childhood and adolescence, Yotam (top-billed Oshrat Ingedashet).
Yotam is blissfully engaged to florist Iris (Ofri Biterman), but their plans are upended when, during a swimming trip to one of their old countryside haunts, Yotam suffers a serious head-injury that eventually put him into a persistent vegetative state. Initially furious with Eli, whom she blames for the catastrophe, Iris gradually softens her attitude and the pair end up becoming romantically attached. But just when it looks like the pair can move on into a shared future together, Yotam shows signs of a surprising recovery…
This is a well-worn set-up in cinema and literature alike, a variation on that familiar premise whereby a soldier is wrongly presumed or reported dead and his fiancee back home seeks solace on the shoulder of his best pal. But Graizer and company manage to breathe fresh life into the material, concentrating squarely on the central trio—after Yotam's incapacitation, the main narrative focus shifts from Eli to Iris—and etching rounded, empathetic characterisations for each that include complex, often traumatic backstories.
And while heart-tugging sentiment is not entirely shunned—Dominique Charpentier's score, largely an affair of piano and strings, is quite freely deployed to underline the mood of each significant development in squarely conventional style—it is handled with sufficient tact and sensitivity to heighten rather than cheapen the story's overal impact.
This is that rare example of a romantic triangle where genuine, deep affection flows in all directions between the three participants; in a departure from The Cakemaker's LGBT theme, the connection between Eli and Yotam seems to be probably platonic/bromantic in nature. But it's impossible to be absolutely certain, as Graizer commendably opts to avoid specifying every detail.
His only real mis-step comes in the final and shortest chapter, in which events take a jarringly tragic turn amid some sloppily unconvincing details. His choice of title is also questionable: Eli has made a new life in Chicago, but the USA itself plays little literal or metaphorical role in proceedings. Calling the picture America, especially in the current climate, freights the enterprise with a portentousness that sits incongruously with the work's engagingly genial, straightforward air.
Production company: Laila Films
International sales: Beta Cinema, beta@betacinema.com
Producer: Itai Tamir
Cinematography: Omri Aloni
Production design: Daniel Kossow, Nizan Zifrut
Editing: Michal Oppenheim, Ofir Raul Graizer
Music: Dominique Charpentier
Main cast: Michael Moshonov, Ofri Biterman, Oshrat Ingedashet, Irit Sheleg, Moni Moshonov