Dir. Charlie Siskel, USA, 2016, 80 minutes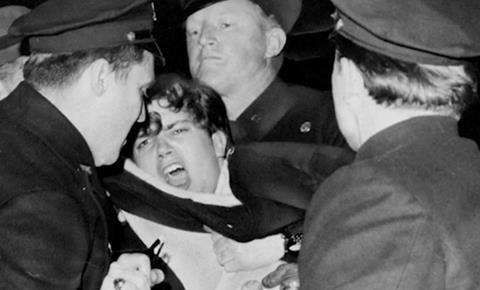 The Anarchist Cookbook (1971) instructed readers how to make bombs, synthesise LSD, and operate weapons. Still just an internet click away, it's long been a how-to guide for homegrown terrorists. Documentary film-maker Charlie Siskel tracks down its author for a confrontational feature-length exchange, and nudges some repentance out of the man more than 40 years later.
Powell admits with chagrin that he never held the copyright, meaning he only received between $40,000 and $50,000 for his counterculture classic.
William Powell doesn't have the notoriety of Oklahoma City bomber Timothy McVeigh, but many McVeighs of this world said his book gave them a helping hand. American Anarchist, which confronts the man who wrote it at 19, should draw crowds at festivals and earn a US theatrical run, although Powell's death this summer means that he can't further comment.
Exposure outside the US, beyond festivals, should be be mostly on television, yet there's enough drama in the story of Powell (viewed as a swaggering protester or as a precursor to Julian Assange or Edward Snowden) for a feature remake. More ominously, downloads of the original book are sure to soar.
Siskel structures his film around interviews with Powell and his wife which take place in a remote town in the French Pyrenees. It's no surprise that Powell is wary of press. He notes that revelations that he wrote The Anarchist Cookbook kept him from getting jobs. The bearded man, grey and paunchy at 65, is an uncomfortable interviewee. Gradually, he reveals a life story of youthful revolt, followed by a career as a teacher of mentally challenged students and a reclusive retirement.
We never learn how Siskel found Powell, or why Powell agreed to talk to him – crucial plot points – yet Powell does recall witnessing police brutality as a youth and enduring abuse at school, hinting in pro forma fashion at the roots of his book and the experiences that might lead others to consult it with horrific consequences.
Siskel's probing questions, which can give the documentary a ponderously inquisitorial feel, reassemble the portrait of a young rebel who soon resumed normal life again, and says he never read the book after it was published and didn't own a copy of it.
The film's head-on interview approach, used effectively in Blind Spot - Hitler's Secretary (2002) and by Errol Morris (with archival footage) in Fog of War (2003) and The Unknown Known (2013), makes you feel Powell's anguished unease, but it compresses the fascinating story of the book itself, which any remake is sure to expand.
Powell's New York publisher was Lyle Stuart, a champion of free expression and a rogue, who drafted a warning on the cover that the book was not intended "for children or for morons" - a sure-fire selling phrase that you could hear Peter Sellers deliver.
The clever title, for a cynical marketing whiz like Stuart, put the book in the same category as The Whole Earth Catalog and the Joy of Sex, both blockbusters of that era. Anarchist groups condemned the book as exploitation as soon as it appeared. Powell admits with chagrin that Stuart held the copyright, which meant that the author only got between $40,000 and $50,000 for his counterculture classic. We see that the book's destiny was out of his hands in more ways than one.
Siskel, who co-directed Finding Vivian Maier (2013), an inquiry into the life of a nanny who took photographs in secret, conducts interviews with a would-be 60 Minutes urgency that's exaggerated for a feature-length doc. Archival footage gives a feel for the bomb-throwing late 1960's and early 1970's, but there's not much on Powell's quiet life after that. Inventive percussion by T. Griffin sustains the mood as Powell comes to terms with his past.
Production companies: Patna Pictures, Bow and Arrow Entertainment
International sales: UTA Schwartz-WrightM@unitedtalent.com
Producer: Charlie Siskel
Executive Producers: Matthew Perniciaro, Michael Sherman
Co-Producer Chris McKinley
Associate Producer Abigail Deser
Screenwriter: Charlie Siskel
Director of Photography: Nina Bernfeld
Editor: Chris McKinley
Original Music: T. Griffin
Production Sound: Marc Parazon