Dir-scr: Nick Love. UK/US. 2015. 86mins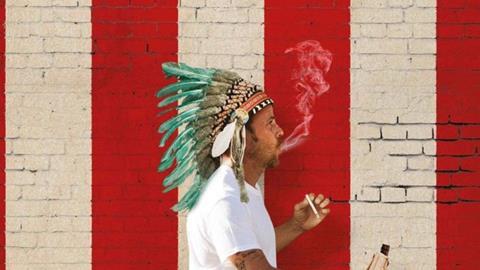 It might sound like a flag-waving action stomp, but American Hero soon reveals itself to be a likeable if lightweight indie dramedy about a messed-up New Orleans superhero and his cranky, wheelchair-bound best friend. Though too low-key to pull off any major feats at the box office, this British-backed tale with Stephen Dorff and Eddie Griffin starring, a fair share of decent effects and an atmospheric setting may still have some commercial potential.
Nick Love finds subtly evocative settings for the action in some of the scruffier parts of post-Katrina New Orleans
When the film gets its Dec 11 US opening – in cinemas and on VOD – Dorff could help attract a hipster crowd and Griffin a portion of the black audience. Distributors in other countries that have picked up this Vertigo Films project might find less marketing value in the cast but may get some leverage out of the American South setting.
The title character is Melvin (Dorff, best known recently from Immortals and Sofia Coppola's Somewhere), a Big Easy wastrel who lives with his mother and sister in a rundown neighbourhood and suppresses his impressive telekinetic powers with booze, drugs and women. Melvin spends most of his time hanging out and partying with oddly-named Iraq war vet Lucille (actor-comedian Griffin, from Scary Movie 3) but longs for the chance to be a father to his estranged young son Rex.
After a partying-induced brush with death, Melvin tries to turn over a new leaf by working on his powers and using them to clean up the streets and protect Rex from the clutches of a local drug gang.
British writer-director Nick Love (who most recently steered seventies UK TV adaptation The Sweeney) makes off-and-on use of documentary techniques to tell the story, with long takes, hand held cinematography and occasional character 'interviews'. He finds subtly evocative settings for the action in some of the scruffier parts of post-Katrina New Orleans.
The bromance between the two lead characters provides most of the downbeat humour and Melvin's relationships with his ex-partner and son the more touching moments.
Dorff is convincing as the dissolute but good-hearted Melvin and Griffin dials back his often manic performing style to play Lucille. Lesser known actors make up the solid supporting cast.
The visual effects – Melvin starts off by levitating his friend's chair as a trick for tourists but graduates to throwing cars and even stopping bullets – are above par for what otherwise seems like a low budget production. And while they're employed relatively sparingly, they stand out nicely against the realism of the rest of the action.
What's missing is much in the way of substantial drama or character development. Even with a running time of less than ninety minutes the film sometimes feels padded with party scenes and inconsequential banter.
Production company: Vertigo Films
US distribution: Screen Media Films
International sales: Protagonist Pictures, www.protagonistpictures.com
Producers: Allan Niblo, James Richardson, Nick Love
Executive producers: Nigel Williams, Rupert Preston
Cinematographer: Simon Dennis
Editor: Richard Graham
Music: Lorne Balfe
VFX supervisor: Jean-Michel Boublil
Website: www.facebook.com/Screen-Media-Films
Main cast: Stephen Dorff, Eddie Griffin, Luis Da Silva, Christopher Berry, Yohance Myles, Andrea Cohen