Tom Cruise's star power fuels Doug Liman's energetic portrait of real life pilot-turned-CIA recruit Barry Seal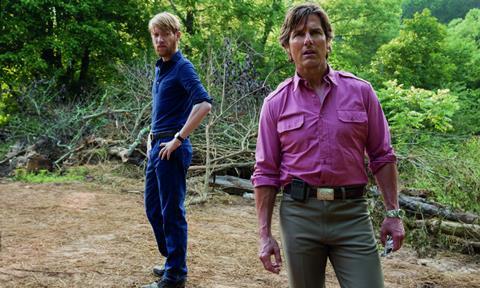 Dir. Doug Liman. US, 2017, 114 mins.
The last time that Doug Liman directed Tom Cruise, repetition was built into the concept. For their return collaboration post-Edge of Tomorrow (and pre-forthcoming sequel), the duo doesn't try to rehash their past glory — although American Made does cater to Cruise's previous strengths.
There's no doubt that Cruise is as much a guiding force as the film's central figure
Flying high in aviator shades and getting shown plenty of money, he takes on the role of Barry Seal, the real-life former commercial airline pilot-turned-CIA-recruit-turned-Medellín Cartel drug smuggler who ran one of the biggest covert operations in history. It's a breezy trip for the star, making ample use of his usual charisma, urgency, grin and gift of the gab, though the late '70s/early '80s-set film doesn't completely hit the mark.
Opening in the UK on August 25 ahead of a late September US release, American Made romps through its true tale; yet knowing just how light and comedic to play this larger-than-life crime scenario isn't a strength of either Liman or screenwriter Gary Spinelli. Still, the film's loose period vibe proves diverting and mostly engaging, as well as driving its sunny-hued visual style. Cruise may be the feature's box office lure — and he should attract more than his loyal fans — but, in the antithesis of the grim, bland The Mummy, he's also wrapped up in its shiny packaging.
In the movie's retelling, Seal jumps from ferrying illegal cigars on his TWA jaunts to setting up a government-funded front for a spate of secret aerial surveillance missions without much convincing, and barely bats an eyelid when he's told to transport arms to Nicaragua. That's where the cartel comes in; taking the weapons and getting Seal into narcotics trafficking, with an abundance of cash proving quite the incentive. He might be lying to his wife Lucy (Sarah Wright) about his job, and to his CIA handler Monty Shafer (Domhnall Gleeson) about his extracurricular activities, but he's otherwise soaring — until the cartel's run-in with local authorities brings the heat back home.
That's just the first section of Seal's story, which American Made frames through a series of date-stamped home video recordings from late 1985 and early 1986. The older Seal is visibly stressed, but still relates his exploits with shaggy dog-style enthusiasm, a juxtaposition that the film mimics. That's part of its troubles, particularly when a boom in business can only lead to several busts. Reminiscent of American Hustle in tone, though with fewer comic paunches and hairpieces, the feature proves torn between the life-and-death nature of its content and treating its tale as a lark.
And the antics keep coming. Needing to escape the law in Louisiana, Seal moves his family to Mena, Arkansas, where his shack of a new house soon blossoms into a palatial base. Lucy is now onside, he's dallying with Ocha and the paranoid Pablo Escobar for the feds, and he's even putting other pilots on the payroll. Alas the arrival of his slacker brother-in-law (Caleb Landry Jones) complicates matters, as does the attention-drawing amount of money now flowing through the previously sleepy small town.
Flitting from near-crashes on hidden Colombian airstrips to lavish cartel parties and clandestine Nicaraguan stings, American Made can't be accused of meandering through its packed narrative. Liman writes each change in location, alliance and job across cinematographer César Charlone's (Oscar-nominated for City of God) warm-lit frames, or tasks editors Saar Klein (After the Fall), Andrew Mondshein (The Mummy) and Dylan Tichenor (Triple 9) with keeping things snappy.
There's no doubt, however, that Cruise is as much a guiding force as the film's central figure. The star's characteristic hard work and extensive amount of screen time goes a long way towards making American Made work. In fact, while Gleeson is effective as the ruthless CIA operative eager to get his job done, and Jones keeps carving out his specific supporting niche, many of the movie's recognisable names — Jesse Plemons and Lola Kirke as Mena locals, Jayma Mays as an assistant attorney general determined to take down Seal — barely get more than a scene.
Production companies: Cross Creek Pictures, Imagine Entertainment, Quadrant Pictures, Vendian Entertainment
Worldwide distribution: Universal
Producers: Brian Grazer, Brian Oliver, Tyler Thompson, Doug Davison, Kim Roth, Ron Howard
Screenwriter: Gary Spinelli
Cinematographer: César Charlone
Editors: Saar Klein, Andrew Mondshein, Dylan Tichenor
Music: Christophe Beck
Production designer: Dan Weil
Costume designer: Jenny Gering
Cast: Tom Cruise, Domhnall Gleeson, Sarah Wright, E. Roger Mitchell, Jesse Plemons, Lola Kirke, Alejandro Edda, Benito Martinez, Caleb Landry Jones, Jayma Mays