A superior yet highly successful melodrama from Catherine Corsini.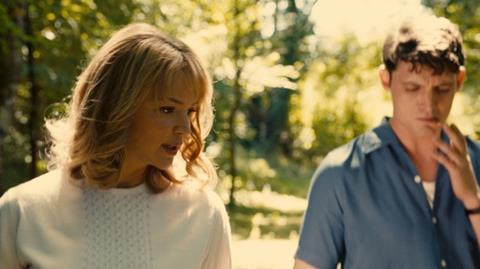 Dir. Catherine Corsini. France. 2018. 135 mins.
The love at stake in Catherine Corsini's new drama isn't so much impossible as barely thinkable – and yet the story it tells is apparently a true one. Set over several decades, this account of a passionate romance and the profoundly dysfunctional family relationships it trails in its wake is based on a 2015 novel by French writer Christine Angot – which is to say that, like most of her work, it is based on Angot's own personal history.
This is the most accomplished and ambitious film to date from a director who has frequently explored female themes from a committed gender-politics perspective
Anyone familiar with the substantial fictional-slash-autobiographical output of Angot – who recently co-wrote Claire Denis's Let the Sunshine In - will know that one very dark theme tends to run consistently through it, and so will have an inkling early on of where An Impossible Love is heading.
That Angot is considerably less known to readers outside France – where she's a controversial figure both as writer and TV personality – shouldn't stop Corsini's film from connecting with mature, upmarket, predominantly female audiences, notably in the UK, where the film is due for release through Curzon Artificial Eye in January. That its lead Virginie Efira isn't a major name internationally shouldn't matter either. She offers a powerful, assured performance in a film that's likely to score highly both as a superior and very accessible melodrama and as an intelligent conversation piece (it played, appropriately, in the Debate strand of the London Film Festival).
The film begins in 1958 in Châteauroux in central France, where 25-year-old Rachel (Efira) works as a typist. She clicks with a handsome young man she meets in the office canteen, Philippe (Niels Schneider), a romantic young intellectual from a wealthy family, fond of quoting Nietzsche. The couple begins a passionate relationship, and Rachel eventually gives birth to a daughter, Chantal (played as a teenager by impressive newcomer Estelle Lescure). But Philippe refuses to marry Rachel, or to allow his daughter to bear his family name.
Over the years that follow, it would be a severe understatement to say that he plays fast and loose, elusive and manipulative with Rachel. Even so, Rachel remains in love with him, while building a career and raising her daughter alone – a feat requiring real determination and strength of character in France in the 60s and 70s especially. It's when Chantal is a little older, and starts growing closer to the father she's barely known that Philippe's character starts to reveal an even darker side.
This is the most accomplished and ambitious film to date from a director who has frequently explored female themes from a committed gender-politics perspective, but also employing an approachable mainstream art-house aesthetic (Kristin Scott Thomas vehicle Leaving; lesbian romance Summertime). Here she follows the travails of Rachel over decades with a keen historical eye, and with a sense of period detail that echoes the bold canvases of Diane Kurys's female-centred dramas of the 80s and 90s (At First Sight, C'est la Vie), with Toma Bacqueni's production design helping immerse us in the everyday France of several decades.
The acting is terrific. Lead Efira, previously known for lighter material (In Bed With Victoria), shows herself more than capable of a heavyweight dramatic role, subtly maturing from romantic 20s to careworn middle age, while Schneider is unsettling as the mercurial male who exploits his seductive, narcissistic charm to baleful effect. It's the elusive interplay between the two that allows us to believe in a situation whereby a seemingly self-possessed woman would allow herself to become the long-term victim of a man whose abusive character is way off the scale.
Lescure makes a brittle, troubling debut, and an extra asset is the final-reel appearance by Jehnny Beth – singer of rock band Savages, and previously a screen actor under her original name Camille Berthomier – as the adult Chantal, who has a distinct resemblance to Angot, together with her spikily pragmatic take on the world.
Production company: Chaz Productions
International sales: Le Pacte, contact@le-pacte.com
Producer: Elizabeth Perez
Screenplay: Catherine Corsini, Laurette Polmanns, adapted from the novel by Christine Angot
Cinematography: Jeanne Lapoirie
Editor: Frédéric Baillehaiche
Production design: Toma Bacqueni
Music: Grégoire Hetzel
Main cast: Virginie Efira, Niels Schneider, Jehnny Beth, Estelle Lescure