Dirs: Bonni Cohen, Jon Shenk. US, 2017. 99min.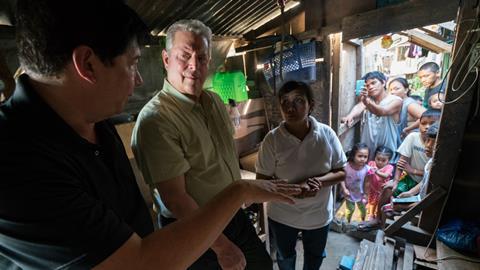 Former Vice President Al Gore's hair is a little thinner, and it's a lot whiter, but his message remains the same in this purposefully rousing follow-up to his 2006 documentary hit An Inconvenient Truth: climate change is a dangerous man-made reality and the world has a moral imperative to curtail it. Though audiences may have heard this one before, An Inconvenient Sequel: Truth to Power preaches effectively to its choir, with a decade of fresh data and increasing cataclysms—from harrowing typhoons and "rain bombs" to heat-waves and flooding coastlines—to persuasively make its case.
The stakes have been raised in more ways than one.
Theatrical grosses aren't what they used to be for a social issue documentary (the original film earned more than $50 million at the worldwide box office), but with the help of deep-pocketed backers Paramount (which is releasing in the US on July 28) and Participant Media, and added controversy from a new US government that's vocally dismissive of the issue, the new film could make a solid statement commercially. Sequel's global reach—with a climax set in Paris—should also boost its international potential.
Like your standard Hollywood sequel, the new film borrows from its predecessor, with several shots of Gore's updated slide show at Climate Leadership Training seminars around the world. Unfortunately, as with the original film, these PowerPoint presentations provide edifying illustrations and eye-opening charts, and even a few graphs of hope—such as exponential usage of solar energy in Chile, for example—but they are dramatically and cinematically inert.
Filmmakers Bonnie Cohen and Jon Shenk (Audrie & Daisy) do their best to liven up the lectures with slickly produced sequences of real-life climate disasters. We see Gore visiting melting glaciers in Greenland, floods in Miami, and the typhoon-ravaged Philippines. Admittedly, some of these anecdotes are genuinely startling: images of melting streets during an Indian heat-wave made a thousand people gasp at the film's Sundance premiere. And there's a strong scene in which Gore faces off with an Indian bureaucrat, who argues they should be allowed to embrace fossil fuels for another 150 years to grow their economy in the same way the US has.
This kind of verite politicking is what eventually tilts the documentary from an educational film into more compelling territory as Gore readies for the Paris COP21 climate talks. The conference become an important focal point for Gore's efforts, and when two weeks out, he finds himself in Paris during the November 13 terror attacks, the human catastrophe offers the film its most heartrending moments. Even though the attacks have nothing to do with environmental catastrophe, they provide an emotional weight that lingers throughout the rest of the film. The stakes have been raised in more ways than one.
Propelled by a sense of solidarity and the culmination of decades of work, Gore seizes the opportunity at COP21 to work the phones and the rooms—with Secretary of State John Kerry, the head of a major solar company and Indian government officials—to help close a climate change deal that joins developing and Western powers in a united commitment to save the planet.
In this way, An Inconvenient Sequel: Truth to Power becomes more like Shenk's The Island President, another look at climate change through the activist actions of Maldives President Mohamed Nasheed. Like that film, the thrill of the documentary comes not from its message, but in watching its protagonist engage in a passionate fight for what they believe in.
Gore, himself, also appears more fiery than he was ten years ago. During an especially ardent speech, he even invokes Martin Luther King, Jr., likening the climate change fight to a long history of civil rights struggles, which took time, but eventually triumphed. But privately, in the wake of the US presidential election of climate-change denier Donald J. Trump, Gore appears resigned to the fact that his dreams for change are dashed for now. But filmmakers Cohen and Shenk make sure to end on an inspirational note, offering a glimpse of a generation of new environmental activists following in Gore's footsteps.
Production Company: Participant Media
International distribution: Paramount
Producers: Richard Berge, Diane Weyermann
Executive Producers: Jeff Skoll, Davis Guggenheim, Lawrence Bender, Laurie David, Scott Z. Burns, Lesley Chilcott
Cinematographer: Jon Shenk
Editors: Don Bernier, Colin Nusbaum
Music: Jeff Beal
Featuring: Al Gore