Sandra Hüller plays a wife on trial for her husband's murder in Justine Triet's knotty Palm D'Or winning title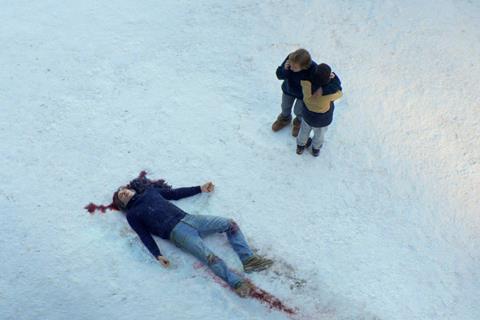 Dir. Justine Triet. France, 2023. 150mins
A portrait of a complicated woman is conveyed intriguingly through the medium of a courtroom drama in Justine Triet's rewarding - and Palme D'Or winning film. Featuring a compelling central performance from Sandra Hüller, Anatomy of a Fall takes a while to engage, but turns into a twisty, thought-provoking drama. That's thanks in part to Hüller's nuanced rendition of a widow who may be a husband-killer, or may simply be an independent, difficult bisexual woman; a character/gender mix that does not always play well in the dock.
Sandra Hüller is nuanced as a widow who may be a husband-killer, or may simply be an independent, difficult bisexual woman
Themes explored in Triet's first Cannes Competition feature, comedy-drama Sibyl (2019), rear their heads once more. Here too we meet artists who mine the lives of those close to them for material, and encounter people in positions of authority – parents, lawyers, shrinks – who cross ethical lines. This time, however, they are used in a far more rewarding way. If audiences can get past the initial half-hour slowness of a story that stays in first gear for perhaps too long, there's dramatic traction in an efficiently-shot film that one can also imagine playing strongly on streaming platforms after a threatrical run helped by Triet winning the Palme D'Or. Anatomy of a Fall makes for an interesting companion piece to Alice Diop's Saint Omer, which also saw a woman on trial for murder in a French court – although in Diop's film, it was an entire cultural system that was up for questioning.
Set somewhere in the French Alps, the film begins, after a short prologue, with the discovery of a lifeless body in the snow outside a remote family house. The dead man is Samuel, a forty-year-old struggling writer. His wife Sandra (Hüller, also centre stage in Jonathan Glazer's fellow Competition title Zone Of Interest) is a more successful highbrow novelist and seems as shocked to find him there as the couple's 11-year-old son Daniel (Milo Machado Graner) But can we believe her? There's something oddly self-contained about her reaction, except for those crying jags that seem a little, well… forced. Could this be because we've already started thinking like detectives? Anatomy Of A Fall turns a 'did she? didn't she?' drama into a story about how we read people we don't know and the prejudices, conscious or unconscious, that drive these readings.
Taking on Vincent (Swann Arlaud), a sympathetic defence lawyer with whom she once had an affair, may not be the smartest move on Sandra's part, but this is gradually seen to be part of her modus operandi. Sandra finds it difficult to keep her life, art and loves apart, something that provides fuel both for an enjoyingly pugnacious state prosecutor played by Antoine Reinartz, and for the media, which is feasting on the trial, picking apart Sandra's published novels on prime-time talk shows for clues to her depravity.
Meanwhile, Daniel – a partially-sighted youngster played with great emotional commitment by Graner – is cast into a tense limbo, protected by a court guardian so that his mother does not influence him. Those of us unfamiliar with the French legal system have to take it on trust that a minor can not only testify in a case against his mother but also be put under such pressure by investigators and prosecutors.
Triet uses sound and image in inventive ways. Primary colours emerge like road signs and interviews, recordings and police reconstructions abound, keeping this mother and sons' lives firmly in replay mode and preventing them from moving on. They shapeshift too, with an audio recording played in court morphing into a filmed flashback. Another flashback to a conversation between father and son has Daniel's words in court placed in his father's mouth.
Although there is no soundtrack as such, diegetic pieces of music – particularly a deafening steel band calypso and a piano rendition of Isaac Albeniz's celebrated 'Asturia' (Leyenda) – tap into the queasy, cyclical mood of the film.
Production companies: Les Films Pelléas, Les Films de Pierre
International sales: mk2 films, fionnuala.jamison@mk2.com
Producers: Marie-Ange Luciani, David Thion
Screenplay: Justine Triet, Arthur Harari
Cinematography: Simon Beaufils
Production design: Emmanuelle Duplay
Editing: Laurent Sénéchal
Main cast: Sandra Huller, Swann Arlaud, Milo Machado Graner, Antoine Reinartz, Samuel Theis, Jehnny Beth