A film brimming with doubt and dance about forbidden love in the Georgian ballet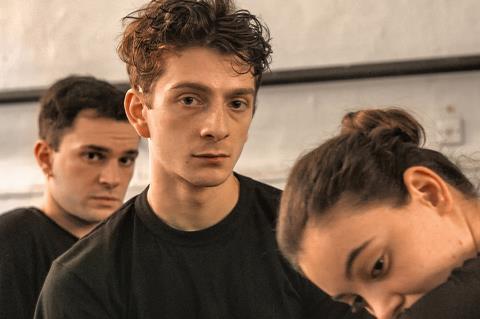 Dir/scr: Levan Akin. Sweden/Georgia /France. 2019. 106mins.
An instantly engaging tale of a young male dancer's sexual awakening in contemporary Tbilisi, And Then We Danced is personal and political, romantic and educational. Virile Georgian traditions loom large in Swedish director Levan Akin's (Certain People, The Circle) edgy, eventful portrait of a conservative society that, globalisation be damned, still has the power to ostracise citizens who dare buck tradition. LGBTQI rosters are a given but this film brimming with doubt and dance should have a bright future well beyond that heading.
The leads are a delight to watch
Georgian dance is not just codified and muscular, it is, as a powerful ballet administrator puts it, "the spirit of the nation." A nation that has zero tolerance for homosexuality. Merab (Levan Gelbakhiani) and his brother David are gifted dancers with the National Georgian Ensemble. Their father – now reduced to selling old car parts in a ratty market — once danced in major international venues, as did the boys' grandmother.
Merab has a lithe body and a sweet face, suggesting Barry Manilow's young Georgian cousin. He and lovely Mary (Ana Javakishvili) have been dancing traditional duets since they were ten. Although they haven't had sex yet (she's more gung-ho than he is) it is understood that they're more or less a couple. Merab waits tables nightly to support his family and hopes to set aside enough to buy Mary the occasional milkshake. Three co-habiting generations — Merab, David, their mother and grandmother — get by on leftovers from the restaurant and old potatoes. The power will be cut off if they don't pay the bill. All of this is matter-of-fact. Nobody complains, except the nosy neighbour.
When Irakli (Bachi Valishvili), a handsome and gifted dancer from another town joins the troupe, there's an instant spark of rivalry mixed with admiration and the stirrings of inchoate desire between him and Merab. When auditions are slated for just one lucky dancer to move up to the national ballet, discipline, longing, frustration and glimmers of joy intensify.
While dance requires excellent physical condition, almost everybody smokes and drinks, often to excess. Such transgressions can be chalked up to youth. But Georgian society is militantly heterosexual. The cautionary tale of a young man named Zaza keeps coming up. Caught having sex with another man, his family bundled him off to a remote monastery to be "cured" but things went downhill from there. The stakes are very real should Merab and Irakli act on their growing feelings. The pas de deux between them is superbly handled. Sex scenes are both sensitive and carnal.
Akin's parents are Georgian by way of Turkey and he visited Tbilisi often while growing up. He was inspired to investigate the lives of characters such as these when the participants in a small gay pride parade in Tbilisi in 2013 were savagely attacked by large mobs enlisted by the Orthodox Church. Filmed thoughtfully and intimately, the leads are a delight to watch. An integral part of the proceedings, all the dancing – and the hard work that goes into perfecting a performance — convinces.
Production companies: French Quarter Film & Takes Film
International sales: Totem Films, agathe@totem-films.com
Producers: Mathilde Dedye, Ketie Danelia
Production design: Teo Baramidze
Editors: Levan Akin, Simon Carlgren
Cinematography: Lisabi Fridell
Music: Zviad Mgebry & Ben Wheeler
Main cast: Levan Gelbakhiani, Bachi Valishvili, Ana Javakishvili