A nervy activism drama filled with sexual tension and a feisty fascist-punching ethos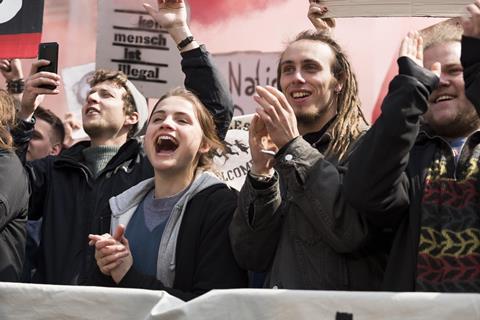 Dir. Julia von Heinz. Germany-France. 2020. 111 mins
When is peaceful protest not enough? What is the tipping point at which violence becomes not only acceptable but essential? Julia Von Heinz's thrilling, nervy drama follows Luisa (Mala Emde), a first year law student from a background of tweedy aristocracy and privilege, who joins a left wing activist collective but finds herself drawn to an Antifa splinter group of more extreme members. Is she ideologically motivated or is it the lure of Alfa (Noah Saavedra), the achingly handsome bad boy who is a magnet both for trouble and for pretty much everyone with a pulse and a functioning libido? A political thriller charged with anger and sexual tension, this is as timely as it is bracingly entertaining.
The racing pulse editing of the action sequences adds to the propulsive thrust of the storytelling.
Following on from its debut in Competition at Venice, a healthy festival run seems likely, pandemic permitting. And the combination of a charismatic central cast and a feisty fascist-punching ethos should make this a marketable title for arthouse distributors. Less conflicted and twitchy than Kelly Reichardt's Night Moves, less wearisome and hectoring than Hans Weingartner's Das Edukators, the film's take on activism has an outlaw glamour to match its revolutionary fervour.
From the outset, and a scene which plunges the audience into a supermarket dumpster along with a gang of headtorch-wearing scavengers, von Heinz deftly handles the complicated dynamic of a large group of young people. The handheld camera is jumpy and watchful, like a spectator on the sidelines of a fistfight who expects to get drawn into the fray at any moment. The overriding visual energy is one of anticipation – jittery, almost fervid, not always entirely focused. And increasingly, that matches Luisa's changeable, restless moods.
Vouched for by her close friend Batte (Luisa-Céline Gaffron), Luisa hopes to move into the P31 commune, a sprawling warehouse full of young people united by their determination to resist the rise of Far Right politics and anti-immigrant populism. Keen to prove her mettle, Luisa attends her first counter-protest. Armed with placards and custard pies, the P31 kids make a racket, disrupting the anti-foreigner rhetoric of a pinched and spiteful-looking woman (the fascists are as physically repulsive as the P31 activists are chiselled and beautiful). But tensions rise and the encounter becomes violent. Luisa grabs a phone dropped by a fascist, but is pinned down and assaulted by the man. She escapes, thanks to Alfa and a length of steel pipe. But the explosion of violence, not to mention her own traumatic experience, leads her to question just how effective a protest technique is chucking baked goods at neo-Nazis.
Drawn towards Alfa and like-minded militant Lenor (Tonio Schneider), Luisa finds that a schism starts to grow between her and former best friend Batte. She also realises that the dynamic between Alfa, Lenor and herself has something of the heady jealousy and shared misery of a love triangle, with Alfa, predictably, at its apex.
While much of the music is diegetic, the film uses inventive sound design rather than score to add a staccato stabs of mounting tension. It's a visceral approach – the industrial rumbling and barking of dogs registers a sense of panic on an almost subliminal level – and it is highly effective. The racing pulse editing of the action sequences adds to the propulsive thrust of the storytelling.
As to the central question, is violence justified? The film twice quotes the German constitution: "All Germans shall have the right to resist any person seeking to abolish this constitutional order, if no other remedy is available." And although the characters wrestle with the moral implications of meting out violence on those who would use it on innocent people, the film comes down emphatically in favour, going out with a satisfying bang of an ending.
Production companies: Seven Elephants GmbH, Kings & Queens Filmproduktion; Haïku Films
International Sales: Films Boutique contact@filmsboutique.com
Producers: Fabian Gasmia, Julia von Heinz, John Quester, Thomas Jaeger, Antoine Delahousse
Screenplay: Julia von Heinz, John Quester
Editing: Georg Söring
Cinematography: Daniela Knapp
Music: Neonschwarz
Cast: Mala Emde, Noah Saavedra, Tonio Schneider, Luisa-Céline Gaffron, Andreas Lust