A depressed father and daughter look to the stars in this bare bones debut from Kosovo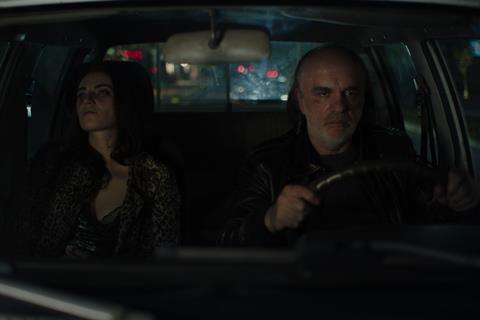 Dir: More Raca. Kosovo/Spain/Italy/North Macedonia. 2020. 80 min
The title of this picture, like its central character Shpëtim (Sunaj Raca, who also produces), looks to the stars. But the themes of Andromeda Galaxy are rather more down to earth. Basic survival, for widowed Shpëtim, is a day to day challenge. At 52, he is on the scrap heap, his only value, he comes to realise, is as spare parts. The offer of cash in exchange for one of his kidneys is looking like an increasingly tempting option, a means to fund a new start for Shpëtim and the daughter who lives with him in a flyblown caravan, now that the orphanage can no longer afford to support her. It's bleak stuff, told with an unvarnished realism. But there's little here to set the film apart from other pictures dealing with desperation, privation and lives lived below the breadline.
Bleak stuff, told with an unvarnished realism.
This is the first feature from writer and director More Raca, who previously earned a Special Jury Award at the Cairo International Film Festival for her short film, She. Although undeniably heartfelt and empathetic in its approach, Andromeda Galaxy is bare bones filmmaking, stripped to its essence by budgetary limitations. Further festival interest is possible, particularly in events based in Eastern Europe, but, with its flatly understated performances and tendency to leave much unshown and unsaid, it has a commerically challenging time ahead.
The film opens with a rare moment of good fortune. For once in his life, Shpëtim is in the right place at the right time. No matter that the good fortune fell to someone else – he is the lucky charm who unlocked a big win. And he will be rewarded with a visit to a sex worker (Juli Emiri). But Shpëtim is a sweet, ramshackle kind of a man who is content to slump awkwardly on the edge of her bed and exchange family stories. It's the woman (she is never named in the film) who tells him about the Andromeda Galaxy – the most distant object visible with the naked eye – and how she and her father would try and spot it. Shpëtim latches onto the idea, suggesting to his daughter Zana that they do the same.
It's perhaps telling that this astral body 2.5 million light years away becomes a preoccupation for Shpëtim – there's certainly very little on offer for him closer to home. He is rebuffed from job vacancies for being too old and conned by fraudsters praying on the desperation of Kosovo's jobless. What little income he has comes from siphoning petrol and selling it on, and driving the sex worker between clients at night. Swells of poignant music on the score leave us in no doubt that her lot is little better than his. Each successive scene crushes his hopes a little more. But, aside from an ad hoc tooth extraction using pliers, few of these scenes really assert themselves.
Although low key in terms of actual drama, the film is grimly effective as an indictment of a socio-political system which has failed swathes of Kosovan society, which rewards dishonesty and writes off as failures those who struggle in the inhospitable jobs market.
Production company/international sales: Arena Film, sunajraca@hotmail.com
Producer: Sunaj Raca
Cinematography: Dario Sekulovski
Screenwriter: More Raca
Editor: Don Raca
Production Design: Yllka Valla
Main cast: Sunaj Raca, Elda Jashari, Juli Emiri, Avni Dalipi, Don Raca, Fisnik Istrefi, Mirsad Ferati, Aurita Agushi