A wealthy, heavily pregnant woman experiences a crisis of faith in this enigmatic Morocco-set debut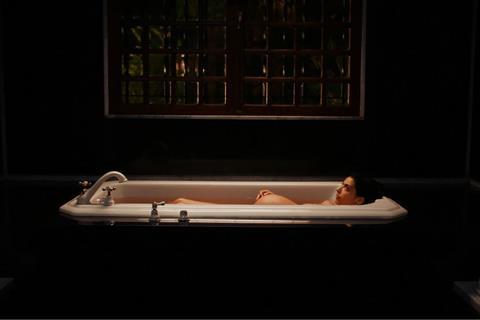 Dir/scr: Sofia Alaoui. France, Morocco, Qatar. 2022. 91mins
Despite being heavily pregnant, Itto (Oumaima Barid) seems a fragile, uncertain presence, dwarfed by the intimidating, empty opulence of her husband's family home in the rich agricultural lands of Morocco's interior. Left alone for the day while the rest of the family visits prosperous business connections, Itto finds herself stranded by a mysterious event – a supernatural or extraterrestrial visitation. As Sofia Alaoui's intriguing but oblique philosophical sci-fi unfolds, Itto comes to reappraise the life she has started to take for granted, and to question the God in whom she has hitherto placed her faith.
Alaoui crafts a sense of mystery with a breathy, wistful score which floats on the air
It's an ambitious, if enigmatic, first feature from French-Moroccan director Alaoui, who returns to Sundance having previously carried off the Short Film Grand Jury Prize with So What If the Goats Die in 2020. The film went on to win the César for Best Short Film in 2021. Alaoui, who was a 2022 Screen International Arab Star Of Tomorrow, has an arresting visual sense and handles the blend of social and religious commentary and CGI fantasy with flair. While the film might struggle to break through in the arthouse market, it is distinctive enough to make quite a stir on the festival circuit and could find a home on a streaming platform.
Itto and her husband Amine (Mehdi Dehbi) are looking forward to the comfortable future that his lucrative latest business deal will provide. But even as he paints a verbal picture of the home they will build, his phone rings and his mother (Souad Khouyi) demands his attention; for Amine, the dutiful son, family comes first. Itto relishes a day to herself, snacking on candy and temporarily discarding the strictly enforced rules of etiquette. But when she gets a call from her husband telling her that roadblocks are preventing his return, she grows anxious. Army vehicles tear past the gate of the family compound; soldiers with loudhailers urge her to stay indoors,
A neighbour, paid to transport Itto to join Amine in the city of Khourigba, instead takes her and his family into the Atlas mountains, leaving Itto stranded in a small, sullen village. It's there that things start to get weird: the local street dogs sit silently in a circle; the birds seem to be watching her every move. Something is in the air. But, curiously, Itto feels less threatened by the anomalies of the natural world than she is by the gazes of the hard-eyed local men who resent the fact that she, a young woman, is travelling on her own.
Alaoui crafts a sense of mystery with a breathy, wistful score which floats on the air like the mountain mists which seem to hold the key to the strange and unnatural events. The widescreen landscape is a dramatic canvas for the judiciously used special effects. And Itto's faith – the one tangible comfort to which she clings in this time of uncertainty – is shaken when a fellow traveller, Fouad (Fouad Oughaou), points out that the God she worships is money, and the answers to her prayers have come courtesy of her wealth rather than a higher power. Simultaneously, she realises, there is a power at work.
For better or worse, Alaoui ultimately leaves plenty of questions unanswered, even after a final voiceover from Itto that attempts to weave the threads of the mystery into some kind of existential, multidimensional fabric.
Production companies: Wrong Films, Srab Films
International sales: Totem Films adam@totem-films.com
Producer: Margaux Lorier, Toufik Ayadi, Christophe Barral
Cinematography: Noé Bach
Production design: Hafid Amly
Editing: Héloïse Pelloquet
Music: Amine Bouhafa
Main cast: Oumaima Barid, Mehdi Dehbi, Fouad Oughaou, Souad Khouyi, Mohamed Lahbib, Rajaa Essaaidi