Vincent Lindon teams up with director Stephane Brize and co-writer Olivier Gorce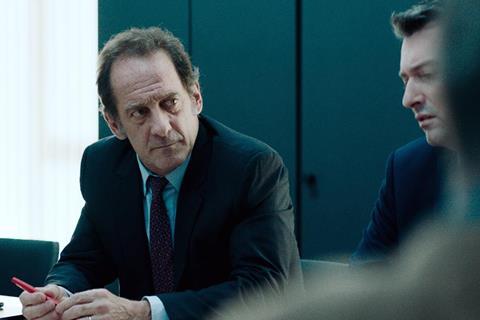 Dir: Stephane Brize. France. 2021. 96 mins.
This is the third workplace drama that Stephane Brize and his co-writer Olivier Gorce have stitched around the French actor Vincent Lindon, and his second powerhouse turn this year after the grotesque body-pumped wreck of a fireman he played in Julia Ducornau's Palme d'Or winner Titane. But there's more than Lindon to like in this film about a stressed manager who struggles to keep his job, his marriage and the factory he oversees afloat in the face of mounting pressure.
A lean drama that cuts no slack
Following on from The Measure Of A Man (2015) and At War (2018), Brize's film sees Lindon play another working man caught between a rock and a hard place, although this takes a more forensic approach, resulting in an odd blend of high-tension cine-verite with something more like moral philosophy, as Brize uses Lindon's character and dilemma to test the limits of what we mean when we talk about 'humanity'. It's a lean drama that cuts no slack.
In The Measure Of A Man, Lindon was cast as a job-seeker whose new post as a security guard came with the sting of having to inform on customers and colleagues, while At War saw him play a fiery automotive worker leading the fight against a factory closure. In Another World, which landed in competition at Venice after the Cannes berths of the previous two films, he's Philippe Lemesle, the manager of a domestic appliances plant who is asked to downsize – then downsize some more.
Channeled through Eric Dumont's edgy, verité-style handheld camerawork, the tension hardly lets up from the opening scene, set in a lawyer's office, where Philippe and his wife Anne (Sandrine Kiberlain) face off over divorce proceedings provoked by Anne's feelings of neglect. In two years, we learn, Philippe has managed just six whole weekends away from the office. Philippe comes across as a bit of a bully in this opening scene, but we soon come to realise that his problem is simply that he has let work define and validate his life. That work involves running one of five French plants of a company with a head office in Paris that in turn reports to a US-based conglomerate. It's Wall Street that sets the rules here, its severe cost-cutting diktats couched in the kind of business speak in which corporate mottoes like 'responsibility' or 'generosity' become distorted into Orwellian parodies of their true meanings.
But this is what Philippe has signed up for, and when the head office run by the glacially manipulative Claire (Marie Drucker) orders yet another round of cuts, he tries desperately to write the impossible equation that would allow him to keep the plant running and its workforce secure. In The Measure Of A Man, a worker discovered his job was to undermine fellow workers – but it's a disease that infects the white-collar sector too, as Philippe soon finds out when his attempt to unite his fellow managers fails, and again in a chillingly Machiavellian final meeting with Claire in Paris in which he is asked to debase himself and denounce a colleague to prove his loyalty.
Shot with a wintry palette, Another World encodes visually Philippe's inability to stop thinking, eating and breathing work: it becomes increasingly difficult to tell if the late-nighters he pulls evening after evening are happening in his home-office, or his office-home.
There's another strain in the film however, one centring on a mental breakdown suffered by the couple's son Lucas (Anthony Bajon) while studying at business school. On paper, that might sound like an on-the-nose moral lesson, but it's managed with subtlety and grace, as is the hesitant rapprochement between Anne and Philippe that it engineers. A recurring therapy sequence in which Lucas learns to manipulate a puppet together with another patient is resonant precisely because it's too surprising and earnestly real to be just a metaphor.
Camille Rocailleux's counter-programmed score – a solemn series of choral, string and organ melodies that conjure up Medieval church music – underlines the transcendent note behind Philippe's anguish until it dawns on the audience that it's Philippe, not his psychiatric inmate son, who has been living in "another world" – though it's one we also inhabit.
Production companies: Nord-Ouest Films, France 3 Cinema
International sales: Wild Bunch International
Producers: Christophe Rossignon, Philip Boeffard
Screenplay: Olivier Gorce, Stephane Brize
Production design: Pascal Le Guellec
Editing: Anne Klotz
Cinematography: Eric Dumont
Music: Camille Rocailleux
Main cast: Vincent Lindon, Sandrine Kiberlain, Anthony Bajon, Marie Drucker