An amnesia pandemic sweeps across Greece in this unforgettable first feature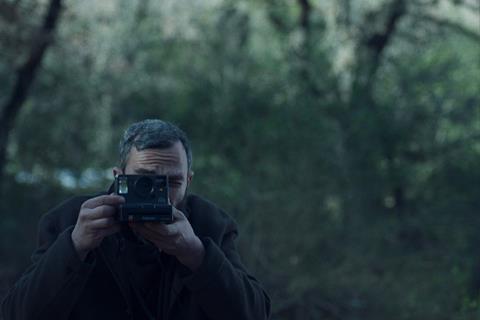 Dir. Christos Nikou. Greece. 2020. 90 mins
A meditation on memory, identity, grief and loss, with the narrative device of a global pandemic thrown in for good measure: Apples might initially sound like a tough sell. But this hugely accomplished, satisfyingly textured first feature is really something special. The film unfolds against a backdrop of a Greece in which thousands of people have been struck down by a mystery condition which causes sudden, irreversible amnesia. The fortunate are claimed by family members and taken home for care. The less fortunate face a choice between an indefinite stay in hospital or a recovery program designed to patch together a new identity. Aris (Aris Servetalis) opts for the latter.
Although the film takes place in an analogue world, there is a wry commentary here on selfie-culture.
With its deadpan style, laced with surreal flourishes and dry, absurdist humour, the film evokes not only the Greek Weird Wave work of filmmakers such as Yorgos Lanthimos (Nikou served as an assistant director on Dogtooth) but also something of the hyper stylised melancholy of Charlie Kaufman. But Apples is also distinctive enough never to feel derivative of its influences. A healthy festival career should follow its premiere as the opening film at Venice Orrizonti, and interest is likely from arthouse distributors looking for quality content that could connect with audiences both theatrically and through a streaming release.
The film's opening, a series of banal domestic images cut in time with a dull, percussive thud gives a hint of the enigmatic, glumly comedic film to come. The source of the noise, it turns out, is not a drum, but Aris's forehead, repeatedly bashed against the wall of his apartment. Taciturn and expressionless, Aris seems slightly removed from the world around him even before he wakes up at the end of a suburban bus route with no idea where or who he is. The bus driver, evidently well-versed in the protocol of dealing with sudden onset amnesia, sighs and tells Aris to wait while he calls an ambulance.
Aris compares notes with the patient in the adjacent bed. They share a mysterious pain on the crown of the head and a blank slate where their memory – and consequently personality – should be. Aris's only defining characteristic is a taste for apples.
When it becomes clear that nobody is coming to claim him, Aris is moved to the recovery program. He is assigned a new apartment and a list of tasks, recorded on a C90 cassette, which are intended to start shaping a new personality. Each task must be captured with a polaroid photograph. Both in the choice of the 4:3 aspect ratio and the sober, saturated colour palette, Nikou nods to the aesthetic of the polaroid, emphasising it as a central device in the film. When Aris meets fellow amnesiac Anna (Sofia Georgovassili), who is also in the recovery program, it becomes clear that there is a one-size-fits-all approach to the tasks. Which begs the question, will all the newly crafted replacement personalities be the same?
Although the film takes place in an analogue world, there is evidently a wry commentary here on selfie-culture and the pervasive idea that an experience is somehow invalidated unless it has been instagrammed and approved. Does identity become identikit if everyone is posting the same insta-polished content?
But the film's themes run deeper. To quote Abraham Lincoln, "No man has a good enough memory to be a successful liar." This certainly holds true for amnesiacs – it becomes clear to the audience that Aris is concealing something. To reveal what would lessen the considerable emotional impact of the ending. Suffice to say, memory may be the treasury and guardian of all things, but for some, forgetting is infinitely preferable.
Production companies: Boo Productions, Lava Films
International Sales: Alpha Violet info@alphaviolet.com
Producers: Iraklis Mavroidis, Angelo Venetis, Aris Dagios, Mariusz Wlodarski, Christos Nikou
Screenplay: Christos Nikou, Stavros Raptis
Editing: George Zafiris
Cinematography: Bartosz Swiniarski
Music: The Boy
Main cast: Aris Servetalis, Sofia Georgovassili, Anna Kalaitzidou, Argiris Bakirtzis