Dir: Boo Junfeng. Singapore/Germany/France/Hong Kong/Qatar, 2016. 96min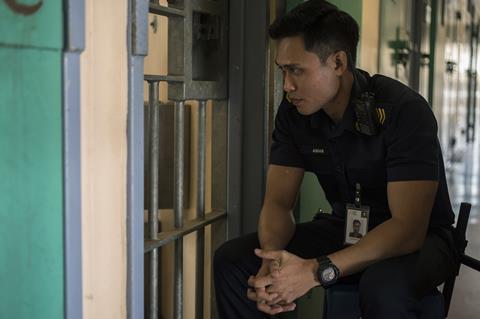 There's a pleasing undertow of culpability humming through every frame of Apprentice and not just because it's set primarily in a penitentiary in Singapore (while the city-state is never named, it's not hard to figure out where this takes place). Writer-director Boo Junfeng doles out information slowly but confidently as we get to know 28-year-old Aiman (Fir Rahman), a handsome former delinquent and ex-military man freshly hired as a prison guard determined to help rehabilitate prisoners. But being taken under the wing of the prison hangman brings Aiman to the end of his rope, so to speak.
Tightly focused and ambitious in its multiple themes, the tale touches on how the death penalty radiates out to affect the living
Boo's unsettling second feature was already picked up for France, Turkey, Mexico, Singapore, Hong Kong and China prior to its premiere in Un Certain Regard in Cannes.
Tightly focused and ambitious in its multiple themes, the tale touches on how the death penalty radiates out to affect the living. Explored are whether the sins of one's father should penalise subsequent generations and what kind of toll carrying out capital punishment may take on those paid to execute the condemned. That may sound like a dreary prospect but this un-showy and suspenseful story remains lively thanks to the excellent interplay between newcomer Aiman and prison hangman Rahim (charismatic veteran Wan Hanafi Su) who has been taking pride in his grisly but necessary profession for 30 years.
Aiman lives in cramped quarters with his older sister Suhaila (Mastura Ahmad) who is on the brink of becoming engaged to an Australian suitor after a life of relative hardship. There's something painfully askew in Aiman and Suhaila's family history; in a follow-up interview for his prison guard job, Aiman tells his superior that his last name differs from that of his biological father because he's an orphan. He claims he's drawn to "discipline" but he's definitely hiding something. The pace at which that narratively potent "something" rears its head makes for consistently compelling viewing.
Well-cast actors boast interesting faces and two extended showdowns — one between Aiman and Rahim, and one between Aiman and his sister, are particularly intense. Characters slide back and forth between Malay and English (Aiman and Rahim are ethnic Malays but most of their superiors are ethnic Chinese). Sound design and score are unobtrusively effective and it could be argued that the prison itself is a supporting character.
Apprentice conveys a great deal of presumably accurate pragmatic detail about how to hang a human with minimal suffering — how long the rope should be, where the noose knot should align with a neck. Pacing and camera placement when the moment of execution arrives are exemplary. By the film's end, any attentive viewer is likely to feel implicated.
Although shooting to represent the prison complex was split between Singapore and Australia, the final result is seamlessly convincing.
Production companies: Peanut Pictures, Akanga Film Asia, Zhao Wei Films,
International sales: Luxbox (Paris), info@luxboxfilms.com
Producers: Raymond Phathanavirangoon, Fran Borgia Tan Fong Cheng
Screenplay: Boo Junfeng, from a story by Boo Junfeng and Raymond Phathanavirangoon
Cinematography: Benoit Soler
Editors: Natalie Soh, Lee Chatametikool
Production design: James Page
Music: Alexander Zekke, Matthew James Kelly
Main cast: Fir Rhaman, Wan Hanafi Su, Mastura Ahmad, Koh Boon Pin, Nickson Cheng, Crispian Chan, Gerald Chew