Director: Kleber Mendonça Filho. Brazil. 2016. 142mins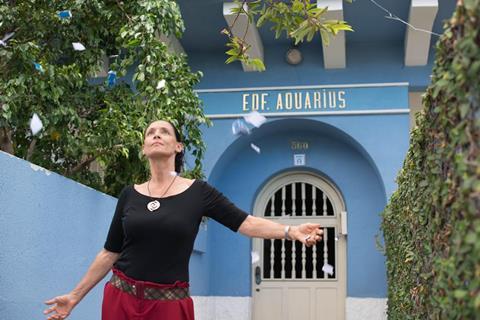 A magnetic central performance from Sonia Braga is the driving force in a relatively conventional but compelling drama from Brazilian director Kleber Mendonça Filho. This second fiction feature (he also made a feature length documentary, Critico) follows his acclaimed debut, Neighbouring Sounds. But while it shares a setting – both films take place in the city of Recife in Brazil – and a fascination with the relationships between residents and the buildings in which they live, this film lacks the some of the formal rigour that made his debut so arresting. But this hardly matters, with force-of-nature Braga giving one of the most extraordinary performances of her career.
The joy of this character is the fact that she constantly surprises.
Braga's wonderful creation, the spirited sixty-five-year-old former music journalist Clara, is a joy to behold. And the lack of complex, sexual leading roles for women over fifty is a huge selling point for this portrait of a prickly, pot-smoking thorn in the side of a bullying property development company. The film is ostensibly about Clara and her dogged refusal to sell her apartment, even though she is the last inhabitant remaining there. But this serves as a jumping off point for a commentary on social divisions in modern Brazil and a warm and perceptive study of the dynamics within an extended family. Sales should be strong and festival interest seems assured.
The device of the unscrupulous property developer is one which has been a perennial presence in cinema – there are parallels with Francesco Rosi's Hands Over The City. But it's a particularly timely theme now, both in Brazil and elsewhere in the world. Clara comes from a privileged background – the contested apartment, named Aquarius, is on the upscale Avenida Boa Viagem – she is positioned as both a maverick rebel standing up against 'the man' and a stubborn old woman who is forcing the other residents to miss out on their potential windfall.
A three chapter structure divides the story into segments dealing with Clara's Hair, Clara's Love and Clara's Cancer. We are introduced to Clara as a younger woman, in 1980. She has recently survived cancer and is hosting a birthday party for her beloved aunt. Winding forward to the present day, its not hard to see the parallels between Clara as an older woman and the forthright aunt she loved. Filho makes minimal use of flashbacks, but those he does allow playfully give a sense of the accumulated history of the building.
As a music writer, Clara has a certain amount of fame. There's one lovely sequence early on, in which she is delivers a fascinating anecdote to illustrate her love of vinyl to a cub journalist who is doggedly obsessed with MP3s. And music is crucial in the film – Clara's tastes are eclectic, ranging from Queen's Fat Bottomed Girls to the work of Brazilian composer Heitor Villa-Lobos.
Favouring an unhurried pace, Filho takes the time to let us get to know Clara. And while the moments of drama are small and intimate, the effect is engrossing. The joy of this character is the fact that she constantly surprises. She pays for sex with a gigolo on a whim; she boozes and bitches. And her climactic confrontation features possible the best use of insects at Cannes 2016 so far.
Production companies: SBS Films
International sales: SBS International contact@sbs-productions.com
Producers: Émilie Lesclaux, Saïd Ben Saïd, Michel Merkt
Screenplay: Kleber Mendonça Filho
Cinematography: Pedro Sotero, Fabricio Tadeu
Editor: Eduardo Serrano
Production design: Juliano Dornelles, Thales Junqueira
Main cast: Sonia Braga, Maeve Jinkings, Irandhir Santos, Humberto Carrão, Zoraide Coleto, Fernando Teixeira, Buda Lira