Strong performances from its two leads mark out this Russian medical drama competing at Karlovy Vary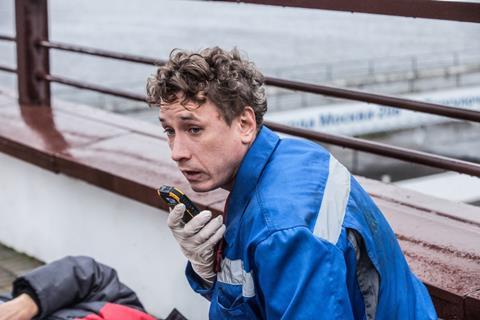 Dir. Boris Khlebnikov. Russia/Finland/Germany. 2017. 116 mins.
Equal parts marital drama and medical procedural, Arrhythmia works as kind of extended thought experiment: what if you took television's Dr. House, shaved twenty years off his age and plopped him into a mid-size Russian city? Director Boris Khlebnikov answers that question to mostly satisfying effect with his sixth feature, the story of a talented paramedic whose headstrong arrogance ends up poisoning both his personal and professional life.
The scenes between the unhappy couple crackle with volatility, capturing that fiery interval when one status quo has been shattered and the next one has yet to be forged
Prior to competing in Karlovy Vary, Arrhythmia premiered at the Kinotavr Open Russian Film Festival last month, where it won the Grand Prize and Audience Award, and the cast and crew might consider clearing additional travel time. Thanks to strong performances from leads Alexander Yatsenko and Irina Gorbacheva, and an uncompromising, often uncomfortably accurate depiction of relationship dynamics, Arrhythmia seems likely to live a healthy life on the festival circuit.
Initially conceived as a comedy, the tale took a spikier turn when Khlebnikov and co-screenwriter Natalia Meshchaninova learned more about Russia's evolving medical system and the lives of those caught up in those shifts. Chief among them is Oleg (Yatsenko, star of the director's 2013 film A Long and Happy Life), a hard drinking, hard-charging EMT who follows a results-first, protocols-be-damned philosophy when it comes to doing his job. Barely north of thirty, he's already something of a dinosaur, totally at odds with the bureaucratic, consultant-approved direction his medical establishment is moving toward. Every call he answers leads to another reprimand, which causes him to drown his frustration in drink.
Among other reasons, that puts him at odds with wife Katya (Gorbacheva, outstanding), who announces – via text message – that she wants a divorce after a particularly embarrassing family dinner. While the medical interventions get slightly repetitive – "this is a cad who doesn't play by the book, consequences be damned!" the film says, and then says again — the scenes between the unhappy couple crackle with volatility, capturing that fiery interval when one status quo has been shattered and the next one has yet to be forged. Indeed, every act of kindness and cruelty helps the couple renegotiate just who they are to each other now that everything is up for grabs, lending each of their shared scenes a slightly different tenor.
The film is at its best when detailing those nuanced characterisations, recognising that many of the qualities which make Oleg a gifted healer make him a malignantly destructive partner. Though Khlebnikov doesn't shy from showing the relationship's rot, Oleg and Katya's attraction and appreciation for one another is never too far away either. Similarly, the film examines the values and hard limits of Oleg's gung-ho medic approach, going so far as to imply that the hierarchal system he so intentionally skirts might actually save more lives in the long run.
Technical specs are par the course for this modestly budgeted character study, although cinematographer Alisher Khamidkhodzhaev's broad lighting schemes seem a better fit for the comedy Arrhythmia was initially intended to be than the jagged drama it ended up becoming. The film ultimately rises and falls on the strength of its two leads, and it's a testament to their lived-in performances that audiences can gaze upon the distinctive Yatsenko, who resembles a curious cross between US senator Rand Paul and Buster Keaton, and see some version of themselves reflected back.
Production companies: Mars Media Entertainment, CTB Film Company
International sales: Indie Sales Company, info@indiesales.eu
Producers: Ruben Dishdishian, Sergey Selyanov
Screenplay: Natalia Meshchaninova & Boris Khlebnikov
Cinematography: Alisher Khamidkhodzhaev R.C.G.
Editor: Ivan Lebedev Yulia Batalova
Production design: Olga Khlebnokova
Main cast: Alexander Yatsenko, Irina Gorbacheva