Laurent Cantet follows the sharp rise and sudden fall of a young French writer in the social media age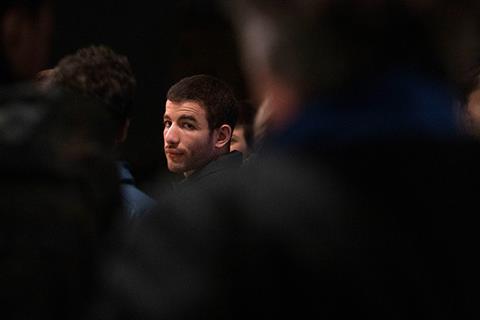 Dir. Laurent Cantet. France. 2021. 87mins
A dedicated analyst of contemporary French society, writer-director Laurent Cantet turns to the agonies of the internet in Arthur Rambo, the anatomy of a super-troll. Based on the true story of a young media star who got in trouble for his inflammatory tweets, Arthur Rambo makes a logical follow-up to Cantet's Cannes Palme d'Or winner The Class and his 2017 film The Workshop. Both dealt with the contradictions of modern French youth, with the latter focusing on a generation's attraction to extremism.
So obviously material for debate that it never takes off dramatically
While The Workshop was already somewhat too overtly a dramatised debate, Arthur Rambo goes even further in that direction, resulting in Cantet's least satisfying film to date. In France, where it's due for release in December, the film is likely to resonate — as least as a talking point — given the continuing urgency of its themes. Elsewhere, with audiences less aware of the background story, Arthur Rambo may register only marginally.
Not to be confused with a 2018 short of the same name, this Arthur Rambo is inspired by the case of Mehdi Meklat, a young blogger, writer and broadcaster who became a prominent media figure in France, but whose star fell dramatically when it emerged that he had pseudonymously posted a series of virulently offensive tweets. His avatar here is Karim D (Rabah Nait Oufella), first seen on a TV show discussing his new book, a fictional essay on immigration, written by the son of Algerians, after his first visit to that country.
An explosion of social media posts after his interview tells us that Karim has been hailed by his peers, children of Maghrebin and African immigrants, as authentically voicing their experience. At a party at his publisher's that night, Karim basks in the glow of instant fame; but a warning note is sounded by a young hip novelist telling him to mistrust the fizz of the champagne.
Sure enough, within moments, Karim has been outed online as 'Arthur Rambo', the author of a stream of tweets airing extremist views – homophobic, misogynistic, anti-Semitic, pro-terrorism, but also anti-Muslim. Karim's social media fans instantly turn against him; seemingly only minutes after hailing him a sensation, his publishers are holding a crisis conference and distancing themselves. Over the course of the night and the next two days, Karim is forced to answer questions about his actions and beliefs in a series of confrontations with his family members, his girlfriend (Sarah Henochsberg) and his colleagues at an online TV channel, who see him as discrediting all that they stand for.
In keeping with Cantet's previous work, Arthur Rambo is nothing if not a serious, questioning film that aims to take the pulse of a nation; here in the wake of Charlie Hebdo and the Bataclan, and in the light of current French debate over ethnic and cultural identity. There's plenty here to discuss in terms of the effect of social media, with Karim constantly attempting to explain how he — the author of a sensitive, searching literary work — can also be responsible for poisonous soundbite sloganeering. He explains that the whole thing was "a literary, artistic experiment", and that 'Arthur Rambo', a persona he created at 16 as his 'evil double' (the punning handle suggests a punk poet toting a sub-machine gun) was designed to get a rise out of his followers, and expose their extremism by baiting it. He even suggests that he's less responsible for 'Arthur' than his followers are: "Tweets only exist if you read them."
Whether or not we buy his justifications, there's plenty of grist for discussion here. But that's the problem with Arthur Rambo: it's so obviously material for debate that it never takes off dramatically. Cantet and co-writers Fanny Burdino and Samuel Doux (previously collaborators with Cédric Kahn and Joachim Lafosse) have loaded the film with explicit statements, and there are few characters who don't serve the purpose of representing a position: from the publishers, bourgeois hypocrites who bend whichever way public opinion and commerce dictate, to Karim's literary mentor (a brief appearance from veteran Anne Alvaro), so entirely pre-digital a scribe that she's seen writing at her desk longhand.
The decision to squeeze the action into a night and two days makes sense in terms of evoking real-time urgency, but it results in overstated artifice, with Karim going from hero to pariah in minutes. The device of plastering the screen with torrents of tweets is a reminder that mainstream cinema still hasn't quite found a convincing way to capture online consciousness in moving images.
A largely little-known cast is headed by Rabah Nait Oufella, who appeared in The Class, and had a featured role in Samir Guesmi's 2020 Cannes selection Ibrahim. As Karim, he has a heavy load of contradictions, and articulate self-awareness, to carry. While he is approachably likeable at the start as the somewhat gauche cool cat on the rise, he struggles to flesh out a character whose main function is thereafter to constantly explain himself and the malaises of the internet age ("My generation is in a continual rush… Tweeting is like breathing"). Agreeably counterpointing Karim's generally low-key distress is a slightly too full-on, yet arrestingly vivid performance from Bilel Chegrani as Karim's kid brother, whose response to the Rambo furore encapsulates the danger of playing with online fire.
Production companies: Les Films de Pierre, Memento Films Production
International sales: Playtime info@playtime.group
Producer: Marie-Ange Luciani
Screenplay: Laurent Cantet, Fanny Burdino, Samuel Doux
Cineatography: Pierre Milon
Editor: Mathilde Muyard
Production design: Pascale Consigny
Music: Chloé Thévenin
Main cast: Rabah Nait Oufella, Bilel Chegrani, Antoine Reinartz, Sofian Khammes