Teen girls face violent persecution in this audacious updating of the Salem witch trials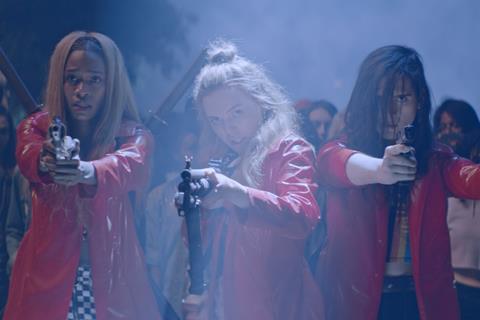 Dir/scr: Sam Levinson. US. 2018. 110mins
A brazen mash-up of The Crucible and The Purge, Assassination Nation wades into fraught political waters as it addresses everything from American gun violence to the callousness of internet culture to the subjugation of women. This satire/thriller/horror about the implosion of a seemingly tranquil suburban town misfires more than it connects, but writer-director Sam Levinson certainly attacks his targets with fervour if not clarity or insight. In subsequent years, Nation might very well serve as a handy encapsulation of the #MeToo era — even though future viewers will have to acknowledge that, as a piece of filmmaking, it's mediocre.
To complain that Levinson overdoes his nightmare vision is to ignore the fact that such outlandishness is entirely the point
Opening in North America on September 21 before screening at the London Film Festival next month and then opening in the UK in November, this indie offering lacks star power but has gained some buzz since its Sundance premiere for its extreme violence and provocative subject matter. A cult audience awaits, with younger viewers being the most likely draw.
Set in Salem, Nation stars Odessa Young as Lily, a high school student who's close friends with Sarah (Suki Waterhouse), Bex (Hari Nef) and Em (Abra). Like lots of teenagers, they're obsessed with boys, gossip and their phones, but this nondescript community quickly becomes unhinged after data hacks start to reveal locals' most sensitive personal information — including their sexual proclivities.
Making his second feature, Levinson (the son of Oscar-winning director Barry Levinson) has adopted a stylish tone for this examination of modern life, utilizing split-screens, slow-motion and bold camera moves to suggest the drama and electricity of these young women's lives. Lily sometimes addresses the viewer directly through a blasé voiceover, which only further emphasizes the notion that Nation is meant to be a generational, state-of-the-world-today portrait.
Nation's glib hipness has its passing pleasures. Much of the film's early stretches are visually enticing, albeit intellectually vapid. But Levinson draws blood (and spills plenty of it) as the town's patriarchy begins to turn on Lily and other women, working through their embarrassment about what's revealed in these data hacks by physically punishing them. Soon, what was a flashy movie about social media morphs into a graphically violent survival tale in which polite society crumbles and Lily and her friends must arm themselves to the teeth to survive.
By placing the action in Salem, the location of the infamous 17th century witch trials (which also served as the setting for Arthur Miller's play The Crucible), Levinson unsubtly wants to connect then and now, arguing that once again America is a misogynistic, morally hypocritical country determined to repress women. As with most extreme political satires, however, it goes off the deep end, imagining the worst-case scenario of how its premise could play out.
But to complain that Levinson overdoes his nightmare vision is to ignore the fact that such outlandishness is entirely the point. Nation harnesses intense violence and high emotions to articulate the terror that women feel in a world where sexual assault, rape and domestic abuse are rampant — and a world where they're not believed once these evils are visited upon them. And indeed, the film's final sections can be visceral and upsetting, making it hard to dismiss Levinson's rage at a society he feels has gone mad.
With that said, though, there remains a sort of studied slickness — a fashionable nihilism — to Nation that leaves the filmmaker's concerns feeling hollow. Of the main leads, Young can be terribly compelling as she fights for her life. But despite Levinson's clear compassion for his female characters, he hasn't shaped them in any meaningful way. In a sense, Nation too acutely dramatizes how social media and cellphones have left us disconnected from one another: Neither Lily nor her friends really register as bright, nuanced individuals.
As such, the film's later shift into a Purge-like citywide action film is technically skilful but emotionally stilted. No matter how sympathetically aligned one may be with Levinson's overriding metaphor — for many women, every day is a minefield littered with dangerous men — Assassination Nation remains a little too pleased with its own audaciousness to be quite the human horror story it aspires to be.
Production companies: Bron Studios, Foxtail Entertainment, Phantom Four
Worldwide Rights: Neon / AGBO
US Distribution: Neon / UK Distribution: Universal Pictures
Producers: David S. Goyer, Kevin Turen, Anita Gou, Matthew J. Malek, Manu Gargi, Aaron L. Gilbert
Production design: Michael Grasley
Editing: Ron Patane
Cinematography: Marcell Rév
Music: Ian Hultquist
Main cast: Odessa Young, Suki Waterhouse, Hari Nef, Abra, Anika Noni Rose, Colman Domingo, Maude Apatow, Cody Christian, Kathryn Erbe, Bill Skarsgård, Joel McHale, Bella Thorne