Dir/scr: Choi Dong-hoon. South Korea. 139mins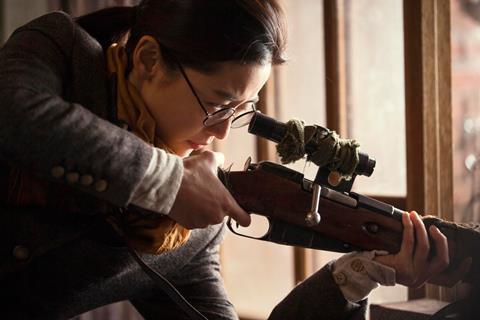 One of South Korea's most commercially successful filmmakers, Choi Dong-hoon (The Thieves) again assembles an all-star cast for Assassination, this time taking viewers back to the Japanese occupation of the 1930s when the Korean resistance puts together a team to carry out a key assassination.
Choi's films are usually long, but Assassination feels especially lengthy, particularly in the latter stages where it drags following the climax.
With a budget of $16m, no expense has been spared in portraying the period in compelling fashion with lavish set designs, costumes and some spectacular set-pieces. Assassination, however, suffers from being somewhat shallow and over-long with an overload of characters, although there's plenty here to consolidate Choi's track record at the Korean box office.
Indeed, the film has already taken 3.37 million admissions ($22.8m) in the first five days since its release on July 22 and attracted over 2.4 million viewers ($16.8m) on its opening weekend (July 24-26) making it the second strongest opening weekend ever for a Korean film. Going ahead, it faces some stiff competition in the form of Mission: Impossible – Rogue Nation and Ryoo Seung-wan's Veteran on August 5, followed by period epic Memories of the Sword starring Lee Byung-hun and Jeon Do-yeon.
Internationally, audiences could have trouble fully understanding the context of the film's historical setting. It has pre-sold widely, however, to territories including North America, China, Hong Kong, Thailand and Australia, although it is likely to have a particular resonance in Asia and China in particular, where much of the film was shot and set. Assassination will have its international premiere at the Fantasia International Film Festival in Montreal on August 4.
Although the numerous characters and locations complicate matters, the film's plot itself is, fortunately, relatively straightforward. Mainly set in 1933 in Shanghai and Seoul (formerly known as Gyeongseong), it centres around the Provisional Korean Government police chief Yem Sek-jin (Lee Jung-jae) who is ordered by the Vice President in Hangzhou, China, to find and convince three individuals to kill the leader of the Japanese forces in Korea, along with a business tycoon with close ties to the Japanese government, Kang In-guk (Lee Gyeung-young).
The three who are chosen for this mission are unknown to the Japanese authorities and have a particular set of skills: Ahn Okyun (Gianna Jun) is a sniper from the Korean Independence Army and in jail in Manchuria for shooting her superior; Chu Sang-ok otherwise known as 'Big Gun' (Cho Jin-woong) is one of the last graduates of the Independence Military School held in prison after stealing and selling guns from Chiang Kai-shek's army; Duk-sam (Choi Duk-moon) is an explosives specialist who is in the same jail as 'Big Gun' for selling faulty explosives.
The Japanese consulate in Shanghai is aware of this assassination plot, however, so a hitman known as Hawaii Pistol (Ha Jung-woo) is hired (together with his cigar chewing sidekick Young-gam, played by Oh Dal-soo) to eliminate the trio in Seoul.
Assassination's colonial-era backdrop has been orchestrated with a remarkable attention to detail. (The film was shot on ten different sets in the vicinity of Shanghai and the set used in Korea to depict some of the scenes in 1930s Seoul is the largest ever constructed in the country). Choi has assembled a wealth of talent behind the scenes including the renowned production designer Ryu Seung-he (Ode to My Father, The Host), action director Yu Sang-seop (The Chaser, The Thieves), costume designer Jo Sang-gyeong (Oldboy) and cinematographer Kim Woo-hyung (Late Autumn). Set-pieces are notably well-staged and shot, and footage is expertly woven together.
Where the film falters, however, is in its length, character development, and lack of depth. Choi's films are usually long (Tazza: The High Rollers clocked in at 139mins), but Assassination feels especially lengthy, particularly in the latter stages where it drags following the climax.
The number of leads and supporting roles dotted across the narrative is also problematic, meaning many of the main characters aren't fully developed. Although we learn more about the sniper Ahn Okyun and the police chief Yem Sek-jin, it's simply too crowded for any other significant character to take prominence. With so much focus on spectacle, the film fails to explore this part of Korean history in any meaningful way. Assassination plays more to Choi's strengths - witty dialogue and entertaining storytelling accompanied by strong visuals and cast - which have made him a commercial force in Korea.
Production Company: Caper Film
International sales: Showbox (http://www.showbox.co.kr/english/index.asp)
Executive Producer: You Jeong-hun
Producers: Ahn Soo-hyun, Choi Dong-hoon
Screenplay: Choi Dong-hoon, Lee Ki-cheol
Cinematography: Kim Woo-hyung
Production Design: Ryu Seong-he
Editor: Sin Min-kyung
Music: Jang Young-gyu
Main Cast: Gianna Jun, Lee Jung-jae, Ha Jung-woo, Oh Dal-su, Cho Jin-woong & Lee Kyung-young, Choi Duk-moon