Dir: Justin Kurzel. France. 2016. 115mins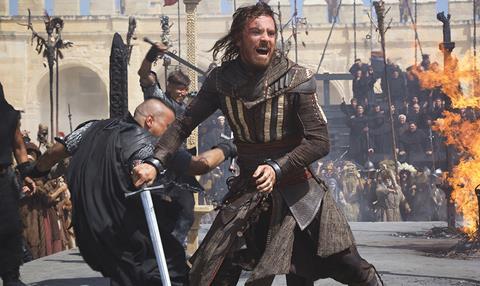 A videogame movie fully confident in its gonzo, pseudo-existential tone, Assassin's Creed is an arresting cacophony which is never particularly good. Reuniting with the stars of his 2015 Macbeth adaptation, director Justin Kurzel has produced an action-thriller with real vision and scope — especially in comparison to the measly films usually based on popular games. But while it's fun to see serious actors like Michael Fassbender and Marion Cotillard commit themselves to such ludicrous nonsense, Assassin's Creed can't escape the feeling that formidable talents are putting considerable effort into material that doesn't deserve such care.
Based on the Ubisoft videogame series, Assassin's Creed is a very silly movie executed with utter seriousness
Opening December 21 in the States and January 1 in the UK, this Fox offering will face an uphill battle in a marketplace where Rogue One should dominate. Two-time Oscar-nominee Fassbender has plenty of name appeal thanks to the recent X-Men movies, and Oscar-winner Cotillard will be familiar to fans of Inception and The Dark Knight Rises. But although it boasts plenty of high-energy action, Assassin's Creed may become a modest commercial performer.
Fassbender plays Cal, a dangerous criminal about to be executed when he's rescued by Sofia (Cotillard), who is part of a mysterious company known as Abstergo Industries. Sofia needs Cal because he's a descendant of 15th-century Spanish warrior Aguilar de Nerha, a revered member of a secret society called the Assassins. Using some of Abstergo's advanced technology, Cal will link up with Aguilar remotely through their shared DNA, essentially "controlling" him while seeking the legendary Apple of Eden, which holds the key to humanity's free will.
Based on the Ubisoft videogame series, Assassin's Creed is a very silly movie executed with utter seriousness. Much like Kurzel's Macbeth, which was distinguished by its visceral, dreamlike battle scenes, Assassin's Creed really shines when the director executes his muscular, feverish action sequences. Fassbender, who also plays Aguilar, has beefed up for the role, and he's a chiselled, wholly convincing hero, delivering a flurry of punches and kicks to his foes when he's not jumping from building to building or blasting arrows in all directions.
The setup for these sequences couldn't be goofier — we constantly see present-day Cal zooming around Abstergo's lab attached to a harness while Aguilar is fighting bad guys in the 15th century — but Kurzel's technical team helps mitigate some of the preposterousness. Composer Jed Kurzel and cinematographer Adam Arkapaw — who both worked on Macbeth — give Assassin's Creed a brooding grandeur, while production designer Andy Nicholson does a fabulous job emphasising Abstergo's high-tech chilliness. Even when the story becomes convoluted, which is often, the film's striking look and feel almost convince you that there are real stakes at play in Cal's ass-kicking mission.
Assassin's Creed tries to give Cal a tragic past — he saw his father kill his mother when he was a boy — and the screenplay hints that this mystical Apple of Eden could end humanity's penchant for violence, although the script gets bogged down in unconvincing debates about our need to be ruled because we fear true freedom. All of this is laughable, but Fassbender (and, to a slightly lesser extent, Cotillard) bring such gravitas to their roles that they escape with their dignity intact.
Anyone who has suffered through copious videogame adaptations knows that these movies tend to default to a kind of adolescent, masculine aggressiveness, the filmmakers vainly hoping to replicate a game's kinetic rush through nonstop propulsion and attitude. Assassin's Creed is nearly wall-to-wall violence, but Kurzel reveals an eye for widescreen composition that, paired with Christopher Tellefsen's efficient, hyperactive editing, gives the film the tenor of a sophisticated graphic novel. With disposable studio junk like this, the less the viewer thinks, the better, but at the very least Kurzel suggests he'd be able to helm a tired franchise in need of some spark.
Among the supporting cast, Jeremy Irons drips oily menace as Sofia's father who is also the head of this shadowy company. He's perfectly adequate playing a type, and the same goes for Brendan Gleeson as Cal's mournful father, who tells his son something surprising that, right on cue, will shift what we thought we knew about what has transpired. It's a testament to Kurzel's passionate investment in this dopey tale that he gets gritty performances from veteran actors who could have very easily phoned it in.
Production companies: Regency Enterprises, Ubisoft Entertainment, New Regency, Ubisoft Motion Pictures, DMC Film, and Kennedy/Marshall Company
Worldwide distribution: 20th Century Fox, www.foxmovies.com
Producers: Jean-Julien Baronnet, Gérard Guillemot, Frank Marshall, Patrick Crowley, Michael Fassbender, Conor McCaughan, Arnon Milchan
Executive producers: Christine Burgess-Quémard, Serge Hascoët, Jean de Rivières, Markus Barmettler, Philip Lee
Screenplay: Michael Lesslie and Adam Cooper & Bill Collage, based on the Assassin's Creed game series
Cinematography: Adam Arkapaw
Production design: Andy Nicholson
Editor: Christopher Tellefsen
Music: Jed Kurzel
Website: www.foxmovies.com/movies/assassins-creed
Main Cast: Michael Fassbender, Marion Cotillard, Jeremy Irons, Brendan Gleeson, Charlotte Rampling, Michael K. Williams