Willem Dafoe plays Vincent Van Gogh for the artist-turned-director Julian Schnabel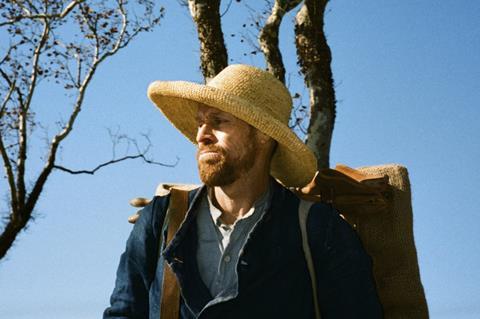 Dir. Julian Schnabel. US/France. 2018. 112 mins.
Vincent Van Gogh may have been ignored in his lifetime, but he could hardly complain of neglect by the cinema. His life has practically provided a biopic sub-genre of its own, from Vincente Minelli's Lust For Life to Maurice Pialat's Van Gogh and Robert Altman's Vincent and Theo, via Paul Cox's underrated Vincent, which focused on the painter's letters to his brother; we've even had an animated version of his paintings, in last year's Loving Vincent. Viewers might legitimately feel they've seen Van Gogh's tormented straw-hatted brow quite enough, and know every corner of his room in Arles.
Many of the images feel over-familiar, both from the paintings themselves and the films they've inspired, and it often seems as though we're seeing the visual equivalent of cover versions of well-worn standards
What At Eternity's Gate can offer is, for once, an artist's-eye view of the subject, with painter and director Julian Schnabel turning his stylistically distinctive eye on Van Gogh in his fifth fiction feature (and his second artist biopic, following his 1996 debut Basquiat). Yet, despite a strong, affecting performance by Willem Dafoe – who, even more than Kirk Douglas or Pialat's star Jacques Dutronc, looks born to the part – the director's pugnacious visual and editing style never impart the kinetic emotional charge of his 2007 drama The Diving Bell and the Butterfly. The trifecta of Schnabel, Dafoe and the tragic Dutch dauber should bring moderate art-house prestige, and perhaps awards for its star, but offers little excitement or fresh insight.
Named after a Van Gogh painting – a.k.a. 'Sorrowing Old Man' - the film concentrates on the artist's highly productive, highly tormented stay in Arles in the late 1880s, towards the end of his life. It begins, however, in Paris, where Van Gogh, seen here as a shy, nervous outsider, has his first encounter with the brash, self-confident Paul Gauguin – played by Oscar Isaac with a piratical swagger. Joining him in the south, Gauguin plays Vincent's artistic conscience, rival and bumptious companion-in-arms.
Vincent becomes accepted by some in his adopted home, notably his supportive landlady, café proprietor Madame Ginoux (Emmanuelle Seigner), but rejected and misunderstood by others – as in an overstated, even grotesque scene in which a group of schoolchildren and their judgmental teacher (Anne Consigny) are demonstratively baffled by his painting of tree roots. Stoned by locals as a madman, Vincent increasingly seems like a martyr figure, compared visually and even overtly in the dialogue with Jesus (another misunderstood outsider figure whom Dafoe has played in the past).
Vincent is able to depend on the support of his art dealer brother Theo (Rupert Friend) and sympathetic locals such as Dr Gachet (Mathieu Amalric), but suffering and mental trouble continue: and one of the film's individual touches is to focus in its late stages on his spell at the Saint-Paul mental asylum, where a disturbed, facially tattooed ex-soldier (Niels Arestrup, in a disruptively broad, salty turn) recounts his own experience of a different kind of horror.
One of Schnabel's more eccentric decisions in the drama is to switch intermittently between languages, resulting in French actors often awkwardly speaking English in their own accents, while Dafoe is sometimes heard speaking rather stilted French. Equally distracting is the decision to modify famous Van Gogh portraits so that they clearly resemble the actors playing his models – so that the Gachet painting becomes manifestly and rather comically a portrait of Mathieu Amalric with moustache and cap.
Other art-historical strokes are more felicitous, and bold. It takes a painter like Schnabel to give us what come across as convincing studies of Van Gogh's brushwork, as paint hits the canvas in close-up, stroke by stroke. Another innovation is to concentrate on the pen-and-ink sketches that have been recently discovered, an end caption tells us, in a ledger given to Van Gogh by Madame Ginoux (although there has been debate over their authenticity).
The film's most distinctive aspect is an evocation of Van Gogh's inward experience as a painter, evoked in Benoît Delhomme's free-wheeling camerawork, part of Schnabel's characteristic directing style, perhaps best characterised as 'Muscular Impressionism'. The film could have been titled Lust For Light in its emphasis on hues, with striking chromatic variations – constrasting washes of deep blue, yellow, green - filling the screen.
A bleak, colour-bled passage early on, showing parched fields of dead sunflowers, suggest that Van Gogh's visionary achievement was to bring intense colour to a world where it wasn't always evident to the common eye (as witness his declaration, "My reality is closer to the reality of the world"). Yet many of the images feel over-familiar, both from the paintings themselves and the films they've inspired, and it often seems as though we're seeing the visual equivalent of cover versions, however idiosyncratic, of well-worn standards.
The film otherwise rests or falls on its performances, and Dafoe makes a compelling focus. He gives his subject a gauche little-boy-lost quality, even a 'holy fool' dimension, and plays up the spiritual intensity, as the artist yields to the agony and the ecstasy of an outdoor epiphany in the fields of Provence - a potentially excruciating moment that few actors could have carried off with such aplomb. But the script – co-written by legendary veteran Jean-Claude Carrière, glimpsed in a tiny cameo – doesn't always work to the actor's best effect, as witnessed by a solemnly discursive scene with a priest: Mads Mikkelsen, glumly playing a Dostoevsky-style Grand Inquisitor to the Christ-like artist. Some sequences from Vincent's point of view, with actors staring straight to camera, feel gratingly confrontational.
A score by Tatiana Lisovskaya – largely solo piano, with occasional violin – is used over-insistently, but it's nevertheless distinctive, its ostinato urgency an apt sonic metaphor for Vincent's torment.
Production companies: Rahway Road Production, Iconoclast Films
International sales: Rocket Science, info@rocket-science.net
Producer: Jon Kilik
Screenplay: Jean-Claude Carrière, Julian Schnabel, Louise Kugelberg
Cinematography: Benoît Delhomme
Editors: Louise Kugelberg, Julian Schnabel
Production design: Stéphane Cressend
Music: Tatiana Lisovskaya
Main cast: Willem Dafoe, Rupert Friend, Oscar Isaac, Mads Mikkelsen, Mathieu Amalric, Emmanuelle Seigner