Paz Fabrega's second feature watches the shifting sands between two women and one ambivalent pregnancy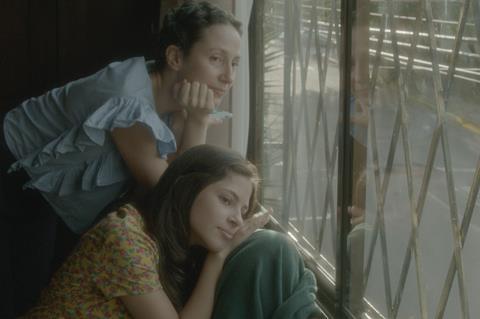 Dir/scr: Paz Fábrega. Costa Rica/Mexico. 2021. 92 mins
The lives of two women – one a dynamic architect and part-time art teacher in her forties, the other a pregnant seventeen-year-old – are woven together by a chance encounter in Paz Fábrega's deceptively complex and perceptive drama. Luisa (Rebeca Woodbridge) steps in to help when she finds Yuli (Raquel Villalobos), the older sister of one of her students, retching in the school bathroom. What develops is friendship and a support system which blurs the boundaries of the older woman's role in the life of the teenager, and which leaves the question of who, ultimately, stands to gain the most from the relationship.
As a portrait of the complexities of motherhood, it is unusually satisfying
Fábrega returns to Rotterdam having won a Tiger award with her feature debut Agua Fría De Mar in 2010. Her latest film is a delicate, minutely observed study of two unconventional female characters and the shifting common ground between them. In the emotional textures and the meticulous attention to personal details, the film evokes the work of Kelly Reichardt; as a portrait of the complexities of motherhood, it is unusually satisfying. Intimate, tentative rather than emphatic, the film might struggle to assert itself beyond the festival circuit, but this picture is something rather special which, with the right distributor, could connect with a female-skewed arthouse audience.
Motherhood is a spectre in the lives of both women. For Yuli, in denial about her pregnancy until it is too late to consider any alternative, it is something which paralyses her. Unable to bring herself to tell her own mother, or her sexually liberated group of friends, she contemplates running away, toys with the idea of adoption, but seems incapable of fully confronting her situation. For Luisa, motherhood is something which just didn't happen, but she slips naturally into a quasi-parental role with Yuli, offering her sanctuary in her home and support in her journey. But as much as she adopts the position of a non-judgmental mother figure, Luisa also engages with her as an equal: part confessor, part gal pal. There's a creeping discomfort in the relationship. For all her good intentions – Luisa radiates warmth and unaffected positivity – there is something disconcerting about her willingness to facilitate Yuli's dogged denial of her problems.
The dialogue takes its cue from Yuli's aversion to confronting her pregnancy, fluttering around the situation but rarely alighting for any length of time. But much is communicated through glances and the silences between the chatter. Fábrega's work with her non-professional actors is first rate. Likewise, the look of the film: the spaces that the women inhabit are extensions of their personalities. Luisa's airy apartment is bathed with clean, soft light. It's elegant, confident, but very slightly empty. Yuli's world, meanwhile is full of physical contact, of family and friends sprawled, limbs interlocking. For Yuli and her schoolmates, study sessions are just the prelude to a partner-swapping group makeout. She has no idea who is the father of her child.
Luisa provides a safe space for Yuli while she wrestles with the question of her future and that of her unborn child. But perhaps without realising it, Luisa has projected her own path and her own aspirations – career, creativity – onto Yuli.
Production company: Temporal Films
International Sales: Ramonda Paris pascale@pascaleramonda.com
Producers: Patricia Velazquez, Marianella Illas
Editing: Soledad Salfate
Cinematography: María Secco
Production design: Catalina Tenorio
Music: Alex Catona
Main cast: Rebeca Woodbridge, Raquel Villalobos, Liliana Biamonte, Daniela Arroio, Marcela Jarquín, Kattia González