Three stories run through the annual celebration of the First Fleet's arrival in Australia in the latest from director Kriv Stenders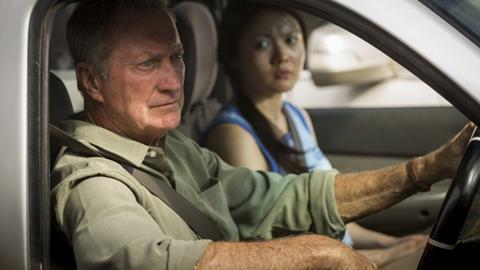 Dir. Kriv Stenders. Australia. 2017. 94 mins.
Urban mayhem meets multicultural conflict in Australia Day, a Crash-like compilation of interconnected strands, told with corresponding Crash-like obviousness. Adding a divisive national holiday to the mix, there's little that's subtle about that combination of elements, nor about director Kriv Stenders (Red Dog: True Blue) and writer Stephen M. Irwin's exploration of the attitudes that both bind and divide contemporary Australia.
Where the feature shows the most promise is in its energetic approach
A broad snapshot of familiar issues takes on patriotism, prejudice, globalisation and bureaucracy, the exploitative underside of immigration, and the complications of race surrounding the thin blue line. Despite the apparent eagerness to evoke an emotional reaction, a strong viewer response is far from assured. Locally, Australia Day progresses from its Sydney Film Festival premiere to an Australian cinema release later in 2017, and then to pay television service Foxtel — which also financed the feature, and where it might fare best. Internationally, though universal in its themes, streaming platforms seem a more likely destination than festival screenings.
Stenders' film pieces together three stories taking place over the titular day in the Queensland city of Brisbane. Each surrounds a young person from a diverse cultural background: indigenous teen April Tucker (Miah Madden); Iranian high-schooler Sami Ghaznavi (Elias Anton); and Chinese woman Lan (Jenny Wu). Linking their fates from the outset, they're each introduced while running from oppression. Further ties become apparent as their tales unravel.
April has just been involved in a car accident, with the police in hot pursuit. She's fleeing the law as well as an abusive home situation, while Senior Constable Sonya Mackenzie (Shari Sebbens) is wracked with guilt for failing to protect her earlier.
Elsewhere, Sami is being chased down by white classmates over his involvement with a mate's sister. Taken to Dean Patterson's (Sean Keenan) house, he's soon strapped to a chair and beaten, while Dean's conflicted younger brother Jason (Daniel Webber) watches. When Sami's mother discovers his situation, she sends his older sibling Yaghoub (Phoenix Raei) to seek revenge.
Completing the trio, Lan, a sex slave in an illegal brothel, tries to escape her captor by hurling herself in front of a car driven by cattle farmer Terry Friedman (Bryan Brown). He's in town after losing the family property to the bank, but her desperate quest threatens to derail his efforts to reconnect with his grown son — and turn his own plight, sparked by the Australian government's new deal with a Chinese abattoir, into a bold public statement.
Individually, each tale has potential for greater depth; intertwined, they're brief snippets rather than insightful examinations of the film's many topics, and teeming with easy depictions over thoughtful character studies. Indeed, performances from everyone involved — with The Sapphires' Madden and Sebbens, 11.22.63's Daniel Webber and Aussie stalwart Brown the standouts — tease at what might have been had Australia Day's narrative and players been given more room. Clunky dialogue ("brown skin can do just as much damage as white") does little to help.
Where the feature shows the most promise is in its energetic approach. Frequent overhead shots and rushing cinematography by Geoffrey Hall (Red Dog) don't particularly suit the material, and nor does the fast-paced editing from Nick Meyers (Ellipsis), but they do underline Australia's Day's aspirations. This tries to examine the controversial nature of celebrating the anniversary of the First Fleet's arrival by laying bare the racism which is still festering more than two centuries later, an ambitious aim.
Australia Day is also one of three Stenders-helmed efforts to reach local audiences in the past six months — including his canine sequel, as well Sydney-set title The Go-Betweens: Right Here — with the director continuing to dig into the Australian ethos in a variety of ways. Reuniting him with writer Irwin, DoP Hall and actor Keenan, a television remake of seminal Aussie outback-set thriller Wake in Fright is set to follow shortly — and hopefully more convincingly.
Production companies: Hoodlum, Foxtel
International sales: info@hoodlum.com.au
Producers: Nathan Mayfield, Leigh McGrath, Tracey Robertson, Edward Herbert
Executive producers: Nathan Mayfield, Tracey Robertson, Leigh McGrath, Deanne Weir, Penny Win
Screenplay: Stephen M. Irwin
Cinematographer: Geoffrey Hall
Editor: Nick Meyers
Music: Matteo Zingales
Production design: Matt Putland
Main cast: Bryan Brown, Shari Sebbens, Sean Keenan, Elias Anton, Daniel Webber, Jenny Wu, Matthew Le Nevez, Phoenix Raei, Miah Madden