Dir/scr: Yuval Delshad. Israel, 2015.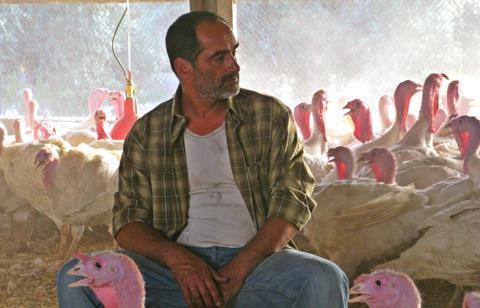 Crowned best Israeli film of the year by the Israeli Film Academy and as such, flying the country's flag at the forthcoming Oscars, Yuval Delshad's debut feature is by all means a curiosity. Given the enmity between Tehran and Jerusalem, the fact that it is spoken almost entirely in Farsi ensures Baba Joon will receive international attention, before considering its other merits.
Delshad's image of the sunburned, dusty, arid landscape, and of the people who live there is both affectionate and ironic
A modest but emotional autobiographical account of a generational conflict which erupts at a turkey farm in the south of Israel, its portrait of a confrontation between three generations of Iranian immigrants should resonate in many quarters, if only for its treatment of the clash between Third World traditions and mentality with Western ways of life. Already bound, after the Haifa Film Festival, for Stockholm and Goa, this heart-warming family item should easily become a successful festival favourite.
Hard-working Yitzhak (Navid Negahban, Homeland's Abou Nazir) runs the turkey farm he has taken over from his father and expects his only son, 13 year-old Moti (a perceptively expressive Asher Avrahami), to follow in the family tradition. But Moti would rather tinker with old cars and every other kind of mechanical device instead of learning to tend to the turkey barn and prepare to handle the family business.
In between them is Sarah (Viss Elliot Safavi), Yitzhak's devoted wife, who always intervenes at the right moment with such homespun pieces of wisdom as "the tree that does not bend, breaks" to assuage the frequent conflicts erupting between her husband and Moti, despite the father's evident and sincere affection for his son.
Yitzhak's father (Rafael Faraj Eliassi), the farm's founder, is still around to help with the farm's various chores despite his age. As the family patriarch, he intervenes to insist that Yitzhak should not give in to his son's whims and force him to obey his parent, as happened with himself and Yitzhak.
When Yitzhak's brother, Darius (David Diaan), who escaped many years ago from his father's iron fist and went to America, comes to visit, the crisis come to a head. His support and appreciation for Moti's diligence with everything mechanical only exacerbates the domestic tensions to the point where the young boy has to take his fate into his own hands and make a clean break with all traditions.
Delshad, who claims the preparations for the film took almost eight years, scoured the world over for Iranian-speaking actors, since going to Iran was of course not an option. Finally, he found Negahban and Diaan in Los Angeles and Safavi in London. The entire film was shot in surroundings similar to the ones in which he grew up, villages entirely inhabited by Iranian immigrants who go on speaking their native language, part of their respect and adherence to the kind of life they led before they came to Israel and would like to preserve for years to come.
Delshad's image of the sunburned, dusty, arid landscape, enhanced by Ofer Inov's camera work and Yehuda Acco's production design, and of the people who live there is both affectionate and ironic (the neighbours' greedy expectations that Yitzak will sell them the farm and leave is underlined throughout), without missing the ever-present religious aspects which were once the foundation of every family's life.
To Delshad's credit, he does not limit himself to the all too familiar clichés of genre. Negahban's performance turns Yitzhak into far more than just another authoritarian father out to crush his son's aspirations. He may feel he is the master of his household and his word should be law but lurking under the hard-bitten, angry surface is the suspicion that Moti might not be entirely wrong and sticking to old ways is not necessarily the only choice open to him.
Diaan's Darius, who makes and sells Oriental jewelry in America, represents not only the spirit of freedom blowing in from the West but is also, to a certain extent, the unctuous image of the Middle-Eastern merchant in a Western bazaar. Finally, Viss Safavi's Sarah, Moti's warm and loving mother and apparently the meek housewife, reveals the steel in her backbone every time she is put to the test.
Production company: Metro Communications
International sales: Eastgate Pictures
Producers: David Silber, Moshe Edery, Leon Edery
Cinematography: Ofer Inov
Editing: Yoni Tzroya
Production design: Yehuda Acco
Music: Eyal Saeed Mani
Cast: Navid Negahban, Asher Avrahami, Viss Elliot Safavi, David Diaan, Rafael Faraj Eliassi