Monia Chokri delivers a relentlessly over the top Quebecois #MeToo-era comedy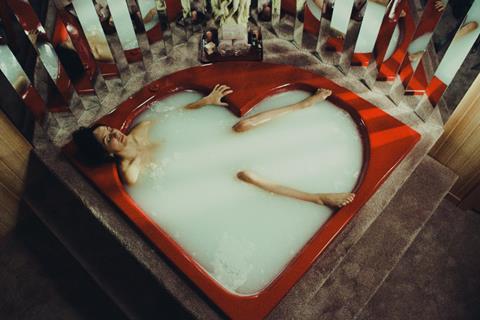 Dir. Monia Chokri. Canada/France. 2022. 87 mins
An amped-up retro aesthetic brings a 60s-style 'Battle of the Sexes' flavour to an otherwise eminently #MeToo-era satire in Monia Chokri's Quebecois comedy Babysitter. Adapted by Catherine Léger from her play of the same name, the film begins with a crowd roaring at an MMA bout of cage fighting, and Chokri's film has the same no-holds-barred ethos, in terms of both its humour and its frenzied stylistics. Babysitter is relentlessly over the top in pretty much every respect, which will make it less digestible for some audiences, and its specifically Quebecois comedy tones, verbal and otherwise, could make it best suited to domestic audiences. But it should get an additional stab at European exposure from its competition slot in Transylvania's TIFF, following its bow in Sundance.
Chokri, Léger and the cast are clearly having fun throughout –at times too much fun, which can make Babysitter an alienating, exhausting watch.
The film is the second directing (and starring) stint for Chokri, the Canadian actor known internationally for appearances in Xavier Dolan's films. Following her comedy A Brother's Love, which won approval in the Cannes Un Certain Regard section in 2019, Chokri goes broad in Babysitter, mixing gender satire, knockabout farce, a hint of sinister magical realism and just about every colour of kitsch in the ironic style palette. The story revolves around a suburban couple, Nadine (Chokri) and Cédric (Patrick Hivon, returning from A Brother's Love), who have just had their first child, a girl.
Cédric, an engineer and an unreconstructed dickhead, is first seen enjoying a night out at the MMA fight, getting tanked up, leching at women with his macho chums (cue a frenetically edited volley of close-ups of cleavage, backsides and leery male mugs), before barging into a female TV reporter's broadcast and planting an aggressive kiss on her. This ill-considered stunt goes viral, and leaves Cédric suspended from work by his disapproving boss Brigitte (Nathalie Breuer), a.k.a. 'Bribitch' (wordplay that's conceivably funnier in Quebecois French).
Grounded at home, Cédric looks after baby Léa, while Nadine, supposedly returning to her job, sneaks off for some extended 'me time'. Meanwhile, Cédric's right-on journalist brother Jean-Michel (an enjoyably twitchy, nerdy Steve Laplante) tells him that he needs to write a letter of apology to the TV reporter. That latter very quickly expands into an apology to all women, in the form of a whole book that the two men embark on together – the joke, played out at some length, being that their ostensible mea culpa for patriarchal abuse becomes another opportunity for pompous male self-absorption.
Meanwhile, mysterious golden girl Amy (Nadia Tereszkiewicz) skates into Nadine and Cédric's life, magically knocking their domestic disorder into shape while using tactics calculated to unsettle them both sexually – such as walking around the house in a parodically porny French maid uniform. The somewhat predictable path of Amy's domination of the household – with a touch of Pasolini's Theorem reworked by John Waters – derives some welcome modulation from the fact that Amy appears to be entirely different things from scene to scene, even sometimes shot to shot; one minute a manically giggling waif, the next a sinister she-demon, complete with low-frequency growl.
Chokri, Léger and the cast are clearly having fun throughout – at times too much fun, which can make Babysitter an alienating, exhausting watch. The opening fight scene offers a frenetic salvo of editing by Pauline Gaillard, with the pace – and the visual flashiness – rarely letting up after that. The cast are required to perform manically from start to finish, which they do with undeniable gusto, although the full-tilt comic-strip register can be tiresome. Chokri herself plays Nadine at a relatively reserved pitch, generously making space for Tereszkiewicz's mercurial Amy and for Hivon's neo-60s suburban jerk, who resembles a Mad magazine sketch of Jim Carrey, with the agitation of Jack Lemmon or Dick York, the sitcom spouse from Bewitched.
Designer Colombe Raby and DoP Josée Deshaies (known for her work with Bertrand Bonello and, recently, Hadjithomas and Joreige's Memory Box) help Chokri throw everything at the screen, from candy-coloured Disney princess iconography to mock home invasion horror. Subtle it rarely is. Francophones attuned to the specific Quebecois intonations and rhythms might get some special purchase on the screwball-style barrages of machine-gun dialogue. Arthouse observers, meanwhile, will register Babysitter as another step in the advance of rising French star Tereszkiewicz; the discovery of Dominik Moll's Only the Animals, seen in Valeria Bruni Tedeschi's Cannes title Forever Young, and soon to appear in titles by François Ozon and Robin Campillo.
Production companies: Amérique Films, Phase 4 Productions
International sales: BAC Films, sales@bacfilms.fr
Producers: Martin-Paul Hus, Catherine Léger, Pierre-Marcel Blanchot, Fabrice Lambot
Screenplay: Catherine Léger, based on her stageplay
Cinematography: Josée Deshaies
Editing: Pauline Gaillard
Production design: Colombe Raby
Music: Emile Sornin
Main cast: Patrick Hivon, Monia Chokri, Nadia Tereszkiewicz, Steve Laplante