Niels Schneider, Adèle Exarchopoulos star in the second film from France's Jessica Palud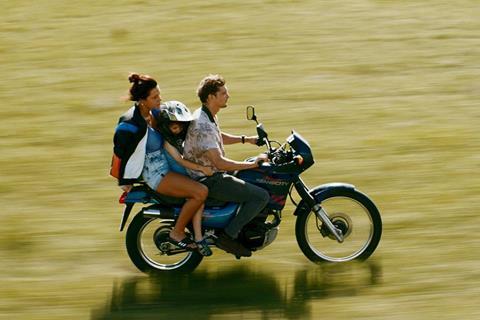 Dir. Jessica Palud. France. 2019. 77 mins.
French drama Back Home is the very embodiment, and an honourable one, of what distributors mean when they say a 'small film' – in other words, one that they like but can't easily see themselves pitching to a paying public. The second feature by writer-director Jessica Palud - following 2013's Les Yeux Fermés – is a quietly moody rural drama of the sort that is the bread and butter of French art cinema. Its strong suits are its performances, its emotional honesty and, at 77 minutes, it is refreshingly concise. While it may be too intimate and narratively low-key to score highly except with hardcore adepts of Gallic psychological realism, its integrity and confidence make you wonder what Palud might achieve if she gets to tackle a third film on a slightly bolder scale.
Back story is eked out very economically
Based on a novel by Serge Joncour, and with co-writers including Philippe Lioret (whose directing work includes Welcome and Mademoiselle), the film begins with a young man, Thomas (Niels Schneider), arriving at a secluded farmhouse near Valence, in a hilly region of the Drôme in south-eastern France. It belongs to his parents, from whom he has long been estranged, and he has returned – from exile, we later learn, in Canada – having heard that his mother is in hospital, terminally ill. Bit by bit, Thomas catches up on recent events – the dire financial straits that the farm has fallen into, his father's and brother's desperate turn to extreme right politics, and the real circumstances of the death of his brother Mathieu.
Thomas visits his mother Catherine (Hélène Vincent) at her bedside, fails to get much response from his chronically depressed dad Michel (Patrick d'Assumçao, from Alain Guiraudie's Stranger By the Lake) and gets to know Mona (Hélène Exarchopoulos), Mathieu's ex, who is living at the farm with her little son Alex (Roman Coustère-Hachez). Thomas obligingly spends much of his time looking after Alex, and gradually becoming a surrogate dad – while his sensitive, no-nonsense presence also arouses Mona's interest.
For the most part, very little happens, and back story is eked out very economically. Thomas drives his brother's scooter around the vicinity; talks to brothers on a neighbouring farm about the state of the family's affairs; and discreetly exchanges sparks of mutual attraction with Mona. He also spends plenty of time interacting with Alex, which is where the film comes to life; by turns petulant, exuberant and vulnerable, the child is more than a handful and one of the best things about Back Home is the very natural rapport between Schneider and young Coustère-Hachez, a real force of nature.
The script wobbles slightly, and contrivedly, when three crises of different magnitudes happen in quick succession, seemingly as a way to bring the drama's slow-burning repressed energies to the surface. But the narrative's equilibrium has righted itself by the time the film reaches one of those open endings that only art-house miniatures can get away with; this one pretty much does, although the film's brief running time makes it seems as if the (anti-) pay-off isn't entirely earned.
Nevertheless, the film's brand of visual realism is very handsome, with DoP Victor Seguin's warm colours perfectly catching the oppressive intensity of a French rural summer. On the acting side, veterans Vincent and d'Assumçao give restrained support, Adèle Exarchopolous continues to make her mark with fine-tuned depictions of young women especially from working-class milieu. And Niels Schneider, who was so snakily good in Catherine Corsini's An Impossible Love is restrained as a more readable and everyday character, but exudes a solidly believable sensitive-but-tough charisma.
Production companiy: Fin Août Productions
International sales: Pyramide International, amauruc@pyramidefilms.com
Producers: Marielle Duigou, Philippe Lioret
Screenplay: Jessica Palud, Philippe Lioret, Diastème
Cinematography: Victor Seguin
Editor: Thomas Marchand
Production design: Esther Mysius
Music: Augustin Charnet, Mathilda Cabezas
Main cast: Niels Schneider, Adèle Exarchopoulos, Patrick d'Assumçao, Hélène Vincent, Roman Coustère-Hachez