Seven strangers meet at a faded motel in Drew Goddard's follow-up to The Cabin In The Woods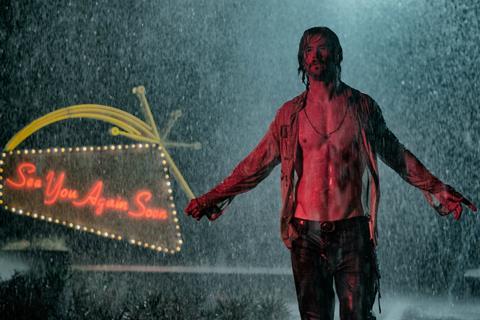 Dir/scr: Drew Goddard. US. 2018. 140mins
Many characters check in but very few of them will leave in Bad Times At The El Royale, a reasonably entertaining, aggressively clever thriller that's best appreciated as a slab of Tarantino-esque pulp. As he demonstrated with The Cabin In The Woods, writer-director Drew Goddard proves to be quite capable of crafting a catchy premise — presenting us with a collection of shady individuals descending on the same mysterious hotel for disparate reasons — and there's ample amusement in the twists, betrayals and revelations that unspool. But Bad Times never really transcends the inherent limitations of its setup; it's fun, but fleeting.
Comparisons will be made to Tarantino because of Bad Times' graphic violence
Premiering at Fantastic Fest before hitting UK and US theatres on October 12, this Fox release boasts some star power thanks to Jeff Bridges, Dakota Johnson and Chris Hemsworth. But Bad Times may prove to be a marketing challenge simply because it's not based on any existing material, which means that good reviews and positive word-of-mouth from genre fans will be crucial.
Set in 1969, Bad Times takes place largely at the El Royale, a once-glorious resort that's fallen out of favour. On one fateful day, several random strangers — including the kindly Father Flynn (Bridges), a talented singer named Darlene (Cynthia Erivo) and Laramie, an oily vacuum salesman (Jon Hamm) — all check into the hotel. They each have their own agenda, their actions monitored by the hotel's wimpy young manager Miles (Lewis Pullman).
Audiences who saw The Cabin In The Woods, Goddard's feature directorial debut, will expect cheeky narrative surprises. Bad Times doesn't disappoint, although it's not nearly as much of a genre deconstruction as his previous film was. Nonetheless, to delve too deeply into the plot risks ruining the viewer's enjoyment about what's to come — which proves to be part of this film's nagging problem.
Goddard has done fine work envisioning the world of this resort, and production designer Martin Whist niftily constructs a faded, mid-century beauty full of eye-catching details. But once all of the mysteries are revealed — and we learn precisely why these mismatched characters have been drawn to the site — Bad Times isn't quite as nimble. As with some vacations, the getting-there is more satisfying than the destination.
Comparisons will be made to Tarantino because of Bad Times' graphic violence, jumbled chronology and the introduction of so many colourful, duplicitous characters. Working with Oscar-nominated cinematographer Seamus McGarvey, Goddard exhibits his own visual style and gift for creeping suspense. But he's nonetheless working within a familiar crime-story framework that brings residual pleasure, even if the filmmaker sometimes labours to maintain forward momentum amidst the flashbacks and alternate views of earlier events.
Luckily, a sharp cast brings grit and dimension. Bridges is especially effective as an aged man humbled by his own impending mortality, while Johnson capably plays a no-nonsense stranger whose quest has personal stakes. Hemsworth, who also appeared in The Cabin In The Woods, probably has the most dynamic shift in Bad Times, but the best of the ensemble is Erivo as a struggling artist who finds her voice in the most unexpected of ways. As in the forthcoming Widows, she's a magnetic force, pulling our attention away from her starrier cast mates.
Bad Times is a kick when it's simply engaging us with its multi-strand narrative, practically inviting viewers to see if we can deduce what's going on faster than the characters. Goddard goes about his storytelling sleight-of-hand with confidence and playfulness, and that enthusiastic spirit is infectious. Still, at two-plus hours, it reaches for an epic grandeur that's inconsistent with its charmingly lightweight characters and their diverting schemes. Murder, robbery, scandals and childhood trauma all take up residency in Goddard's giddily nasty thriller — there's not enough room in this slick genre exercise for emotional resonance as well.
Production company: Goddard Textiles
Worldwide distribution: 20th Century Fox
Producers: Jeremy Latcham, Drew Goddard
Production design: Martin Whist
Editing: Lisa Lassek
Cinematography: Seamus McGarvey
Music: Michael Giacchino
Cast: Jeff Bridges, Cynthia Erivo, Dakota Johnson, Jon Hamm, Cailee Spaeny, Lewis Pullman, Nick Offerman, Chris Hemsworth