Dir/scr. Rachel Lang. Belgium/France, 2015. 95 mins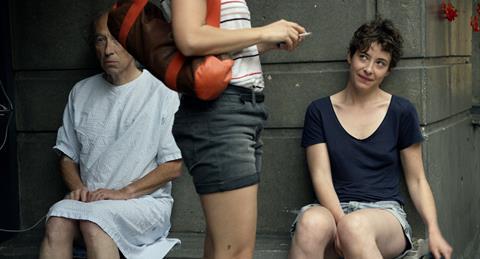 A laid-back feminist fable about a young woman pulling her life together over a complicated summer, Franco-Belgian drama Baden Baden is a confident, witty debut for French writer-director Rachel Lang. Featuring a striking performance from Salomé Richard – previously the lead in Lang's two short films – Baden Baden is an intimate, at times seemingly whimsical narrative that appears to drift almost free-associatively from episode to episode. But it's unified by a distinctive humour and intelligence, crisp visuals, and Richard's intensely charismatic presence. Rather minor-key to hit a chord commercially, it will nevertheless score early-career notches for both Lang and Richard.
With its narrative at moments verging on the inconsequential, Baden Baden sometimes resembles a standard-issue French family drama
The film begins – in a boldly sustained five-minute head-and-shoulders shot – with mid-20s Ana (Richard) chauffeuring an actress to a Belgian film set, where she's working as a driver. Arriving 45 minutes late, she's bawled out by her boss (a spectacular explosion by Sam Louwyck). Unsure what to do after the shoot, Ana returns home to Strasbourg – neglecting to return the production's rented Porsche – and spends time with her no-nonsense grandmother (Gensac), who soon finds herself in hospital for an operation.
While she's away, Ana decides to redo Grandma's bathroom and enlists a bemused stranger, DIY store assistant Grégoire (a very droll Lazare Gousseau) to help her out. She also spends time hanging out with sort-of platonic friend Simon (Swann Arlaud) and cautiously keeping an eye on troublesome but attractive ex Boris (Olivier Chantreau), a video artist with inflated self-esteem. There's also a visit from a female friend who may, judging by a bathtub scene, be a past, present or future lover. At any rate, Ana is clearly a free spirit and. though confused about life as it stands, very much one to follow her own will.
With its narrative at moments verging on the inconsequential, Baden Baden sometimes resembles a standard-issue French family drama, with Ana sharing relaxed, even cosy scenes with Grandma and with her concerned but supportive mother (Zabou Breitman). Other episodes seem to drift in and out, without obvious dramatic momentum (the Porsche thread, so momentously, leads nowhere). Shifts of tone abound: into a basic naturalistic framework, with images cleanly and brightly shot by Fiona Braillon, Lang will sometimes drop visual curveballs, such as the glimpses of Boris's video work (actually by artist/film-maker Clément Cogitore), or a sudden, highly composed image of a vast swimming pool under construction.
The bathroom scenes, which play out with leisurely humour, are composed for maximum deadpan effect, with Ana and Grégoire as a Buster Keaton-ish duo.
While the narrative drifts in this fragmented, seemingly ad hoc fashion, Richard's Ana is barely off screen. Nearly always clad in singlet and shorts, she's a crop-haired, androgynous figure, both guileless and sexually self-possessed, while radiating sharp intelligence and humour. In her scenes, mostly duos, with other characters, Richard strikes an easy, intimate rapport with her acting partners. Especially good are likeable up-and-comer Arlaud and veteran stage and screen actress Gensac, who makes tart, tender work of a role that could have been clichéd - the grandmother who's seen it all, but is up for a few more laughs from life.
The film, by the way, never sets foot in Baden Baden: the title comes from a one-line comment of Ana's, with implied punning on the German word for 'bath'.
Production companies: Tarantula, ChevalDeuxTrois
International sales: Jour2Fête, sales@jour2fete.com
Producers: Jérémy Forni, Pierre-Louis Cassou, Joseph Rouschop, Valérie Bournonville
Cinematography: Fiona Braillon
Production designer: Jean-François Sturm
Editor: Sophie Vercruysse
Main cast: Salomé Richard, Claude Gensac, Lazare Gousseau, Swann Arlaud, Olivier Chantreau