Artists Daniel Edelstyn and Hilary Powell bring mischief and activism to their look at economic theory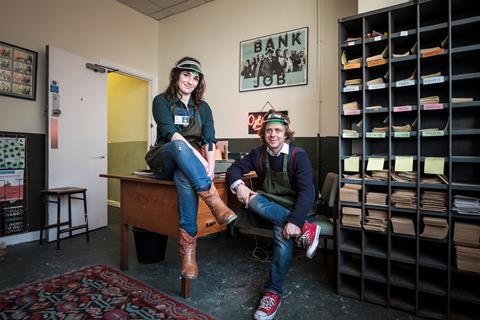 Dirs: Daniel Edelstyn, Hilary Powell. UK. 2021. 87 mins.
Artist/filmmaker partnership Daniel Edelstyn and Hilary Powell confront a monetary system based on debt and perpetuated inequality with their trademark blend of mischief, activism and awareness-raising antics. Bank Job documents an art project based out of an empty bank on a Walthamstow, North London high street which sold screen-printed bank notes to raise funds. The cash was then used to support local charities and buy £1 million worth of debts in order to write them off. The film's amiably shambolic approach belies an astute and pointed message about the role and impact of debt in our economy.
A combination of unassuming humour and inherent decency
Edelstyn and Powell's first feature was the similarly wry How To Re-Establish A Vodka Empire, in which British-born Edelstyn explored his family history in Ukraine and found it to be steeped in high-strength alcoholic spirits. Bank Job is a less-conspicuously-intoxicated piece of filmmaking — just as well, given the use of explosives in a key scene — but, like its predecessor, it leans on the appeal of Edelstyn's bumbling dreamer persona. Powell (hands-on creative input, expressive eye-rolls) joins her partner in front of the camera for this project and is a welcome addition. While this debt write-off project might not be doing anything particularly novel — the filmmakers credit initiatives like Strike Debt and Rolling Jubilee as inspirations — the lively egalitarian approach means that the film could connect with a younger audience to that of loosely related economic documentaries such as Charles Ferguson's Inside Job. Specialist distributor interest is possible, although the film seems suited to the immediacy and accessibility of a streaming platform release.
As independent filmmakers, Edelstyn and Powell are no strangers to debt. In a self-deprecating black-and-white introductory segment, Edelstyn imagines an encounter with a bank manager in which he tries to explain that a film which didn't make back as much money as it cost might still have value in other ways. This is followed by a whistle-stop tour of economic theory, name checks of organisations which are already campaigning for debt abolition and, closer to home, a look at charities such as food banks and youth groups which are providing support in the Walthamstow area. Punctuating throughout is a clunky police interrogation device which reveals little other than the fact that neither Edelstyn nor Powell are natural actors.
But the heart of the film is, appropriately, closer to home. There's a real warmth in the scenes which show an eclectic group of volunteers pulling together to make fake money — the Queen's head is replaced by those of local heroes, including a headmistress of a primary school, a food bank organiser and youth group workers. And, without hectoring or lecturing the viewer, the film manages to sneak in some fairly in-depth insights into economic theory. The picture strikes a delicate tonal balance, occasionally threatening to teeter into either whimsy or worthiness. But a combination of unassuming humour, inherent decency and the fact that the filmmakers actually managed to pull off something genuinely worthwhile goes a long way towards smoothing Bank Job's rougher edges.
Production company: Optimistic Productions
International sales: daniel.edelstyn@gmail.com
Producers: Daniel Edelstyn, Christopher Hird, Hilary Powell
Cinematography: Clement Du Cruet, Tom Maine, Linden Nieto, Christophe Tweedie
Editing: Alice Powell