The Rock and Zac Efron bellyflop in this attempted comedic reboot from director Seth Gordon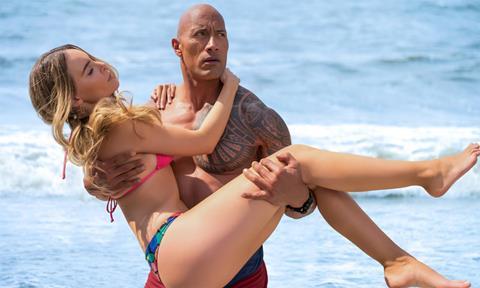 Dir: Seth Gordon. US. 2017. 116mins
The listless, witless Baywatch belly-flops while trying to emulate the irreverent action-comedy template popularised by the 21 Jump Street films. Leaning in to the original series' knowing cheesiness, this beaches-and-babes goof looks to make a virtue of its empty-headed spectacle, but Seth Gordon isn't an incisive enough director to satirise or relish the buffoonery on display. Dwayne Johnson and Zac Efron have been sprightly comedic presences in the past, able to spoof their hunky physiques and dumbbell personas — but, here, they're just all wet.
Gordon pokes affectionate fun at the show's ridiculous conceits
Opening May 25 in the US and May 29 in the UK, this Paramount release should do good business thanks to Johnson, Efron and a marketing campaign that emphasises the film's unapologetic, R-rated inappropriateness. Audience familiarity with the so-bad-it's-good 1990s television series that starred David Hasselhoff and Pamela Anderson — both of whom have cameos in this big-screen reboot — will help grosses, although harsh reviews may temper enthusiasm.
Taking place at gorgeous Emerald Bay, the film stars Johnson as Mitch, a beloved lifeguard who takes his job as community safeguard very seriously. So it's no surprise that he's upset when hotshot gold-medal swimmer Brody (Efron) arrives on his beach, announcing that he's been selected to join Mitch's elite Baywatch team. Mitch doesn't like this development, but they have to work together to stop a mysterious drug ring which is terrorising the area.
Gordon has demonstrated a knack for mainstream comedy filmmaking on movies like Identity Thief and Horrible Bosses, but, unfortunately, that's mostly meant delivering lowest-common-denominator laughs based on how raunchy and terrible his characters are to each other. Baywatch is a far more ambitious proposition, complete with effects-heavy action sequences, but he proves ill-equipped at executing any of the film's myriad tones.
The film's narrative approach draws heavily from the 21 Jump Street franchise, which managed to update a dated television series for the multiplex, mocking the source material while also functioning as a solid genre film — even sneaking in a little genuine emotion as well. By comparison, Gordon and the six credited writers flail embarrassingly, resorting to a cynical procession of sex jokes, swearing and rampant, mindless busyness.
Johnson has made a career out of laughing at his own superhuman build, displaying a light touch that pleasantly undercuts his imposing frame. But in Baywatch he doesn't have a character to play — Mitch's running joke is to demean Brody by calling him by different emasculating nicknames — so the actor's good-spirited demeanour is left stranded.
Likewise, Efron has found success skewering his pretty features in comedies such as Bad Neighbors, where he portrayed a stereotypically dumb frat boy. Baywatch would seem tailor-made for his specific comedic gifts — Brody is a good swimmer but otherwise a bozo — but the filmmakers don't have any idea how to make the character funny. Even worse, Baywatch stops to be heartfelt when Brody's selfishness endangers the team, leading to a painfully forced moment where this uninteresting nitwit has to have a change of heart and start caring about others.
Gordon pokes affectionate fun at the show's ridiculous conceits — such as the ubiquitous, iconic image of buxom, blonde lifeguards running down the beach in tantalising slow-motion, their chests heaving as they stride. But the jokes have no sting to them. Plus, the movie isn't appreciably less sexist than the show, the ample eye candy provided by Alexandra Daddario and Kelly Rohrbach — not to mention Priyanka Chopra as the film's seductive villain — hardly coming across as subversive or self-aware.
In truth, Baywatch wants to offer the same tawdry thrills as the old TV series, albeit with filthier dialogue permitted by the film's R rating. Here, too, though, Baywatch is a drag, the filmmakers and cast never really revelling in the creative freedom allowed by their more risqué rating. Instead, there's a slight homophobic bent to the humour, as the male characters freak out about being close to male genitalia or having to touch another man. The film may pretend it's more sophisticated than the show that spawned it, but its comedic stylings are alarmingly regressive.
Production companies: Uncharted, Shanghai Film Group, Huahua Media, Montecito Picture Company, Flynn Picture Co., Fremantle Productions
Worldwide distribution: Paramount Pictures, www.paramount.com
Producers: Michael Berk, Douglas Schwartz, Gregory J. Bonann, Beau Flynn, Ivan Reitman
Executive producers: Michele Berk, Mary Rohlich, Louise Rosner-Meyer, Tom Pollock, Ali Bell, Dwayne Johnson, Dany Garcia, David Ellison, Dana Goldberg, Don Granger
Screenplay: Damian Shannon & Mark Swift, story by Jay Scherick & David Ronn and Thomas Lennon & Robert Ben Garant, based on the series Baywatch created by Michael Berk & Douglas Schwartz and Gregory J. Bonann
Cinematography: Eric Steelberg
Production design: Shepherd Frankel
Editor: Peter S. Elliot
Music: Christopher Lennertz
Website: www.thebaywatchmovie.com
Main Cast: Dwayne Johnson, Zac Efron, Priyanka Chopra, Alexandra Daddario, Jon Bass, Hannibal Buress, Pamela Anderson, David Hasselhoff