Jessie Buckley is a standout in the arresting debut feature from Britain's Michael Pearce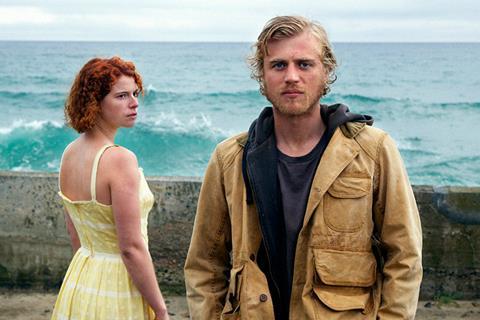 Dir. Michael Pearce. UK. 2017. 106m.
Jessie Buckley is a force of nature in the lead role of this sinewy psychological thriller. And just to be clear, we are talking about the kind of nature which is red of tooth and claw, the kind that eats its young.
This story which is driven by the febrile intensity of Buckley's performance
The first feature from writer and director Michael Pearce, who was BAFTA nominated for his short film Keeping Up With The Joneses, Beast should connect with further thrill-seeking festival audiences following its world premiere in Toronto's Platform strand. The combination of dramatically charged material and impressive rising talents in key roles should prove to be catnip to arthouse audiences; Buckley stars opposite a heavy-lidded, alluringly grubby Johnny Flynn.
Buckley plays Moll, the dutiful, pastel-coloured daughter of an overbearing mother who meets an inappropriate boy which promptly unleashes the hellcat within. The story unfolds against the backdrop of a series of murders which rock their island community, but the fact that her lover is a suspect is only part of a story which is driven by the wild, white-knuckle trajectory of Moll's character arch, and the febrile intensity of Buckley's performance.
A soul-sapping mother daughter relationship is neatly summed up in an early scene. A trilling choir rehearsal is abruptly interrupted for the choir leader – Moll's mother (Geraldine James) to single out her daughter for criticism. "Moll. I need more from you." Moll dips her chin, accustomed to deflecting regular body blows of maternal disappointment. Later, Moll runs away from her own birthday party, the kind of polite, stifling event which is more aligned to her mother's tastes then her own. It's then that she meets Pascal (Flynn). Feral, unvarnished, dangerous, exciting – he carries a gun and a bucket full of dead rabbits – he is everything that Moll's conservative family disdains.
Just as Moll's glorious red hair gradually breaks free of the lifeless, apologetic bob she first sports, so her personality, emboldened by Pascal's interest, is no longer constrained by family expectations. And Buckley persuasively captures the tumult of conflicting emotions stirred. In one scene, she is following him deep into the woods when suddenly she freezes, an animal scenting danger. Like Pascal, the audience assumes that she's afraid, but in fact it's desire which darkens her eyes and launches her towards him.
Perhaps even more powerful is the scene which follows. Back home, smeared with earth and sweat, she digs her mud-caked nails into the pristine family sofa, languidly reliving the sense memory of her new lover's body.
The collision of two worlds is explosive – at times, it feels like the earthy sensuality of Andrea Arnold's Wuthering Heights chafing against the buttoned up propriety of Joanna Hogg's Archipelago. Pearce's use of the oppressively pretty landscape of Jersey in the Channel Islands gives the picture a distinctive flavour; the score, a throbbing, threatening pulse which rises like a tide of anger, grounds some of the more lurid and visceral moments before they spiral into excess.
Production company: Agile Films, Stray Bear Productions, Film4, BFI
Contact: Protagonist info@protagonistpictures.com
Producers: Ivana MacKinnon, Lauren Dark, Kristian Brodie
Screenplay: Michael Pearce
Cinematographer: Benjamin Kracun
Editor: Maya Maffioli
Production design: Laura Ellis-Cricks
Music: Jim Williams
Starring: Jessie Buckley, Johnny Flynn, Trystan Gravelle, Geraldine James, Charley Palmer Rothwell