Dir. Miguel Arteta. US, 2016. 86 min.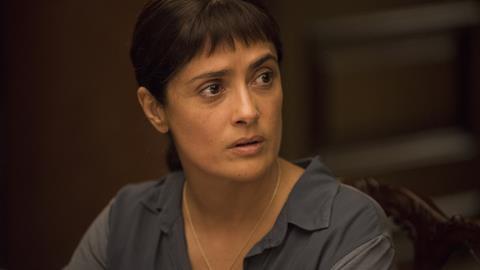 What begins as a sharply funny comedy of class conflict turns more political, and even poetic, in this latest film by the creative team of Miguel Arteta and Mike White. With Beatriz at Dinner, the prolific duo confirm their talent for social commentary and incisive wit after more than a decade of close collaborations, including indie films (Star Maps, Chuck & Buck, The Good Girl) and TV series (Freaks and Geeks and HBO's Enlightened).
The film's second act is near spot-on comedy of discomfort.
Salma Hayek stars as the deeply sensitive Beatriz, a L.A. masseuse and holistic therapist who has dedicated her life to healing. She loves her pet puppies and goats, and works at a cancer center in Los Angeles. On a routine massage appointment with the super-wealthy mother of a former cancer patient, Beatriz's old VW car breaks down. Rather than get a tow truck, Beatriz, a trusted family friend, is invited to stick around for a dinner party at the family's ostentatious Newport Beach mansion. And so begins an extremely awkward evening, with the earthy, spiritual Mexican immigrant Beatriz struggling to find her way amidst three disgustingly rich white couples.
Though Hayek's box-office potential isn't exactly on the rise, Beatriz at Dinner is an amiably diverting entertainment, with an underlying progressive political message that should give it extra resonance—and eyeballs—in the Trump era. Expect positive word-of-mouth in left-leaning markets, followed by modestly favourable returns.
The film's second act is near spot-on comedy of discomfort. Arteta and White milk every ounce of unease from the situation. Wearing jeans and her hair in a ponytail, Hayek's Beatriz looks like she comes from another planet next to the more affluent guests—with the ladies (Connie Britton, Chloe Sevigny, Amy Landecker) decked out in flowing gowns and high heels and the men (David Warshofsky, Jay Duplass, John Lithgow) dressed in slick suits. In a witty visual highlight of their differences, Hayek has never looked shorter; everyone towers over her, particularly Lithgow's real-estate tycoon Doug Strutt. Not surprisingly, when Doug first sets eyes on Beatriz, he thinks she's one of "the help."
But despite Beatriz's big innocent eyes and meek, self-effacing appearance, she increasingly interjects herself into the evening's proceedings, interrupting their superficial banter about jet-setting vacations and making lots of money with her own reflections ("I could feel the pain of the octopus," she says, relating a story from her youth.)
As the evening goes on and the drinks continue to flow, Beatriz's politeness is tested. When Doug brags about his big-game hunting and shares a picture of a rhinoceros he killed on safari, Beatriz finally loses her cool, setting in motion the film's final and surprising conclusion. Will Beatriz enact some kind of revenge against a man she believes is killing the planet, and a traumatic reminder of the leveling of her own Mexican village? Or will she break through the brazen and unashamedly materialistic Doug and teach him to value healing over destruction? Credit goes to Arteta and White for playing with such clichéd outcomes, but ultimately opting for something unexpected.
While getting some good laughs at the expense of the rich and superfluous (Landecker, in particular, is cartoonishly funny with her big hair and bigger shoes, as is her Transparent co-star Jay Duplass), the filmmakers and actors also make an effort to not completely demonise them. They're not so much evil as naïve. For his Trump-like part, Lithgow has played nefarious masterminds before, but here, thanks to the actor's depth as a performer, there's something human about his arrogant industrialist. That's not to say the film is sympathetic towards Doug's position. However, Arteta and White's worldview is more humanistic than to make him into a complete monster.
In the end, Beatriz at Dinner becomes something else, even tilting towards magical realism. This could leave some viewers scratching their heads, but it's a bold choice that shows there's more on the filmmakers' minds than the film's mere sit-com-like premise suggests.
Production company: Killer Films
International sales: Sierra/Affinity
Producers: Pamela Koffler, Aaron L. Gilbert, David Hinojosa, Christine Vachon
Executive Producers: Jason Cloth, Andy Pollack, Alan Simpson, Richard McConnell, Sander Shalinsky, Lewis M. Hendler, Jose Tamez, Brad Feinstein, Paul Tennyso
Screenplay: Mike White
Cinematographer: Wyatt Garfield
Production Designer: Ashley Fenton
Editor: Jay Deuby
Principal Cast: Salma Hayek, John Lithgow, Chloe Sevigny, Amy Landecker, Jay Duplass