Screen-to-stage-to-screen: a quarter of a century later, Disney's live action Beauty is still mining for treasure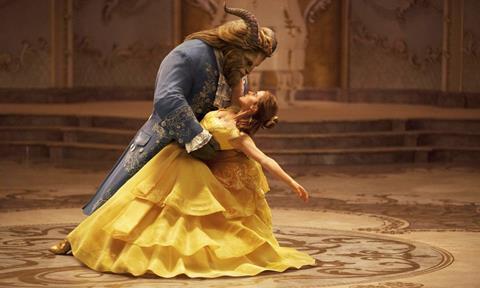 Dir. Bill Condon. US, 2017, 129 mins
A poignant message. A feisty heroine. A love story. Inanimate objects which sing and dance. And some barnstorming musical numbers. It worked in 1991, kick-starting the second golden age of Disney animation. And more than a quarter of a century later, Beauty and the Beast enchants again as a swirling blend of live-action story, stage, screen and sheer, rococo-spun fantasy.
The live-action cast speaks with British accents, while the CGI furniture mostly delivers faux-French, apart from Emma Thompson's cockney teapot
A classically-executed Disney fairytale, this enchantment may extend to nostalgic adults as well, especially those spelbound by the subsequent long-running stage show, Disney's first. The experienced Bill Condon, working with Alan Menken and Tim Rice on the original score by Menken and the late Howard Ashman, hits the back row with a concentrated show-stopper of the Disney experience. Mary Poppins, The Hunchback of Notre Dame, Aladdin, even Fox's The Sound of Music and Moulin Rouge are distilled into this emotional, exuberant, if somewhat de-fanged musical makeover.
Moving even further away from Cocteau, or the original French fairytale of the 1700s, The Beast, as personified by Dan Stevens under a wonderfully-fluid CGI monster helmet, holds no mystery for young audiences after a glossy prologue which catalogues his curse. He may terrify Emma Watson's headstrong Belle, or even Kevin Kline as her father, but he's as safe as if he were still animated. It's left to Luke Evans, as the vain and prancing Gaston, to deliver the menace as Belle's suitor, and Josh Gad (the voice of Frozen's Olaf) as his longing sidekick Le Fou, to accomplish outright scene-thievery as Disney's first acknowledged gay character (taking the campy route adopted by Modern Family for TV).
Beauty's laudable messages of compassion and acceptance should still resonate loudly with younger audiences, helped by the fact that some of the Beast's more dubious actions - such as effectively blackmailing Belle by telling her he'll die if she doesn't come back – have been smoothed over, to make him a sort of fairyland metrosexual, scarred, like Belle, by the death of a mother. Watson is good casting for this modern, independent heroine, helped by the fact that she's most known in the target demographic for playing the equally headstrong Hermione Granger.
All the principals can sing, and while Watson may be no Julie Andrews, Stevens reveals a smooth, deep voice and Evans has the time of his life as Gaston. The showboat musical numbers – all here – are nicely staged, from the opening scene-setter to a particularly engaging Be My Guest, which simply socks the audience with everything from Busby Berkeley to Esther Williams, via a singing candelabra (Ewan McGregor, enjoying himself). At once wonderfully reminiscent of the Menken-Ashman sequence 'Friend Like Me' from the animated Aladdin yet still remarkably innovative, this is part of a musical score which includes three new numbers by Menken and Rice.
Condon, showing his experience with stage-to-screen adaptations (he directed Dreamgirls and wrote Chicago), has lined up a heavily-British cast for this animation-to-stage-to-screen, which was mostly shot in Shepperton. Apart from Watson, Stevens and Evans, the talking furniture is played by McGregor (Lumiere, a candelabra), Ian McKellen (Cogsworth, a carriage clock), Emma Thomson (giving it 'er best Cockney as Mrs Potts, a teapot) and Gugu Mbatha-Raw as Plumette, a feather duster, alongside Audra McDonald as Madame de Garderobe and a grinning Stanley Tucci as her sidekick harpsichord. For reasons that aren't immediately obvious, the live-action cast speak with British accents, while the furniture mostly delivers faux-French tones.
With Disney's corporate identity inspired by Neuschwanstein, production designer Sarah Greenwood (Anna Karenina) takes the fairytale castle one stage further for the Beast's towering Baroque retreat, a blend of architectural styles which culminates in an outrageously-rococo interior. This is far, far away indeed, situated next to Belle's bucolic village of Villeneuve, but cursed to become a land perpetually covered in ice and snow. Costume designer Jacqueline Durran also takes the Disney motifs - Belle's yellow gown, Beast's suit – and works fresh tweaks into the fabric (although a blue frogged costume all but emasculates Stevens).
Beauty And The Beast has been adapted, imagined, re-thought and re-staged over the 277 years since Gabrielle-Suzanne Barbot de Villeneuve, inspired herself by earlier myths, created her characters. It has a proud cinematic heritage yet, over the last quarter century, Menken's songs and Ashman's moving lyrics have given this story a modern poignancy. There's an extra layer of sadness which comes from the knowledge that Ashman was dying of AIDS as he wrote Beauty and the Beast, and never lived to see the film completed, which makes its message of inclusion so meaningful for older audiences even as children automatically accept it as a given. Simply put, Condon's Beauty adds to the distinguished canon, while giving it an extra burst of life.
Production company: Mandeville Films, Walt Disney Pictures
International distribution: Walt Disney Motion Pictures
Producers: David Hoberman, Todd Lieberman
Executive producers: Jeffrey Silver, Thomas Schumacher, Don Hahn
Screenplay: Evan Spiliotopoulos, Stephen Chbosky, Bill Condon based on the animated feature
Cinematography: Tobias Schliessler
Production design: Sarah Greenwood
Editor: Virginia Katz
Costume designer: Jacqueline Durran
Music: Alan Menken, with songs written by Alan Menken and Howard Ashman, and by Menken and Tim Rice
Main cast: Emma Watson, Dan Stevens, Luke Evans, Kevin Kline, Josh Gad, Ewan McGregor, Stanley Tucci, Audra McDonald, Gugu Mbatha-Raw, Hattie Morahan, Nathan Mack, Ian McKellen, Emma Thompson.