Dir. Ry Russo-Young. US, 2016. 99 min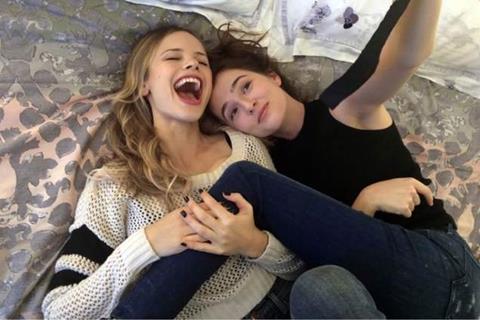 It's "Cupid Day" in an ultra-wealthy town in the Pacific Northwest, and Sam (Zoey Deutch), a beautiful, rich and popular high school senior, is poised to lose her virginity later that night. But on her way back home from a party, she gets into a car accident, and then wakes up the next morning to find herself doomed to repeat the same day over and over again. Until she gets it—and herself—right.
Praise should be given to the film's mystical, beautifully photographed Pacific Northwestern settings
While it sounds a lot like Groundhog Day meets Mean Girls, Before I Fall follows more in the footsteps of other recent destiny-obsessed young-adult novels-turned-movies such as If I Stay and Beautiful Creatures. With little humor to lighten up the show, Before I Fall is a serious and sincere teenage fantasy about fate and goodwill, which should satisfy its built-in young audience and others looking for wholesome entertainment with a positive message. When Open Road releases the film in the U.S. on March 3rd, good word of mouth and fans of the best-selling book should boost the film to modest success, domestically and then abroad.
Unlike its kin, however, Before I Fall does not have a strong romance at its core—it exists more around the edges—which could prove a hurdle for audiences desiring amorous sweep. Instead, Before I Fall is built on the young female friendships at its centre and, above all, the conflict of its main character.
When we first meet Sam and her pretty alpha-girlfriends, blonde leader Lindsey (Halston Sage), Elody (Medalion Rahimi), and Ally (Cynthy Wu), they are the queen bees of the school, ready to party and put-down others less popular, particularly the moody outcast Juliet Sykes (Elena Kampouris). But there's something about Sam that makes her a bit more sensitive than her sisters. And when the supernatural event occurs, trapping Sam in a perpetual Sisyphean loop, we follow her on a journey to "Become Who You Are," as a sign not-so-subtly announces in the room of Sam's new kindly love-interest, Kent (Logan Miller).
Like Groundhog Day, Before I Fall relishes in the fantasy of her predicament: at first, she's shocked by having to repeat the same day endlessly; she tries slight alterations; then bigger alterations; spends more time with her family; and then when nothing else seems to work, she goes Goth, living out her darker side. Finally, of course, she discovers what she must do.
Indie director Ry Russo Young (Nobody Walks), working from a script by indie veteran Maria Maggenti (The Incredibly True Adventure of Two Girls in Love), follows some of the more predictable plot points of such a story, but also provides enough surprises along the way. Even the film's conclusion, while inevitable, differs from your standard Hollywood finale, while at the same time, fulfilling the melodramatic weepy formula of the YA genre.
Deutch, who appeared in Beautiful Creatures as well as Richard Linklater's Everybody Wants Some, delivers a sympathetic lead performance, carrying the film with equal doses of sweetness and grace, strength and vulnerability. All the characters are very much under-written, with only whiffs of backstory or depth, although Logan Miller's portrayal of Kent is a refreshing combination of confidence and insecurity.
Praise should be given to the film's mystical, beautifully photographed Pacific Northwestern settings. Giving the film a slightly otherworldly tone, the filmmakers utilise dense wet forests, swaths of fog, and rain-soaked roads to push the film from more familiar urban adolescent angst to something more fable-like. There's also a magnificent wooded mansion, seemingly set in the middle of a rainforest, that gives the film one of its stunning central locations—though it's frustratingly never explained how these kids and their families have so much money.
But Before I Fall isn't concerned with reality. Rather, it's a somewhat naïve supernatural parable aimed at young millennials, and perhaps more so, the parents who believe that their teenagers will turn out to be good people.
Production company: Open Road Films
International sales: Good Universe,
Producers: Brian Robbins, Matt Kaplan, Jon Shestack
Executive Producers: Brett Bouttier Robyn Marshall, Lauren Oliver, Marc Bienstock
Screenwriter: Maria Maggenti
Cinematographer: Michael Fimognari
Production Designer: Paul Joyal
Music: Adam Taylor
Principal Cast: Zoey Deutch, Halston Sage, Logan Miller, Kian Lawley, Elena Kampouris, Diego Boneta