A mysterious, powerful feature debut from Georgia's Dea Kulumbegashvili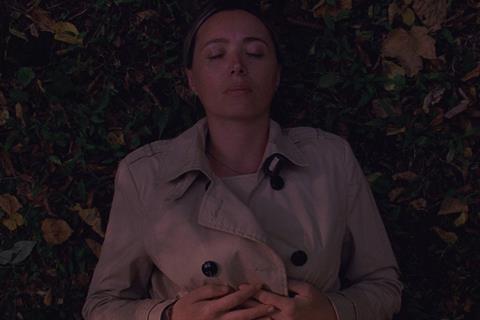 Dir: Dea Kulumbegashvili. Georgia, France. 2020. 125mins
External threats provoke an existential crisis in Beginning. Dea Kulumbegashvili's powerful feature debut unfolds in a Georgia filled with menace and hostility. Complex ideas and emotions are presented in a strikingly composed film as bracing as it is unsettling. Executive produced by Carlos Reygadas, Beginning is sure to make waves on the festival circuit and should also attract arthouse audiences prepared for the challenge of unravelling its mysteries and meanings.
Impenetrable in places but always intriguing
A film concerned with notions of light and darkness, heaven and hell begins in a blaze of light as worshippers gather at a Kingdom Hall in the small town of Lagodekhi near the border with Azerbaijan. Jehovah's Witness missionary David (Rani Oneli) leads a service based around the Bible story of Abraham and his willingness to kill his only son as God has commanded. A firebomb attack leaves the building in ashes. David has security camera footage of the incident but local police suggest he would be wise to delete it.
At first Beginning suggests it will be plot driven. Who committed this act? How will David seek justice? Such concerns fade into irrelevance as the focus shifts to David's wife Yana (Ia Sukhitashvili) and the tone becomes more abstract. Unnerved by the destruction of the Kingdom Hall, she appears at the end of her tether. "Life goes on as if I wasn't there," she observes.
Left alone with their son when her husband heads to a conference, Yana sinks into a Lynchian nightmare in which the family home is both sanctuary and prison. She questions her identity, her faith and the way she lives by the expectations of others.
Kulumbegashvili and cinematographer Arseni Khachaturan collaborate to create a distinctive visual look that reflects Yana's unease. Lamps provide pools of light in gloomy interiors, night time exteriors transform woods and rivers into an alien landscape, characters are frequently framed against stark backgrounds, pinned down as if they are specimens in a collection. It is often a very beautiful looking film. Long, static shots are favoured throughout including a close-up of Yana playing dead in the woods that stretches over five minutes.
Yana's distress is exacerbated by the arrival of police officer Alex, played to skin-crawling effect by Kakha Kintsurashvili. Able to exercise his authority with impunity, he taunts and abuses her. The film seems to stray into Lars Von Trier territory with the suggestion that salvation might come through degradation or a fall from grace.
There is a sense throughout that Yana is trying to find herself and prove her faith. Her husband's lack of sympathy is shocking. "I created you, " he declares. "I dragged you out of your misery." Oppressed by her husband, the state and a country that does not welcome her religion, Yana becomes convinced that the only way to beat the devil is through a sacrifice that will prove her loyalty to God.
Impenetrable in places but always intriguing, Beginning is graced by a potent lead performance from Ia Sukhitashvili who conveys the myriad emotions of woman at the mercy of a cruel world and enduring a life tossed from serenity to distress, obedience to emancipation.
Production companies: First Picture, Zadig Films, OFA
International sales: Wild Bunch ediederix@wildbunch.eu
Producers: Ilan Amouyou, David Zerat, Rati Oneli, Dea Kulumbegashvili
Screenplay: Dea Kulumbegashvili, Rati Oneli
Editing: Matthieu Taponier
Production design: Guram Navrozashvili
Cinematography: Arseni Khachaturan
Music: Nicolas Jaar
Main cast: Ia Sukhitashvili, Rati Oneli, Kakha Kintsurashvili, Saba Gogichaishvili