Director: Zhao Liang, France-Finland-Switzerland. 2015. 90 mins.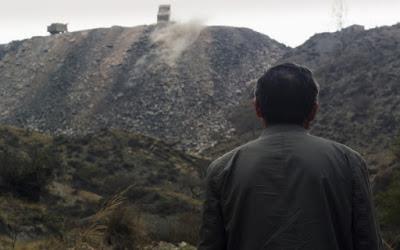 Vast swathes of once-pristine Mongolian prairieland have, in the last couple of decades, become scarred and brutalised by open-cast coal mines, iron foundries and generating stations, with thousands of desperate Chinese migrant workers brought in to feed the insatiable demand for disposable, low-paid manpower to keep them operating. That's the background to Zhao Liang's remarkable, powerful film Behemoth (Beixi moshuo), a sort of 'dream documentary' set in this ravaged landscape but liberally inspired by Dante.
Behemoth achieves much of its authority from the way the images comment wordlessly on a world in which humans are reduced to the status of servants of a vast, unfeeling industrial system
Drawing as much on music and long-form poetry as cinema, Behemoth works like a symphony as it takes us from the surviving pastoral enclaves of rural Mongolia to the hellish noise, dust and smoke of the mines, factories and iron foundries. But it also has a more incisive political message for audiences in the developed world, illustrating as it does the environmental and human cost of the Made-in-China economic miracle that we all benefit from. Producer Arte France will give Zhao's film a broadcast premiere on 19 November, but this should not prevent subsequent theatrical bookings for a crisply-shot, aurally textured documentary that fully deserves to be seen on a big screen.
There's little contextualisation aside from a couple of terse fact-filled captions right at the end; instead, we get fragments of wistful voiceover that bring out the film's debt to Dante's Divine Comedy and the Bible, which provides the film's portentous Old Testament title. This metaphysical vein is also present in two recurrent magic-realist tropes, one featuring static long shots of a naked man curled foetally in the barren landscape, the other a sort of pilgrim everyman figure who walks through the film's settings with a mirror on his back – a dig, perhaps, at China's relentless, blinkered progress, which can't or won't look at what it's leaving behind for the future.
Opening with a series of controlled open-cast mine explosions that literally reshape the earth before our eyes, Behemoth achieves much of its authority not from its borderline-pretentious voiceovers but from the way the images comment wordlessly on a world in which humans are reduced to the status of servants of a vast, unfeeling industrial system. On the steppes horsemen still ride free, but in the mines they have been subsumed by the machines they operate – like the tipper trucks that inch, bumper to bumper, down into the maw of a pit where they're filled by mantis-like diggers.
Visually, this breathtaking film reminds us, at times, of Sebastiao Salgado's photographs of Brazilian miners; cinematic echoes include Michael Glawogger's Workingman's Death and, to a lesser extent, the doom-laden environmental sweep of Godfrey Regio's Qatsi trilogy. A throaty Mongolian traditional chant accompanies a few scenes, but mostly it's Alain Mahe's electronic and electro-acoustic soundtrack that works alongside the images, building to a near deafening pitch of driving industrial metal in the film's most arresting sequence, set in an iron foundry. This begins with a full red screen that reveals, when the colour contrast is stopped down, the heat, smoke and sparks of a factory where sweat and grime-stained workers poke at the liquid ore with long poles.
Another Dantean torture – though this too is an actual job – is charted in an unbearably drawn out sequence in which a group of miner-scavengers shovel coal dust endlessly, the air almost as thick with the lung-choking stuff as the hill they're making no dent in.
The purgatory is still to come, in scenes that show foundry workers picking pig iron shards out of their scabbed and calloused hands, or hospitalised miners suffering from pneumoconiosis. One brief scene of a sit-down demonstration outside an industrial plant is the only sign that these broken men, whose patient, wounded-animal faces are shown in a series of affecting static close-ups, have any kind of recourse, any option but to work and die.
But it's Behemoth's final sequence, almost devoid of human figures, that is, paradoxically the most shocking. It shows a Mongolian ghost new-town, with its serried ranks of residential skyscrapers. These are all empty, we soon realise – as are the streets that surround them. Empty, that is, except for teams of migrant-worker street sweepers – one of whom chases after a drift of tumbleweed that has entered the shot, and tidies it away. Refreshingly undidactic, Behemoth leaves us to work out that, after hell and purgatory, this empty metropolis, made by the industrial monster that ravages the steppes, and the sweat and blood of those who serve it, is the film's tragic, ironic heaven.
Production companies: INA
Co-production: Arte France
International sales: Michele Gutard, INA, mgautard@ina.fr
Producer: Sylvie Blum
Screenplay: Zhao Liang, Sylvie Blum
Cinematography: Zhao Liang
Editor: Fabrice Rouaud
Music: Huzi, Alain Mahe, Mamer