Paul Verhoeven returns to Cannes Competition with this unsubtle, provocative tale of a 17th-century nun.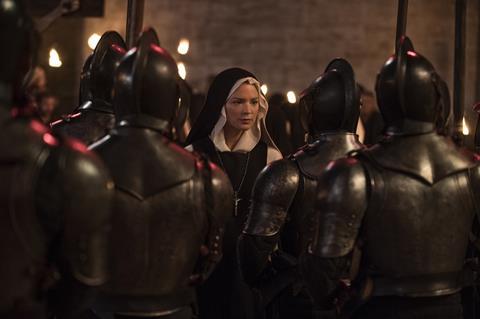 Dir. Paul Verhoeven. Fr-Neth. 2021. 126mins
Any residual doubts that 82-year-old filmmaker Paul Verhoeven might have lost his taste for provocation are laid impiously to rest in Benedetta, a lurid (albeit ravishingly shot) tale of carnal and religious ecstasy in which we witness, among other visions, a young abbess being pleasured by a dildo carved from a statue of the Virgin Mary
Encounters are both explicit and uncomfortable in the male gaze with which they are staged and framed
But the real issue is not the glee with which the director invites censure and controversy. It's that this highly-anticipated, long-completed work — which postponed its debut until it could enjoy the embrace of Cannes' first physical festival in two years — is a major step back from Verhoeven's last feature and previous competition contender Elle, which wowed the Croisette in 2016.
Both centre on a strong, controlling, unpredictable female character, but Elle was both in-your-face and richly subtle, partly thanks to a magnificently layered performance by Isabelle Hupert. Benedetta aspires to subtlety in its underlying theme of how a woman who was not of high birth could achieve power and influence in a world that was controlled by men on earth, and the Father and Son in heaven. Yet it is undermined too often by a jaded vision of the early 17th century that seems influenced by cinematic perceptions of the Middle Ages. Bergman's The Seventh Seal looms large in Verhoeven's toolbox (composer Anne Dudley even incorporates that film's 'Dies Irae' chant in her score), but we can't help being reminded too, in scenes set during a plague outbreak, of the 'bring out your dead!' clichés of Monty Python and the Holy Grail.
In 1986, historian Judith C Brown published a book called 'Immodest Acts', based on a series of papers she had uncovered in the state archive in Florence while researching an entirely different topic. They were the records of a series of inquests held by church authorities between 1619 and 1623 to determine whether Benedetta Carlini, the young abbess of a provincial Tuscan convent, was a true visionary, as she claimed. It's this book, and the explicit accounts it contains of Benedetta's sexual affair with a younger nun, that provides the 'inspiration', as an opening credit tells us, for a film that was scripted by Verhoeven with his Elle co-writer David Birke.
Virginie Efira, who filled a key supporting role in Elle, plays Benedetta, a nun from a well-to-do merchant family. A prologue shows her as a much younger girl being brought to this convent in the Tuscan town of Pescia by her parents – together with the wooden statuette of the Virgin that will feature so prominently later. Both here and in the later scenes, it's made clear that money and influence are as important as piety and prayer in the running of this religious institution.
Charlotte Rampling's Sister Felicita – an ironic name for this sharp, dour woman – haggles with Benedetta's merchant father over the price of the 'convent dowry' which all aspiring novices are required to pay. When Benedetta begins to experience divine visions and manifest the bleeding wounds of the stigmata, the local provost, Pescia's highest-ranking churchman, overrides Sister Felicita's scepticism and eventually appoints Benedetta as abbess in her place, viewing the miracle-working nun as a fast-track route to promotion. A papal nuncio played by Lambert Wilson – who, like Rampling, has a lot of fun with his role – is equally worldly, first viewed being waited on by a servant whose pregnancy we need no advance powers of deduction to attribute to him.
Sexual desire, self-denial and a large dose of calculation mingle in Benedetta's increasingly raucous visionary fits – which are translated on-screen, with a level of satire it's difficult to gauge, in CGI-heavy sequences in which Christ with his flock, hissing serpents and brigand rapists mingle. By this time, the new abbess has fallen for the attractions of Bartolomea (Daphne Patakia), a wild, unschooled novice from peasant stock with a simple, uncomplicated sexual drive. Their encounters are both explicit and uncomfortable in the male gaze through which they are staged and framed – which is not to slight the contribution of DoP Jeanne Lapoirie, who works impressively with candlelight and sun through high church windows.
It's the tone that's off here, as it is throughout a film which seems to wink at what it perhaps wants us to see as irony – its soft porn tropes like bondage and flagellation, its over-saturated sci-fi view of a comet's passing, its horror-influenced vision of the plague – while keeping both eyes firmly open.
Production companies: SBS Productions, Pathe
International sales: Pathe International
Producers: Said Ben Said, Michel Merkt, Jerome Seydoux
Screenplay: David Birke, Paul Verhoeven, inspired by Judith C. Brown's book Immodest Acts
Production design: Katia Wyszkop
Editing: Job Ter Burg
Cinematography: Jeanne Lapoirie
Music: Anne Dudley
Main cast: Virginie Efira, Charlotte Rampling, Daphne Patakia, Lambert Wilson, Olivier Rabourdin