A friendship blossoms between two women in Kim Junsik's sensitive drama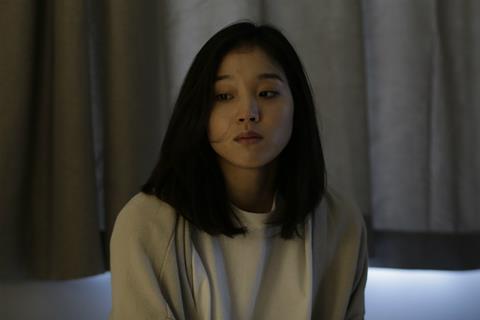 Dir/scr Kim Junsik. South Korea. 2018. 98mins
The road to self-acceptance is marked by guilty secrets, heartbreak and anguished confessions in Between The Seasons. Writer/director Kim Junsik's delicate feature is slow to catch fire but eventually blossoms into a thoughtful, touching reflection on gender, sexuality and the need to be true to yourself. Festivals could come calling after its Busan world premiere, especially LGBTQI events.
Displaying a sensitive touch throughout, Kim Junsik avoids melodrama
Hae-soo (Rie Young-zin) is clearly a woman with a past, but we are initially kept in the dark about what that could be. Moving from Seoul to an unnamed city, she has taken ownership of a small, spartan-looking cafe. She cuts a forlorn figure as she unpacks boxes, cooks a meal for one and finds her attention caught by cosy couples and happy families. She has a guarded, poker-faced resolve, and we are encouraged to speculate that she may be divorced, widowed or the survivor of some scandal seeking anonymity and a fresh start.
High school student Ye-jin (Oh Ha-nee) becomes a loyal customer at the Coffee And Music Cafe, known for her regular order of a double espresso with an extra shot. Fate pushes the two women together, and a friendship develops that allows Ye-jin to bring a spark of life back to Hae-soo. She is hired on a part-time basis and becomes indispensable as she starts to transform the cafe with cherry blossom branches on the walls and warm lighting. Hae-soo even begins to thaw a little.The growing bond between the women is marked by how inviting and attractively decorated the cafe appears to outsiders in one of the film's typically understated touches.
What had previously seemed a bit of a mope of a film now becomes more interesting. Ye-jin seems to regard Hae-soo as more than a friend and her confused feelings are badly hurt when Hae-soo starts to date a personable man from the local phone shop. The tinkling piano score and plucked guitar strings that pointed the way towards some kind of Nicholas Sparks-style romance give way to something more complex and more intriguing.
It becomes clear that both women have their secrets, and are instinctively guarded about revealing their true selves to anyone else. As feelings are hurt, we start to question who is really the lovelorn one here. The tone of the film grows more jagged, tipping towards the hysterical as Ye-jin demands: " Why should being happy be this painful?".
Displaying a sensitive touch throughout, Kim Junsik avoids melodrama and takes the time to develop the emotional lives of the two women and make us care about what happens to them. Ye-jin's energy and curiosity makes her all the more vulnerable and we do eventually discover why Hae-soo has felt so protective of revealing her story. Rewarding the patient viewer, Kim Junsik's careful pacing results in an accomplished work that also serves as a winning plea for tolerance and the right to be yourself.
Production companies: Emotional Story, Korea University of Media Arts
International sales: Korea University Of Media Arts mone20000@naver.com
Producers: Kim Yongwook, Cho Yongkwon
Editing: Lee Yunhee
Cinematography: Yeom Kisoo
Music: Yang Jeongwon
Main cast: Rie Young-zin, Oh Ha-nee, Kim Youngmin