A South Korean metaphysical melodrama that defies the laws of time and space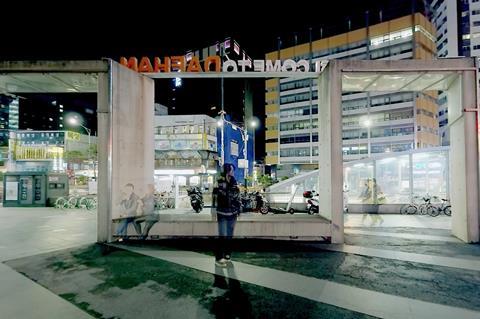 Dir: Park Hong-min. 2020. South Korea. 119 mins
Beyond You can best be described as a metaphysical melodrama since it takes a well-worn trope — a career-focused man is plunged into self-examination upon encountering the daughter he never knew he had — but sets about achieving catharsis through slippages in time and space. Indie director Park Hong-min previously applied a similar approach to the thriller genre with Alone (2015), which had a confounding narrative yet generated a palpable sense of unease while effectively commenting on masculinity and memory. Unfortunately, whatever he and co-writer Cha Hye-jin are striving to say about the human experience in Beyond You is obscured by a fixation with puzzle-box structures.
It's all too easy for the viewer to fall through the temporal cracks
Following its world premiere in the Korean Cinema Today program at the Busan International Film Festival, Beyond You has sufficient curiosity value to warrant further festival engagements, but will struggle to stand out given that South Korea's indie sector offers no shortage of intriguing titles. Streaming prospects will be modest at best, although smaller speciality distributors may take a chance considering the immense demand for home-viewing content under current circumstances.
Beyond You begins in familiar territory with film director Han Kyung-ho (Kim Kwon-hoo) meeting Lee Ji-yeon (Yoon Hye-ri), the daughter of his first love, in a park after she has contacted him through letters. However, Ji-yeon abruptly takes off upon determining that Kyung-ho is unconcerned about her mother, who is ill, and has given little consideration as to whether he could be her father. Realising he has behaved inconsiderately, Kyung-ho follows Ji-yeon home, where he is belatedly reacquainted with his former girlfriend In-sook (Oh Mine). She is in the throes of a cognitive decline that has caused her to no longer recognise her own daughter, although she retains an awareness of her existence.
Matters become less fixed from there. Ji-yeon keeps turning up around Kyung-ho's neighbourhood but mysteriously disappears before he can talk to her again, only to suddenly materialise in his apartment bathroom late at night. Around the midpoint, Kyung-ho finds himself traveling back in time, returning to the park where he met Ji-yeon. Roughly retracing his steps from the previous day, some conversations have slightly different outcomes, yet he is unable to comfort Ji-yeon, who is profoundly distressed by her mother's condition.
This thrifty indie production owes its unusual atmosphere to cinematographer Kim Byeong-jung's gently roving extended takes, which connect everyday spaces in a subtly hypnotic manner. As in Alone, Park makes particularly good use of Seoul's quiet back alleys, here serving as a mesmerising maze where Kyung-ho finds past and present merging. Park's preoccupation with dream logic eventually leads to Kyung-ho actually entering In-sook's subconscious in an attempt to help her recognise Ji-yeon.
This affords a clever exercise in lo-fi fantasy as In-sook frantically rummages through her memories — represented by piles of paper stored around her home — in search of a particular past moment that she wants to relive with Kyung-ho. However, with so many realities and even dimensions being navigated, it's all too easy for the viewer to fall through the temporal cracks regardless of how certain scenes pique interest on an individual basis.
There is also a confusing intertextual element as Kyung-ho is occasionally seen writing a screenplay which echoes conversations we have just been privy to, begging the question of whether he is drawing on his immediate life for creative purposes or if we are seeing glimpses of a work in progress. Scenes involving a straight-talking producer (Lee Ju-won) and a screenwriter (Kang Eun-jin), who Kyung-ho hopes can inject a sense of fun into his self-absorbed material, play like imaginary dialogues with the frustrated director questioning his artistic choices. Given the overstretched running time of almost two hours, these exchanges not only feel extraneous but also prompt the nagging suspicion that Park isn't completely sure of what kind of film he wants to make.
Although the characters are vaguely sketched, the performances are fine. Kim is suitably perplexed throughout, while Oh and Yoon forge an affectingly strained mother/daughter dynamic. Despite their concentrated efforts, though, it still doesn't quite add up. Park deserves praise for making conceptually layered films with limited resources, but should perhaps give linear storytelling a try next time around.
Production company: Nongbu Film
International sales: M-Line Distribution, rachel@mline-distribution.com
Producer: Cha Hye-jin
Screenplay: Cha Hye-jin, Park Hong-min
Production design: Park Hong-min
Editing: Park Hong-min
Cinematography: Kim Byeong-jung
Music: Kim Cheol-hwan
Main cast: Kim Kwon-hoo, Yoon Hye-ri, Oh Mine, Lee Ju-won, Kang Eun-jin