The titular Azerbaijan city serves as the setting for five loosely intertwined vignettes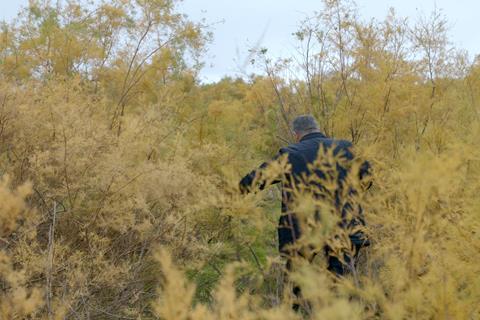 Dir/scr: Elvin Adigozel. Azerbaijan/France. 2020. 86 mins.
Named for the Azerbaijan city, Bilesuvar delivers a sombre look at its main setting, characters either living within it or passing through, and their engrained and shared flaws. Taking particular aim at self-interest and self-doubt, and the ways in which people are so often motivated and foiled by each, this Busan-premiering drama stitches its narrative together from brief vignettes about straightforward woes and wishes. But in trying to create a resonant portrait from loosely intertwined snapshots, it ultimately feels strained; the bulk of its individual parts prove slight rather than deep or especially revealing, as does its bigger picture.
Too little about Bilesuvar lingers
The idea that unhappiness drives struggling souls to make bad choices, second-guess sound decisions and expose their inherent weaknesses has hardly evaded cinema's attention. In fact, it has become common screen fodder for a reason: not only does it accurately explain much about human existence, but it applies in almost every conceivable situation. Of the five scenarios offered up here, every one could be fleshed out to feature length. That is Bilesuvar's biggest success — each time it moves to its next chapter, it leaves the audience wondering how every separate segment might play out as a full film. Of course, that also means that viewers are left noting how just how slender most portions are as presented.
In his third feature following 2013's Chameleon and 2018's Reporting From Darkness, writer/director Elvin Adigozel starts with the military-bound Niyameddin (Niyameddin Amanov). His date for reporting to duty nearing, he's really just biding his time and, even without overtly acknowledging it, beginning to feel the weight of his choices. Next, with teacher Tofig (Tofig Aslanov), the minutiae changes but the overall sensation remains the same. He is dedicated to his job at a small school, and takes particular pride in finding and decking out a makeshift Christmas tree for his pupils, but he is inescapably plagued with uncertainty when he compares his life with that of a friend who chased far richer success in Russia.
The template rolls on, although Bilesuvar is never better than when it lets Tofig's tale slide slowly across the screen. Aslanov's nuanced, lived-in performance is a key factor, conveying the sorrow of a man who refuses to admit much to himself, coupled with the deep-seated determination to keep moving forward at any cost. Also evident, and crucial, is Bilesuvar's sense of patience. This is not a hurried or action-packed film but, slim as they are, its various segments rarely feel as though they have been given enough time to stretch out.
If the picture boasts another standout chapter, it comes courtesy of its concluding story, about part-time cameraman Kamran (Kamran Agabalayev). Already unenthused about his latest job, he is left without money or a place to stay when his equipment falters during a shoot. Again, casting plays a considerable part in ensuring that this segment strikes a chord — Agabalayev perfects a blend of exasperation and resignation — but so too does a subtle undercurrent of humour.
While too little about Bilesuvar lingers, Adigozel's film is engagingly shot by cinematographer Oktay Namazov (a veteran of the director's 2019 short Shooting Ms Rena's Film!). With a naturalistic gaze, the feature largely roves its frames over everyday interiors and nondescript landscapes, savouring every ordinary detail. If only it had done the same narratively, thematically and emotionally, rather than striving to weave its mostly thin chapters into a broader statement.
Production company: Adari Films, Caracteres Productions, Memuar Films
Contact: Adari Films, birada@mail.ru
Producer: Irada Baghirzade, Etienne De Ricaud, Intigam Hajili
Editing: Elvin Adigozel
Cinematography: Oktay Namazov
Music: Farid Aqa
Main cast: Kamran Agabalayev, Gunel Zulfugarli, Tofig Aslanov, Ilgar Dadash, Niyameddin Amanov, Cahangir Melik, Gunel Mirzeli