Dir. Ang Lee. UK/China/USA, 2016, 112 minutes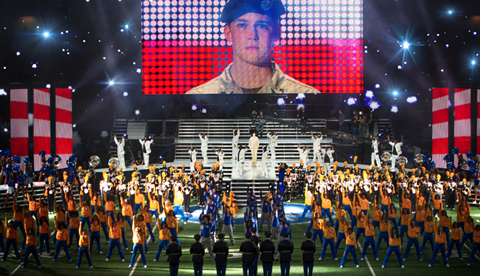 Iraq war veterans are celebrated and exploited at a football burlesque in Billy Lynn's Long Halftime Walk by Ang Lee. It's a radiant debut for young newcomer Joe Alwyn, who plays a Texan war hero uneasy in his own land. It's a shakier curtain-raising for Lee's ambitious weaponising of new technologies.
For a film that seeks to connect us to the future of the medium, much of its strength comes from the age-old craft of acting and the inevitable mixed emotions of soldiers returning home
The adaptation of Ben Fountain's 2012 novel, scripted by Jean-Christophe Castelli, is a novelty for its use of a higher frame rate, in 3D, which produces a remarkable visual precision. That gambit, and Lee's reputation, should bring out the fans worldwide.
Slated to open after the slash-and-burn US electoral campaign, Billy Lynn will bring uncomfortable lessons about loyalty and sacrifice to the American public. The well-worn pro-military nostrum, "Thank you for your service," seems a lot more sour after viewing the film. Yet movies about war in the Middle East have not conquered the box office. The sensitive, humorous Alwyn and a strong supporting cast could keep this one in play.
Billy Lynn's Long Halftime Walk is as much about the dark side of entertainment as it is about war. In his novel, Fountain chronicled a salute to an army unit, Bravo Squad, at a football game in Texas on Thanksgiving, through Lynn's interior monologue. The soldier, Billy Lynn, became a certified hero at 19 after an embedded journalist's camera filmed him trying to rescue his wounded sergeant.

In the film, Lee shifts from the stadium to flashbacks of the war in Iraq and the loss of the unit's beloved leader (Vin Diesel). Scenes of Lynn's family, also seen in flashbacks, introduce his sister Kathryn (Kristen Stewart) as an angry opponent of the war who chafes at the authority of her stern parents.
The stadium spectacle, where the Bravo soldiers stand on-stage in uniform during a performance by Destiny's Child, offers Lee the opportunity for an extravaganza that deploys soldiers, players and performers as if the event were a military operation. The frame rate and 3D effects enhance the three-ring circus atmosphere, foregrounding what otherwise might be secondary figures and intensifying the sensory overload. Patriotism is a work of corporate choreography here, but it's straining at the seams, reaching Bravo Squad like an attack from all directions. Lee makes it feel like free-fire.
Lee's process works with two cameras running at five times the normal speed with twice the amount of data running on each camera. An experimental approach, its contribution to the film's drama varies. Its hyper-realism can make the action look ordinary, even dull, as with pranks on the field with soldiers and footballs that look like everyday television footage.
Yet Lee's frame rate can work remarkably well with close-ups, capturing Billy's vulnerability and his inner strength on Alwyn's face, and reminding us how young the soldiers who fight our wars are. It also gives the anxious Kathryn the visual gravitas of a painted portrait. Given how ideal Stewart's face is for those extraordinary shots, it's surprising how little we see of her on the screen. The effect is to make her character a dutiful bearer of anti-war sentiment. Bruce McKinnon as Billy's wheelchair-bound father (was he a war veteran too?) is the boilerplate version of the other political extreme.
For a film that seeks to connect us to the future of the medium, much of its strength comes from the age-old craft of acting and the inevitable mixed emotions of soldiers returning home (as in Coming Home and other Vietnam-era classics).
Lee's ensemble captures the camaraderie and the irreverence of a squad that kills and drinks together, in the tradition of films about fighting men. The script loses much of Billy's comic bile from Fountain's book, yet Alwyn has a composure that makes the tales of Billy's heroism credible – and marketable. If Alwyn as Billy is the conscience of the unit, Garrett Hedlund as Sergeant Dime, their foul-mouthed leader, is the renegade who speaks the truth and gets away with it. It's thanks to this character that the inventive punchiness of Fountain's book survives in Lee's adaptation.
Yet Steve Martin, who brings marquee heft to the cast as the football team's dictator of an owner (modelled after Jerry Jones of the Dallas Cowboys?), shows that drama and technology can feel out of synch, even with the best of intentions. Martin, as a corporate puppet-master, is the film's villain, if there is one. Yet he tones his performance down to the point where there's barely a hint of anything sinister, even with the cameras' unforgiving scrutiny.
Still, Lee and his editor, Tim Squyres, have a feel for the comic timing of Texas-sized heartland kitsch, served well by the music of Jeff and Mychael Danna. The film has plenty of laughs, among them an improbable war scene where Billy drags his wounded sergeant into a huge drainage pipe, only to be attacked by an Iraqi fighter who appears out of nowhere. If the pipe were a boat, the scene could have come right out of Life of Pi.
Making technology work in the service of drama and storytelling is always a challenge. In Billy Lynn's Long Halftime Walk, Lee and his DP John Toll took a leap ahead and that leap serves his story unevenly. For every stirring close-up, there's movement that's more banal than bravura. It reminds us that sometimes technology really is ahead of its time.
Production companies: TriStar Pictures, Studio 8, LStar Capital, Film4, Bona Film Group, The Ink Factory
Producers: Marc Platt, Ang Lee, Rhodri Thomas, Stephen Cornwell
Executive producers: Brian Bell, Jeff Robinov, Guo Guangchang, Ben Waisbren
International distribution: Sony Pictures Releasing International
Screenwriter: Jean-Christophe Castelli
Based on the novel by Ben Fountain
Cinematographer: John Toll
Editor: Tim Squyres
Production design: Mark Friedberg
Music: Jeff Danna, Mychael Danna
Main cast: Joe Alwyn, Kristen Stewart, Chris Tucker, Garrett Hedlund, Makenzie Leigh, Vin Diesel, Steve Martin, Tim Blake Nelson