This avian animation proves to be a baffling assault on the senses with little in the way of coherent story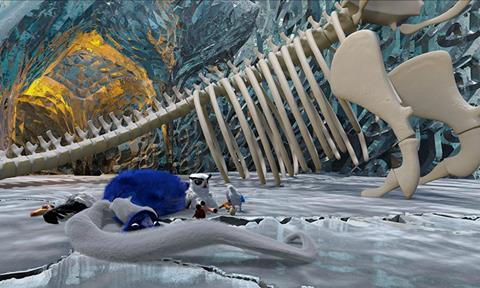 Dirs: Faruk Šabanović, Amela Ćuhara. Bosnia and Herzegovina-UK-Turkey-USA-Qatar. 2017. 84m
Very loosely based on the 12th century Persian poem 'Conference of The Birds' by Farid ud-Din Attar, this animation eschews the source material's delicate layering of symbolic allusion in favour of a baffling assault of visual non-sequiturs.
There's little internal logic to the story
Opening in a treebound community named Birdabad - ideologically, an avian version of The Handmaid's Tale - the film follows four mismatched birds on a quest accompanied by a terrifyingly creepy sightless bat. The path, presumably, is to enlightenment, but thanks to the esoteric plotting and disorientating animation, clarity is missing in action.
The English language version boasts a quality voice cast - including Alicia Vikander, Jeremy Irons and Jim Broadbent - suggesting ambitions which extend beyond the domestic market. Yet it is hard to imagine that this film, with its jarring tonal shifts and garish animation style, has much chance of connecting with a broader audience. Some festival exposure is not out of the question, however this is a tricky film to program - rather too demanding for a younger audience, but not polished enough to engage adult animation fans.
The bird city of Birdabad is observed through the eyes of three wise raptors who circle above like a Greek chorus - or a beak chorus, perhaps. Ruled by carnivores, the birds within are offered protection from the unspecified Horror outside in exchange for donations of eggs, delivered during a ritual known as the 'Eggualibrium'.
For every three eggs offered (and subsequently slurped down by the carnivores), the mother birds get to incubate a fourth. For most birds, who have conveniently forgotten how to fly away, this is a price they accept. But the rare and beautiful Huppu (Vikander), who lays just one egg a year, is prepared to fight to protect her unhatched chick from the guzzling beaks of the ruling class. Yes, there's a fair amount of political allegory in play.
A battle between Huppu's mute husband Hassan (Kevin Bishop), and the lackeys of Kondor (Irons), the ruler of all Birdabad, ends with Huppu, Hassan, Kondor and a chick called Mi getting fired out of their tree home and into the unknown. There, they encounter a bat called I (Khalid Abdalla). Given to gnomic pronouncements, with blank, sightless eyeballs which frequently pop out of their sockets, he's a genuinely unsettling character. He strikes up a deal with Huppu, acting on behalf of the birds - they will carry him by day, towards the place where the sun sets, and he will haul them at night.
Along the way, the birds are assaulted by flying umbrellas, peppered with molten lava and find themselves riding on top of a sleeping bat who has been pinioned to an ice floe by the rib cage of a long-dead creature. Supermarket trolleys also figure at one point. And carnivorous Kondor attempts to snack on little Mi. There's so little internal logic to the story, however, that it's almost impossible to unpick the narrative means by which these scenes are linked together.
Production company: Prime time Production, Turkish Radio & Television (TRT), Autonomous, Fork Films
Contact: Prime time Production, adnan@primetime.co.ba
Producer: Adnan Ćuhara
Screenplay: Olivia Hetreed, Faruk Šabanović
Cinematographer: Almir Đikoli
Editor: Nic Gastor
Art Direction: Faruk Sabanovic
Sound: Eilam Hoffman
Music: Timothy Bruzon, Peter Gabriel
Main voice cast: Alicia Vikander, Jeremy Irons, Khalid Abdalla, Jim Broadbent, Sheridan Smith, Kevin Bishop