A Chinese woman's attempts to earn money in Paris leads her into a life of prostitution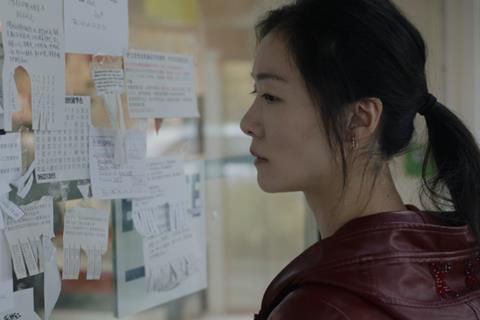 Dir. Olivier Meys, Belgium-France-Switzerland. 2017 100mins.
In Bitter Flowers, Lina, a resourceful wife and mother of 35, leaves China to earn money working in Paris, and ends up as a prostitute. This drama about sacrifice and resignation is a turning point for the gifted actress in the lead, Qi Xi.
Olivier Meys has built a drama around a troubling reality of modern China
Qi Xi won awards for Lou Ye's Mystery (2012), and her restrained performance here is sure bring her broader attention, although the small feature debut by the Belgian director Olivier Meys will struggle to get beyond the art houses. Like his actress, however, Meys also has an estimable calling-card in this promising first film.
China's economic upheaval has led millions of men and women to relocate in search of work. As large numbers of Chinese are lured abroad by the flimsy promise of good jobs for good pay, many of the women who leave home find themselves in the sex trade. It's a plight that women of other East Asian countries already knew well, and it's with this that Bitter Flowers concerns itself.
The film begins as Lina and her husband debate how to provide a better life for their young son in the depressed rustbelt Dongbei region in northeastern China. Hoping for a quick lucrative turnaround in Paris, Lina finds work as a nanny with a Chinese family, who mistreat and underpay her. Searching restaurants for a job, she meets a woman who shares lodging with others who work the streets.
Lina's dream to enter the wider world turns tragic, and director's camera follows her into spaces for exploited expatriate Chinese in Paris that turn out to be more confined and squalid than what she left behind. Comradery with other women sharing the same fate only gets her so far.
Moving among Chinese within that foreign Parisian world, Lina makes money methodically, carrying a secret shame. Qi Xi's subtly expressive face conveys the pain of that ordeal, as she approaches her work with a dark practicality, concealing what she does from her husband back home. Anything but a reality drama, Bitter Flowers is a measured story of resigned adaptation.
Qi Xi is an actress who can reveal intense emotions while hiding others. When the story takes her back to China, family members who learn her secret see themselves as the aggrieved parties, a predictable indignity. Whether it's in encounters with customers in Paris or in family quarrels in China, Bitter Flowers never loses her rare mix of the delicate and the deliberate.
With an ensemble cast in the Parisian and Chinese scenes that resists the temptation to overplay, Olivier Meys has built a drama around a troubling reality of modern China. It's just as troubling when he and Qi Xi take you inside Lina's complex character.
Production companies: Tarantula Belgium, Mille et Une Films, P. S. Productions Sari, Tondo
International sales: Tarantula Belgium joe@tarantula.be
Producers: Joseph Rouschop, Valerie Bournonville, Gilles Padovani, Arielle Sleutel
Executive Producer: Joseph Rouschop
Screenwriters: Olivier Meys, Maarten Loix
Cinematographer: Benoit Dervaux
Editor: Ewin Ryckaert
Music: Eric Bribosia, Jens Bouttery
Main cast: Qi Xi, Wang Xi, Geng Le, Zeng Meihuizi