A photographer develops a dangerous obsession in early 20th Century South America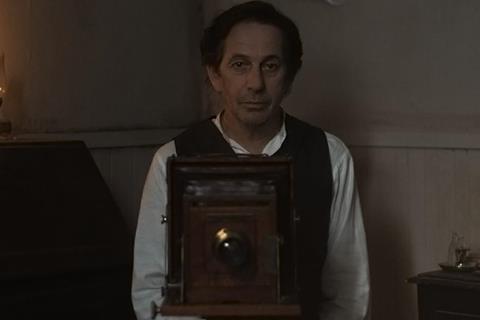 Dir/scr. Théo Court. Spain/Chile/France/Germany. 2019. 100mins.
The difficult history of South America's Tierra del Fuego informs Blanco En Blanco (White On White), an exacting, disquieting film about the corrupting influence of beauty and power. Set at the cusp of the 20th century and sparked into action by the impending wedding of a wealthy landowner, Théo Court's (Ocaso) sophomore feature follows a photographer's descent from newcomer, to infatuated visitor, to official lensman of genocidal brutality. Patient almost to the point of testing its audience, but benefiting from José Alayón's striking cinematography and Alfredo Castro's compelling performance, this Venice Horizons contender should jump from the Lido to further festival berths.
While Théo Court weighs down every second of Blanco En Blanco with tension and solemnity, its big moments continually hit their marks
Leaning heavily on wide shots that convey the allure and harshness of the archipelago's landscape in tandem, Blanco En Blanco trades in contrasts from the outset, when an oppressive yet mesmerising sea of snow greets Pedro (Castro) upon his arrival. The film's visual fascination with juxtaposition suits its story, mirroring the conflicted impulses bubbling inside its protagonist. Contracted to photograph the absent Mr Porter's bride-to-be, and then to document the much-delayed ceremony, the photographer soon steps beyond professional bounds when he's instantly drawn to the pre-teen Sara (Esther Vega).
Co-scripting with Samuel M. Delgado, Court leaves the nature of Pedro's fixation somewhat open to interpretation. Whether he's inappropriately enamoured, enlivened by a new muse or driven by a feverish need to craft the perfect portrait, he's in unhealthy, creepy territory as well as on a fateful path. After convincing housekeeper Aurora (Lola Rubio) to arrange a secret rendezvous with Sara, Pedro is beaten by his employer's flunkies, then coerced into making amends — and money to leave — however possible. In an increasingly desperate situation, his only option is to join the ranchers as they eradicate the Indigenous Selknam people, dutifully immortalising the massacres one photo at a time.
A film that shifts distinctively midway, White On White spends its first half resembling other fraught tales of affection and creative obsession. An artist waits and wanders in a remote locale, consumed by thoughts of his subject and committed to capturing their likeness, as external forces build to boiling point, with every meticulous frame relaying his state with bursting emotion.
That said, Pedro's determined quest and his evident ordeal are purposefully unsettling, a feeling that's matched by the film's second half. Traversing similar thematic terrain as Zama, to a degree, the photographer witnesses vicious horrors in the name of progress, and proves trapped by the relentless sweep of colonisation. Forced to turn the bleakest of sights into art — into celebrations of heroism, in fact — he's also haunted by his culpability, all while becoming irrationally fastidious about the composition of each snap.
"We want a record because we're making history," Pedro is told in the feature's most chilling scene. It's a testament to Court's skill that, although viewers can foresee such a statement, it still lands as hefty a blow as the violence that follows. While the Chilean-Spanish writer/director weighs down every second of Blanco En Blanco with tension and solemnity, its big moments continually hit their marks – including the devastation and absurdity of its prolonged final sequence.
When Alayón isn't surveying Tierra del Fuego's scenic but inhospitable expanse, often dwarfing the movie's characters within it, he brings Pedro's intricate images to the screen with the requisite precision. Whether peering broadly or directing the audience's gaze to a frame within a frame, the results are always exquisite. Saddled with an equally multifaceted task, especially given the film's restrained pace and challenging subject matter, veteran Chilean talent Castro demands as much notice. Little about White On White sits easily, by design, but it always deserves attention.
Production companies: El Viaje Films, Quijote Films, Kundschafter Filmproduktion, Pomme Hurlante Films
International sales: Stray Dogs Films, lison@stray-dogs.com
Producers: José Alayón, Marina Alberti, Giancarlo Nasi, Andreas Banz, Eva Chillon
Screenwriters: Théo Court, Samuel Delgado
Cinematography: José Alayón
Editing: Manuel Muñoz Ruiz
Production design: Amparo Baeza
Music: Jonay Armas
Main cast: Alfredo Castro, Lola Rubio, Esther Vega, Lars Rudolph, Alejandro Goic, Ignacio Ceruti