An odd family goes on the run in László Csuja's restless, interesting debut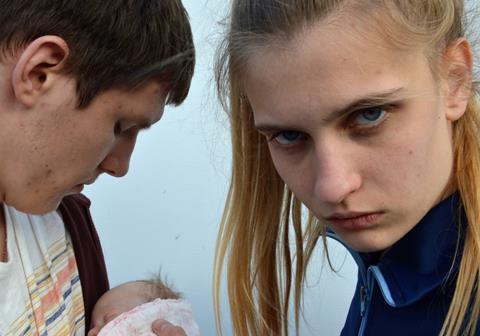 Dir. László Csuja. Hungary. 2018. 83 mins
Part dark drama, part road movie and part fairytale, young Hungarian director László Csuja makes an auspicious and energetic feature debut with Blossom Valley. Premieringt in Karlovy Vary's East of the West competition, the film comes out of the Hungarian National Film Fund's 'Incubator Programme', designed to encourage young directors to make their first feature film. There is a certain amount of youthful exuberance and swagger on show here that should give the film some life on the festival circuit though anything beyond seems a stretch. The film is due for a domestic release in September 2018.
For all its chaos, there are things of interest to pull out in Blossom Valley.
On the spur of the moment, wayward youngster Bianka (Bianka Berényi) decides to kidnap a baby and soon finds herself in the company of Laci (László Réti), a young man who has been declared mentally unfit to make his own decisions. The three coalesce into a strange family unit and – after stealing a caravan – soon find themselves on the run with police and criminals in tow. But after the exhilaration of the chase begins to wear, will this faux family be able to keep together?
Much of the success of the film lies behind the performances of Berényi and Réti. 21-year-old Berényi, well known in Hungary as an 'instagram celebrity' and performer/singer, has a fierce nihilism and insouciance and casts a striking presence as she spends much of the film doing what she wants because she wants to. But, as the film wears on, she also allows vulnerability to seep in as the idea of a family begins to appeal to her more and more. Réti – who before the film was a three-time-medal winner at the Special Olympics - is the perfect foil for her performance. He's quiet, contemplative and trusting. But for all his naivety, he has the sense of morality that Bianka lacks and becomes the calming influence to her incessant energy.
It's clear that Csuja has something of a punk rock approach to proceedings, gleefully mashing genre and tone. Whilst these keep the film driving along at a relentless pace, the wheels do sometimes fall off. Some of the narrative contrivances – such as how Bianki and Laci end up together – can be forgiven within the air of fairytale that the film gives off, but there are moments – such as Laci's escape from a work camp – which seem out of place and kill the momentum. The last ten minutes especially which, whilst undeniably beautiful (Gergely Vass often highlighting the wondrous and poetic within the grimy aesthetic of social realism), seem such a change in tone that it becomes jarring.
But for all its chaos, there are things of interest to pull out in Blossom Valley. The idea of a young generation trying to fake an ideal of domesticity which one can strip back to reveal a heart of immorality and lost ideals is a bold and damning incitement on modern society. Despite its flaws, Blossom Valley has the verve and passion that comes with a young and enthusiastic crew behind the scenes and a cast or mostly non-professional actors. Csuja espeically is a director who should be watched closely over the coming years.
Production companies: FocusFox Studio (Hungary)
International ssales: Hungarian National Film Fund World Sales, klaudia.androsovits@filmalap.hu
Producers: András Muhi, Gábor Ferenczy
Screenplay: László Csuja, Gergő V. Nagy
Editing: Attila Csabai
Cinematography: Gergely Vass
Main cast: Bianka Berényi, László Réti, Károly Kozma, György Kardos, Róbert Kardos